coin-colors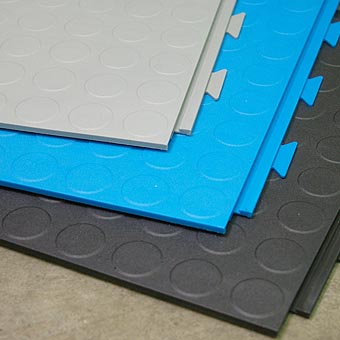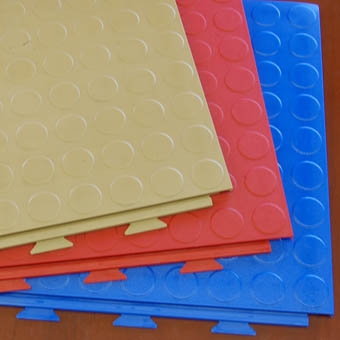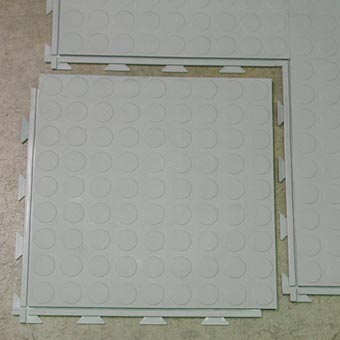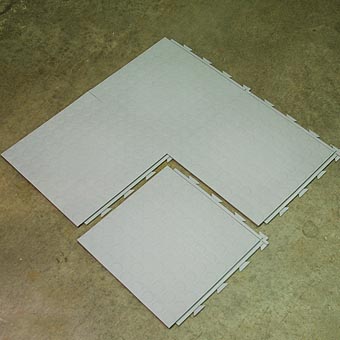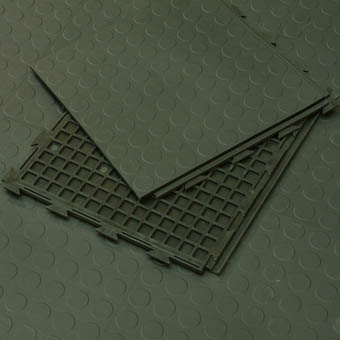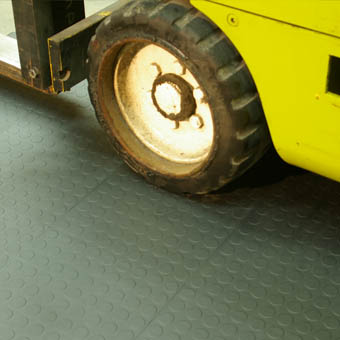 Hidden Lock coin top interlocking modular floor tile design reduces the number of seams in your floor. Choose this coin top floor tile for basement floors, garage flooring, and entrance ways. Durable enough for foot and vehicle traffic, this PVC floor tile is resistant to most acids and oils and can be installed in a garage. It can easily handle the weight of cars, trucks, or forklifts.

For areas where forklifts or other heavy vehicles will be turning frequently, modular flooring can be glued down. Excessive turning may put undue stress on the interlocking design of this tile. Choose this type of floor tile for home garage floors or basement floors. Available in popular colors such as black, red, yellow, blue, and gray. Mix and match to make an awesome design in your garage with this garage floor tile.

Modular coin top hidden lock floor tiles are 1x1 ft in size and 6.5 mm thickness. This modular floor tile is an excellent choice for warehouse, garage and basements floors and entrance ways.

Applications:
Basement Floors
Event Floors
Tradeshow Flooring
Garage Floors
Entrance Ways
Warehouse Flooring

This product is shipped UPS or FedEx Ground and or via freight delivery.
Please review our
shipping disclaimer.
Features:
Material: PVC - Soft Plastic
Type: Tile
Country of Manufacture: USA
Tile Size: 1x1 ft
Tile Thickness: 1/4 Inch (6mm)
Connection: Hidden Interlock
Universal Interlocks: No
Tiles per Carton: 24
Ordering Minimum: 20
UV Treated: No
Stocked: Yes
Warranty: 5 Years
Border Strips: No
Installation: On Top of Hard Flat Surface
Special Adhesives: No
Top Texture: Coin Top Design Surface
Made in the USA
Production Time: 1-2 weeks for Larger Qtys
Pricing for Hidden Lock Floor Tile Coin Top
Hidden Lock Floor Tile Coin Top Black or Gray

On Sale Now




$2.89

per piece - $2.89 per SF
Was:$4.29 per piece

You Save 32%

Hidden Lock Floor Tile Coin Top Colors

On Sale Now




$3.98

per piece - $3.98 per SF
Was:$5.49 per piece

You Save 27%



Black






Brown






Light Gray






Blue






Red






Tan



Customers who viewed this item also viewed: