Roof Tile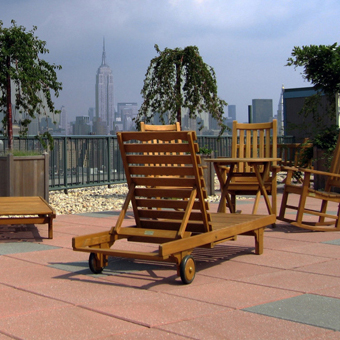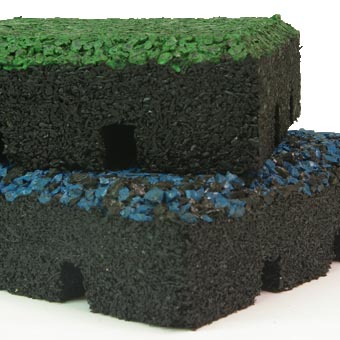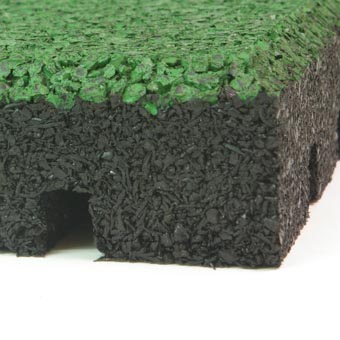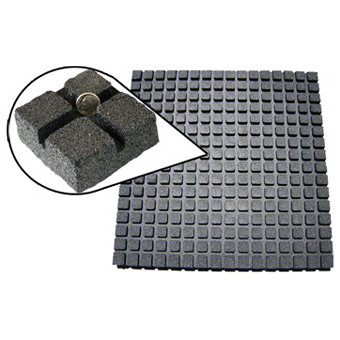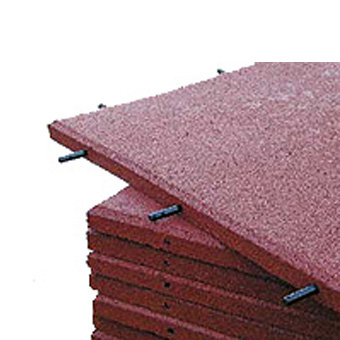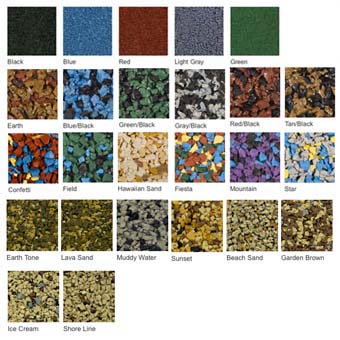 When installed using our SureKONNECT pins, DeckTOP tiles create a durable "floating" deck system that protects the roof from the elements, while providing excellent drainage. While the DeckTOP tiles may appear to be identical to their softer playground tile cousins, this product is made from higher density materials for enhanced durability and puncture resistance.

DeckTOP tiles are porous and permeable. Rain and snow melt will quickly flow through the tiles to the waterproof surface below. Robust drainage grooves have been molded into the base of these tiles to allow water to easily flow laterally under the tiles. These grooves form a network of channels that are perfectly sized to allow wiring to be installed under the tiles.

DeckTOP Architectural Tiles are available in a variety of pigmented and premium EPDM colors. Transition ramps are also available. Weighing in at less than six pounds per square foot, this material offers superior protection while also providing excellent thermal and acoustic insulation.

DeckTOP Architectural Tiles are a 1 3/8" thick resilient and slip resistant safety tile that helps to protect your roof or deck in public traffic areas. These tiles are porous and permeable offering excellent drainage.

DeckTOP Architectural Tiles are made from 100% post-consumer waste tires. They provide an exceptionally durable, safe, low maintenance alternative to the heavy, pedestal type concrete pavers.

DeckTOP Architectural Tiles are ideally suited to improve the beauty, comfort and ease of maintenance in various environ- ments including Rooftop Decks, Plazas, Patios, Walkways and more.

This product is shipped via freight delivery
Please review our
shipping disclaimer.
Features:
Highly durable and easy to install with- out using adhesives
ADA compliant and meet ASTM and SPSC requirements
Unique grooved bottom design that provides superior drainage. These grooves also allow for easy placement of small cables or wires
Environmentally friendly, molded from 100% California recycled waste tires. Each tile diverts up to 2.5 tires from our landfills
Containing no toxic materials and certified to be 100% steel free
Smooth surface texture, providing comfort underfoot while maintaining exceptional slip resistance in wet or dry conditions
Modular in design making them easy to handle and easy to install
come in a variety of colors providing a multitude of design options to meet any need
available with either a Flat Top or a Brick Top Pattern
easy to maintain requiring only basic cleaning with a broom, vacuum or water hose on a regular basis
pro- duced by the industries' leading manu- facturer of rubber molded safety tiles and accessories.
This product is backed by a Five Year Limited Material Warranty
Size and Dimensions:
1 3/8 inch Tiles - 24x24 inches - 21 lbs per tile
200 SF Minimum Order
Pricing for Roof Tile
1 3/8 Inch Black

On Sale Now




$22.37

per piece - $5.59 per SF
Was:$24.00 per piece

You Save 6%

1 3/8 Inch Colors

On Sale Now




$25.64

per piece -
Was:$27.00 per piece

You Save 5%

1 3/8 Inch Special Colors

$39.55 per piece

Black


Blue


Red


Light Gray


Earth


Green


Green/Black


Gray/Black


Blue/Black


Tan/Black


Red/Black

Special Colors

Confetti


Cosmic


Field


Mountain


Star


Hawaiian Sand