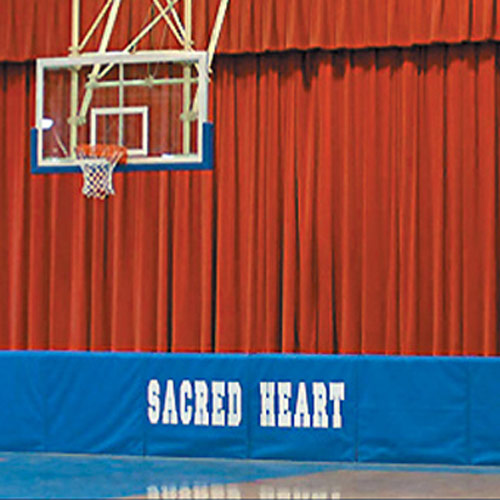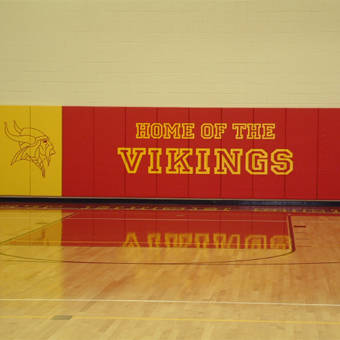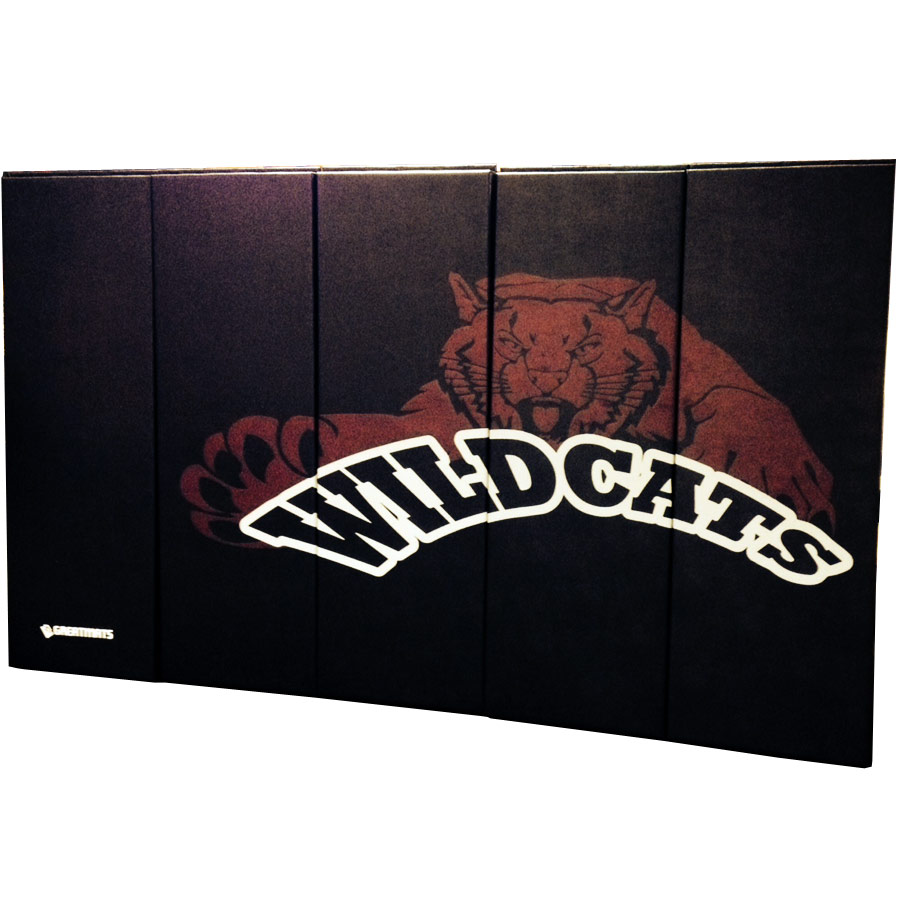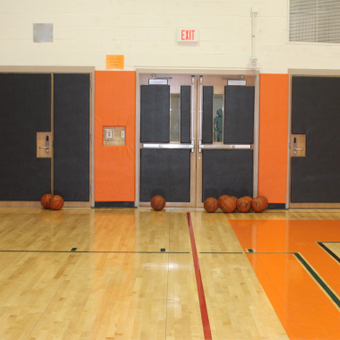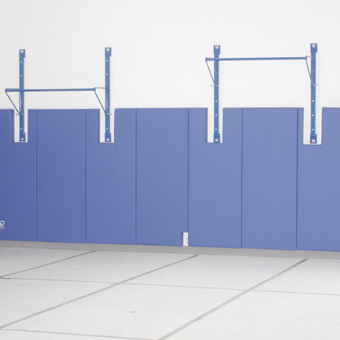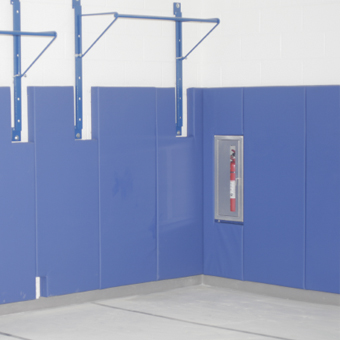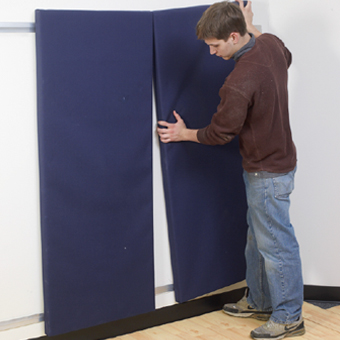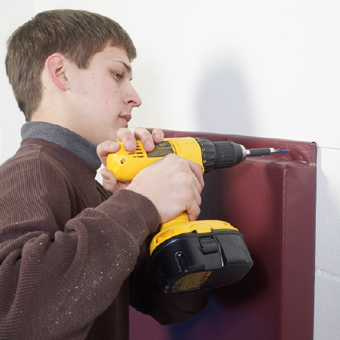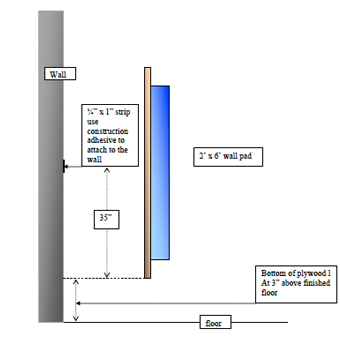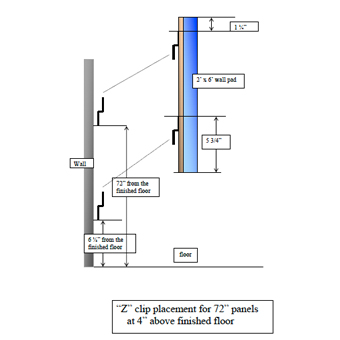 Made in the USA of the highest quality material and craftsmanship, this wall pad option is available at competitive pricing. This gym wall pad option features standard ASTM rated 2-inch thick PE foam of 60% or more recycled content. Choose Class A fire rated option to receive a vinyl covering with your pads to meet Class A fire requirements.

Installation methods are available in two options: Lip-top and bottom or Z-Clip. Lip top and bottom pads feature a one-inch lip at the top and bottom of each wall pad that allows for a direct screw-on connection to a wall or a 1x2 inch furring strip that is first attached to the wall. Z-Clip installation features a channel type connection method where one channel is connected to the pad and a receiving channel is connected to the wall. This method allows for easy removal the wall pads as needed.

Z-Clip installation note: Z-Clips are to be attached to the back of the wall pad panels during installation. The wall pads are NOT shipped with the Z-Clips attached. Z-Clips are provided with screws for attachment. Z-Clips are pre-cut to length and the panels are pre-drilled to receive the channeling.


This product is shipped UPS or FedEx Ground and or via freight delivery
Please review our
shipping disclaimer.
This product is non-returnable.
Features:
Material: PE Foam with 6P Compliant Vinyl Cover
Material Density: 80 Shore A
Type: Wall Pad
Country of Manufacture: USA
Standad Size: 6 feet x 2 feet
Thickness: 2 inch
Weight per: 20 pounds per
Ordering Minimum: 3 pads
UV Resistant Vinyl: Yes
Antifungal and Antibacterial: Yes
Stocked: No
Non Absorbent: Partial
Ships Out From Warehouse: 1-3 weeks
Warranty: 1 Year
Installation: Direct or Z-Clip
Special Adhesives: No
Top Texture: Smooth Flat
Vinyl Characteristics:
16 oz Vinyl Cover Weight
Flame Retardant Vinyl Covering
All Vinyl Meets NFPA 701 CSFM Fire Testing, Achieves a Alass A fire rating
Vinyl is 6P Compliant, Phalate Free - Meets CA Clean Water Act
Treated with anti-fungal and anti-bacterial
Vinyl has UV resistant pigments
Additional Features:
4 Color Custom Digital Logo Creation
2 inch Thick PE Foam: 1.8 lbs density x 60lb IFD
Over 60% Recycled Material in Foam Material
Wood Backing: 7/16 inch OSB
110-4 Model is ASTM F2440 Compliant
110-8 Model is Class Fire Rated, Test Method ASTM E-84
Architectural Specifications PDF

Installation Instructions With Lip Top and Bottom Pads PDF

Installation Instructions With Z-Clips Pads PDF
Gym Wall Pads
Basic Soft Pads 2x6 Ft x 2 Inch Lip TB

$63.00

Basic Soft Pads 2x6 Ft x 2 Inch Z-Clip

$74.00

ASTM Impact 2x6 Ft x 2 Inch Lip TB

$63.00

ASTM Impact 2x6 Ft x 2 Inch Z-Clip

$74.00

Class A Fire 2x6 Ft x 2 Inch Lip TB

$126.00

Class A Fire 2x6 Ft x 2 Inch Z-Clip

$138.00

Wall Pad Cutouts
$55.00
Graphics
Standard Fonts Lettering 1 Color
$85.00
Custom 4 Color Logos per SF
$103.00
ASTM & Class A Fire 2x6 Ft x 2 Inch Lip TB

$145.00

ASTM & Class A Fire 2x6 Ft x 2 Inch Z-Clip

$155.00
Available Colors



White






Yellow






Camel






Orange






Flair Red






Rich Red






Dark Maroon






Kelly Green






Forest Green






Sky Blue






Champion Blue






Royal Blue






Navy






Purple






Galaxy Gray






Black



Customers who viewed this item also viewed: