These interlocking carpet tiles are an excellent choice for trade show booths, home basement floors, and any retail installation where a carpet top with anti fatigue flooring is needed, such as parmacies and behind retail counters. This interlocking carpet is commercial quality designed to last for years of retail and commercial usage.

These interlocking carpet tiles are perfect for trade show booths and will provide a professional look and a comfortable anti-fatigue feel. Choose this carpet tile for a basement floor to create a comfortable and warm carpet floor system that is waterproof and stain resistant. Our interlocking carpet tiles are an easy DIY installation project as this carpet tile can be cut using a sharp utility knife for a wall to wall fit. Install this interlocking carpet tile directly over any hard flat surface including concrete, wood or ceramic.

The bottom structure of this interlocking carpet tile is a 1/2 inch dense foam material that is designed to provide the best anti-fatigue characteristics for people that need to stand for long periods of time. Durable enough for tables and chairs, these interlocking carpet tiles are a great choice for high traffic areas, at conventions and retail environments or for an interlocking rug for anti-fatigue work stations.

Our interlocking carpet tiles are available in five popular colors and can ship via ground service to your door. Greatmats has this interlocking carpet tile in stock and can ship in a few working days from the time of order. Choose the Royal Interlocking Carpet Tile for your next flooring project that requires a clean looking carpet with a padded fatigue bottom. We are sure you will be very satisfied with this high quality carpeted flooring option.

Applications:

Trade Show Booths, Conventions and Showroom Flooring
Basements and Garages
Patios
Theaters
Sun Rooms
Workspace
Interlocking rugs
Great for Concrete or and Hard Floor

Please Note:
Color and shade may vary somewhat from carpet tile to carpet tile within the same order and/or lot or batch of carpet tile. This is common with this type of interlocking carpet tile.

This Product Ships UPS Ground, FedEx Ground and/or Freight.
Please review our
shipping disclaimer.
Features:

10x10 ft kit coverage has no loss
20x20 ft kit has 1.75 inch loss, for a 19 ft 10.25 inch actual coverage
Mix and match to create any layout or design.
Border Strips Provided, 2 per mat to make any mat a corner, border or center
Easy to install, easy to take up, lightweight and portable.
Easy to clean. Can be vacuumed.
Anti-Fatigue Relief
Place directly on concrete or tile, no adhesive needed for a snug, tight fit.
Waterproof and odor proof.
Anti-fatigue and insulation value similar to carpet.
Comfortable and Durable, Light and Portable
Will Stand up to Tables and Chairs and High Heels
Easy to Assemble, Easy to Clean
Build any size layout in 2 Ft increments
Interlocking design makes for continuous surface system
The edge is not beveled down, it is a straight 90 degree edge. The straight edge will not present a tripping hazard.
Can be custom cut with utility knife and a straight edge

Characteristics:

No Odor
Anti-Fatigue
Waterproof
Non Slip
No Adhesive Required

Size and Dimensions:

Tile Size: 24" x 24" x 5/8"
Foam Padding Thickness: 1/2"
Customer Rating:
The dense 5/8 thick GREATMATS Interlocking Carpet Tile was the perfect solution for our basement home theater. It not only improves the acoustics, but it functions well, looks great, and gives such a wonderfully cushioned feel to the hard basement floor. I'm a 65 year old woman and installed it myself with little difficulty. My biggest problem was finding the hidden directional arrows which were part of the embossed impression that varied in clarity on the bottom of each tile. I needed to meticulously examine many of the tiles in bright day light in order to locate an arrow and then redraw them prior to install. Only one tile out of sixty-six had a small area where the carpet was detached from the tile so we just decided to repair it instead of replacing it.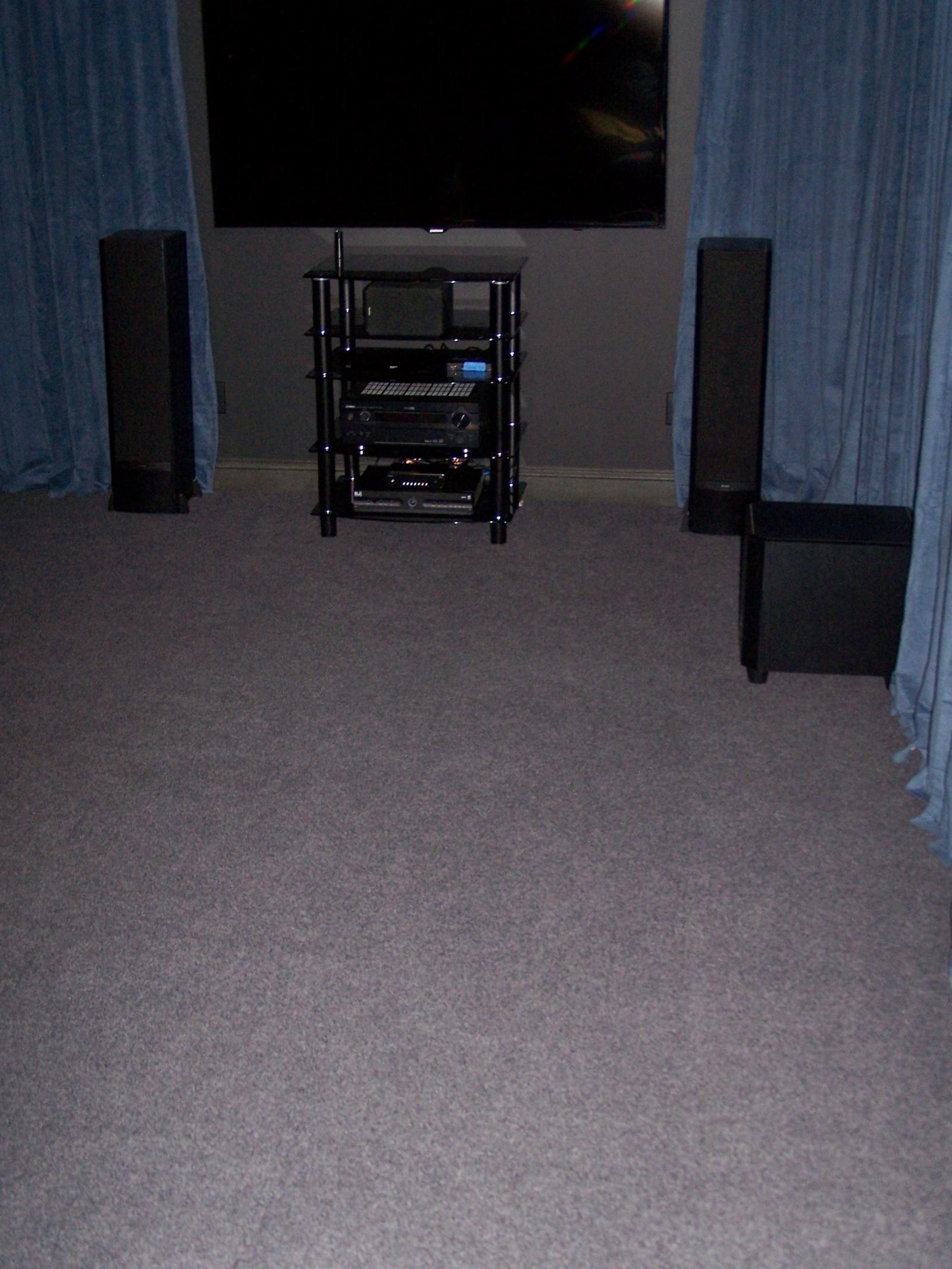 Janice
Lebanon, CT
12/05/2013
Customer Rating:
We decided to put in Carpet tile instead of the usual padding/carpet after we had a 2nd ground flooding of our basement bedroom.

Not only was it less expensive but easy to install and we show it to everyone who visits and recommend it to others!
James
Conifer, CO
12/03/2013
Customer Rating:
Super easy/sturdy for our exhibit booth. Much more cost effective than the rental carpet option and we plan to use for at least 3-4 conferences. Set up and tear down is so easy. Boxes it ships in are good enough for multiple shipments. Very pleased with this.
Meghan
Bedford, NH
09/25/2013
Customer Rating:
See Photos!
They are perfect and easy to stand on!


Eugene
Fort Ann, NY
09/17/2013
Customer Rating:
Great carpet. The 2X2 squares make it very easy to work with. Cuts easily with a sharp utility knife. The interlocking edges make for a tight, secure fit. Looks great installed. Great for do it yourselfers.
LARRY
MOGADORE, OH
09/04/2013
Customer Rating:
It was easy and fun to install. Good help from company for the few questions we had. The furniture was stuff we had just storing in the basement and now we have an exercise area. Good product.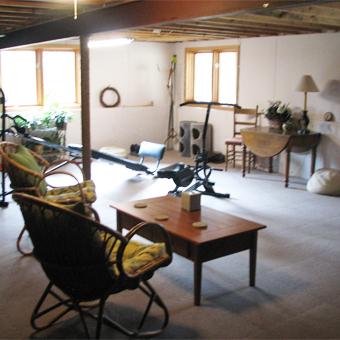 Kay and Gary
07/23/2013
Customer Rating:
We used the Interlocking Carpet Tile at a recent trade show and were extremely pleased with the product. The floor was comfortable to stand on during our long day at the show, and the floor looked great for the whole show (we purchased dark grey).
Linda
Rogers, MN
07/22/2013
Customer Rating:
I placed the matts in my garage a few months ago. They feel great and look great! I highly recommend them.
Joel
Redondo Beach, CA
07/10/2013
Customer Rating:
These tiles work great in our basement. Installed them in a checker pattern using light/dark grey. they have enough carpet and cushion to be comfy and are easy to cut and install around doors and other obstacles. We'll occasionally get water in this room from heavy rain and these tiles keep our belongings dry and are easy to pull up to dry out the room thoroughly.


Jillian
Rockford, IL
07/03/2013
Customer Rating:
After looking for quite some time to fine a carpet to put in the basement to complete my sons bedroom in the basement, These mats were what we decided. I installed them myself, very easy to install. Cutting a straight line was not good for me, I probably should have drew a line on the mat before cutting, they were easy to cut. We love the mat carpet it has a nice thickness that makes walking in his room heaven compared to the concrete or the old carpet with padding that was in there before. My teenage son loves the carpet tiles, the color, the thickness, and the softness. The price was great for them too. I hope to save up enough money to buy more to replace the old carpet in the basement living room area. I bought a few each tiles just in case I messed up on cutting them, which I did not, so a used them in the laundry room area in the basement, made a path into the room to the washer and dryer and in front of the them too, I don't mind walking down into the basement to do laundry now. These are wonderful tiles, extremely glad I found them and bought them. I am adding a photo of the room right after I finished installing the tiles, sorry the ceiling was not complete at that time.
Brenda
Parkridge, IL
06/27/2013
Customer Rating:
We had a basement flood, and replace the carpet tiles in a back room with these interlocking mats. They look and feel great. I thought the surface would be more berber-like, but the felt-like carpet surface is fine. Even with cutting pieces to fit in a closet and at wall edges, it took maybe 3 hours to do the whole job in a 14' x 11' space., and that included fitting pieces under an existing model railroad table legs, lifting the legs, etc. No glue, no mess. Very happy with the results for the price at this point.
Dave
Manassas, VA
06/22/2013
Customer Rating:
Great carpet tiles. Easy to install and great to walk on, good price too.
Keith
ALAMOGORDO, NM
05/26/2013
Customer Rating:
Product Arrived on time.
Packaging is sturdy and reusable.
Installation was fairly simple.
Product performed well as expected.
James
Oakville, ON
05/23/2013
Great product. Looks good at tradeshow, sturdy surface, reusable
DEREK
ATLANTA, GA
03/04/2013
It's great. Wish you sold a hard plastic box price with it or as an option. The box it comes in tears up after three tradeshows. But great price.
Karen
Ontario, CA
01/26/2013
Shipping was very fast and the carpet tiles were better than I expected. They went down easy and I finished my room in the same day. They have turned a cold basement floor (and room) into a warm place to relax. I didn't have a lot of money to spend but these were well worth the cost. If you are on a limited budget and need something to warm up and soften a cold hard basement floor, these are perfect.
Dale
Lorton, VA
01/05/2013
We are very happy with our purchase. The order came in very timely. Carpet tiles are softer and were easier to put down than we anticipated. I would suggest Greatmats and this product to friends and family.
Gretchen
Clifton Heights, PA
12/28/2012
The carpet tiles I purchased made a Huge difference in the look and "feel" of my Art Show Booth. It added the finish to my booth that I have been looking for. I use the carpeted panels for my back drop and with the carpet tiles - it really looked pulled together -- the colors coordinated perfectly. Many of my customers and many of the vendors made positive comments with the vendors asking where to purchase. The tiles were especially what I was looking for -- no rug to roll out or up or lug around or tape down, etc. And the cushioning made a huge difference for me - standing in my booth on concrete for a 3-day weekend. The price is very reasonable, the No Shipping Charge is an added bonus and the tiles were shipped right away with no hassle. Thanks Great Mats for a terrific product and great service.
Kathy
Knoxville, TN
12/26/2012
I put this product down in my basement entertainment room. It is awesome!!!! The carpet is nice. The padding is very comfortable - more comfortable than regular carpet with padding! The only down side is that you will notice any pieces that are not installed in the proper direction (because of the carpet fabric direction) - this makes it difficult to utilize cut pieces on opposite sides of a room or where you might fit extra pieces (hence a bit more waste). I used them anyway and it was hardly noticable - it allowed me to keep me a few extra full pieces for spares. The puzzle seams are barely noticable, and the overall appearance is very nice almost like regular carpet tiles. I give this stuff "two thumbs up"!!! It is a great solution for basements and lower levels!
Jack
Lino Lakes, MN
12/10/2012
Love it! It was easier than I thought to install. Feels good to the feet!
Mandy
San Antonio, TX
12/03/2012
I used the carpet tiles on a boat in the pilot house area. It is over a diesel engine. The carpet tiles kepps the area clean, comfortabel to walk on and reduces engine noise. If you want more pictues, let me know.

Chet Hiner
Chet
Glen Ellyn, IL
12/01/2012
Great Product! Completely satisfied with the product and service!
Thank you!
Craig
Sioux Lookout, ON
11/08/2012
We used these for the first time last week at a trade show and really liked them! They provided a good amount of cushion for standing on all day and were very easy to put down and take back up.
Margaret
Parker, CO
11/06/2012
Great product, great service. I got the mats in less than a week. It isn't a completely seemless system, but I am using them in the kids playroom as a carpet and it is fine. We have never used this product before and we had the floor laid in 45 minutes. It was great!!
Sharon
Norwalk, OH
09/18/2012
We have a difficult situation to address and I think the Interlocking Carpet Tile will be the answer to that situation. We live in an earth contact house. Last spring, a gutter became blocked and overflowed at the corner of the house. The water made its way down the poured concrete wall and in through a seam between two pourings. There was so much water that it completely soaked the wall to wall carpet in three rooms and ruined the drywall in one room. We removed the ruined carpet and repaired the drywall but did not want to live with just painted concrete floors. At the same time, we knew that we did not want to install new wall to wall carpet. And, we also knew that we cannot be completely confident that there will not be another leak through that seam--even without gutter overflow. So, the carpet tile seems our best bet. It's soft and well cushioned (good in case of falls), it attractive (looks as good as traditional carpet), and it's not permanently attached to the floor. If we do get another water incursion, we'll simply take up the affected tiles, dry them off in the sun, put a little bleach water on the underside, and reinstall them one the floor is dry. Bad problem, perfect solution. We'll be ordering more for additional rooms, even those not affected by the water problem. One caution: they have expanded a little more than I anticipated so a few tiles that I trimmed to fit along walls have bulged a bit--so I will have to retrim them a little but that's not difficult since they are removable.
Bryan
anamosa, IA
08/20/2012
Installation was easy and carpet looks great in the pilot house of my boat. Very comfortable underfoot!! Used a total of 41 2x2 carpet tiles - They cut easily with a razor knife to fit around installed cabinets, etc., with no fraying or ravelling - nice clean edges. The dark gray is a little darker than we'd like but it's pretty close to what is shown on the web site. The puzzle pieces show in some lighting conditions, but are mostly invisible - certainly not objectional. Vacuums easily. Doesn't soak up water or other spills. Overall, very pleased with this new installation. If it wears well over time it will be a home run!
Ray
Sabastian, FL
08/16/2012
Great product. Cutting is not as easy as indicated, but not terrible. Would and have recommended to others
Larry
Gilbertsville, PA
04/24/2012
Very nice product. Looks great and installs easily. We put it down in an area in our basement for an exercise area.
Gary
New Glarus, WI
04/03/2012
I am enjoying my new carpet I layed down in my basement. It was easy to put together. I even walked around with no shoes on and my feet felt wonderful from the softness of the carpet.
Samuel
ACCOKEEK, MD
03/12/2012
The flooring was great at the tradeshow where we stood for 8 hours each day. Our neighbors were jealous asking us if they could come and stand on our floor for some relief! Thanks Greatmats!
Christine
Cape Coral, FL
01/04/2012
Pricing for Interlocking Carpet Tile Royal
2x2 ft x 5/8 inch
$11.96 per piece