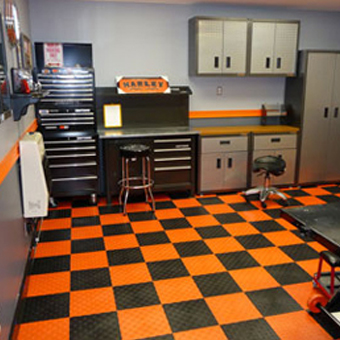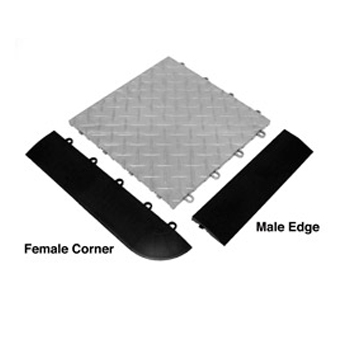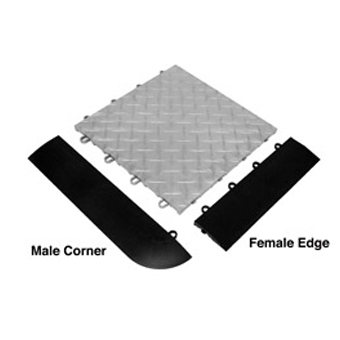 Garage Tile Snap Diamond Top
Free Shipping - in the lower 48
On Sale Now
$2.99
/ piece
Was:

$3.95

/ piece
Per SF $2.99 You Save 24%
Garage Tile Snap Diamond Top garage floor is 12 x 12 inches x .5 inch thick and is great for garage flop surfaces to transform any area into a safe and great looking area. Installing this garage tile requires no glue or tools, so there's no mess or toxic fumes, and each tile simply snaps into place! Border and corner edging is available to finish the edge of this garage flooring tile system.

One of the most popular garage flooring styles on the market, this tile offers great slip resistance and a high-tech look. The design is engineered to create a seamless look from tile to tile, allowing you to create virtually any size of garage floor pattern and layout. Optional edging gives your floor a finished look. Easy to clean surface and resistant to petroleum products and most chemicals.

This garage tile is engineered to handle heavy vehicle loads. The 16 connectors per tile become part of the superstructure when engaged. The unique design of this garage tile makes for easy installation using no tools, no glues, and no toxic mess. The diamond top tile superstructure functions as one piece, making the system perfect for applications with big temperature swings and this unique garage tile supports rolling loads of over 50,000 pounds!
Applications:
Workshops & Garages
Dealerships & Showrooms
Trade Shows & Fairs
Catering & Parties
RV's & Campers
Canopies & Awnings
Or Anywhere You Need a Floor


This product is shipped UPS or FedEx Ground and or via freight delivery.
Please review our
shipping disclaimer.
Features:
12" x 12" x .5" Tile
Borders 12" x 3"
Anti-Fatigue
Non-Slip
Non-Staining
Lightweight
Durable
Easy to Install and Remove
Portable
Chemical Resistant
Professional Stylish Look
Easy to Maintain
Weather Resistant
Long Lasting
Cost Effective
Bacteria Resistant
Supports Vehicle Weight
Pricing for Garage Tile Snap Diamond Top
12x12 inch tile

On Sale Now




$2.99

per piece - $2.99 per SF
Was:

$3.95

per piece

You Save 24%

Borders
$1.50 per piece
Corners
$1.50 per piece



Royal Blue






Red






Yellow






Graphite






Alloy






Black






White






Orange






Purple






Beige



Customers who viewed this item also viewed: