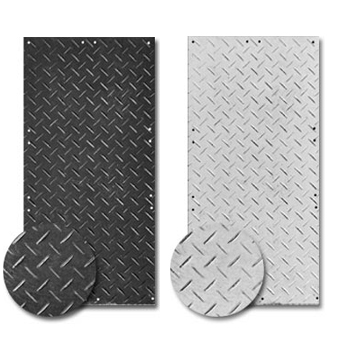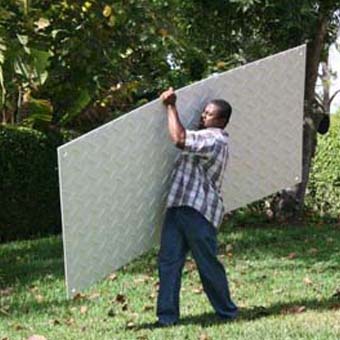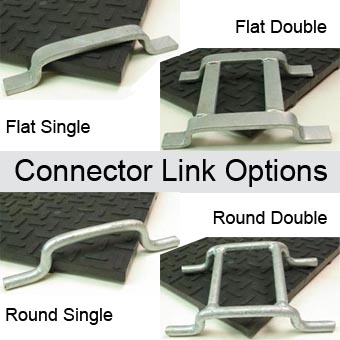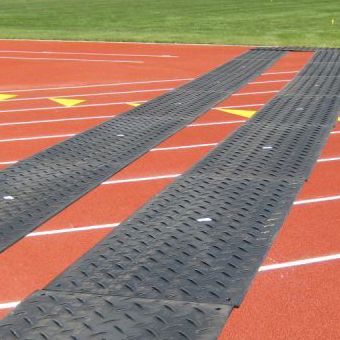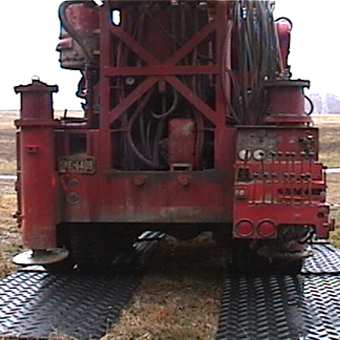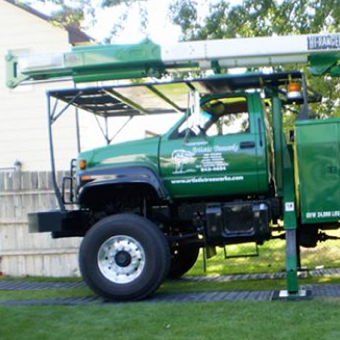 This is the only ground protection mat product on the market that is made in-house with extensive testing to backup our Lifetime Warranty. Competing products may claim to be better but they don't have the Lifetime Warranty to backup the claims. In addition our pricing is competitive to other products on the market. Please contact us for volume discounts. We guarantee to our customers best pricing on this type of product.



This product is shipped via freight delivery.
Please review our
shipping disclaimer.
This product is non-returnable.
Features:
Easily supports 60-ton loads
Rugged 1/2" thick recycled polyethylene
Bold cleat design for great traction
Build a roadway or working platform in minutes
Leave turf smooth, even in soft conditions
No more splintered, warped, water logged plywood
Simply hosing down leaves the mats clean
Available in both black or white mats
Mats can be locked together with Turn-A-Links forming a continuous roadway or workable platform
Limited Lifetime Warranty
Pattern Design Options
Diamond / Diamond
Smooth / Diamond
Smooth / Smooth

Diamond - Diamond


Diamond - Smooth


Smooth - Smooth

Connector Link Options
Flat Single
Flat Double
Round Single
Round Double
Sizes to suit your needs
Approx. Ship Wt.
Size
Item Number
Lbs.
Kg
Black
Mats
4'x8' (1.22 x 2.44m)
AM48
86.00
(39.00)
3'x8' (0.91 x 2.44m)
AM38
64.00
(29.25)
3'x6' (0.91 x 1.83m)
AM36
51.00
(23.13)
2'x8' (0.61 x 2.44m)
AM28
43.00
(19.50)
2'x6' (0.61 x 1.83m)
AM26
32.35
(14.62)
2'x4' (0.61 x 1.22m)
AM24
21.50
(9.75)
White
Mats
4'x8' (1.22 x 2.44m)
WM48
86.00
(39.00)
3'x8' (0.91 x 2.44m)
WM38
64.00
(29.25)
2'x8' (0.61 x 2.44m)
WM28
43.00
(19.50)
2'x6' (0.61 x 1.83m)
WM26
32.35
(14.62)
2'x4' (0.61 x 1.22m)
WM24
21.50
(9.75)
Please Call For Pricing On Sizes Above or Request a Quote
Pricing for Ground Protection
4x8 Ft Black
$194.50 per piece - $6.08 per SF
3x8 Ft Black
$158.00 per piece
2x8 Ft Black
$106.50 per piece
4x8 Ft White
$242.00 per piece
3x8 Ft White
$194.75 per piece - $8.11 per SF
2x8 Ft White
$133.00 per piece
Pricing for Mat-Paks with Metal Pallets
Includes 12 Mats, 1 Rack with Straps, 20 Single Links and 2 Handi Hooks
4x8 Ft Black
$2,534.00 per piece
3x8 Ft Black
$2,093.00 per piece
4x8 Ft White
$3,147.00 per piece
3x8 Ft White
$2,586.50 per piece
Pricing for Connector Links & Accessories
Link Flat Single Metal
$4.75 per piece
Link Flat Double Metal
$7.30 per piece
Link Round Single Metal
$4.25 per piece
Link Round Double Metal
$6.50 per piece
Handi Hook
$14.00 per piece
Transport Rack
$215.00 per piece
Ratchet Straps (Pair)
$47.00 per piece



Black






White



Customers who viewed this item also viewed: