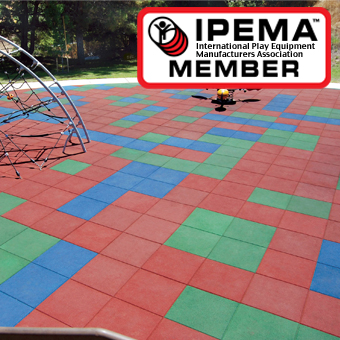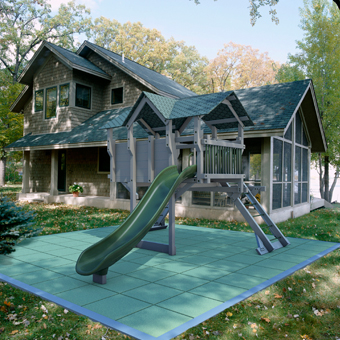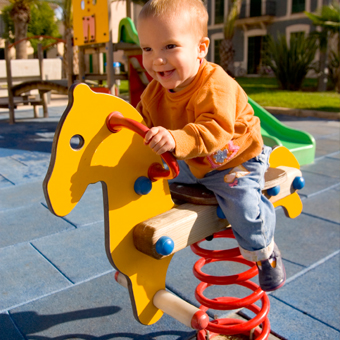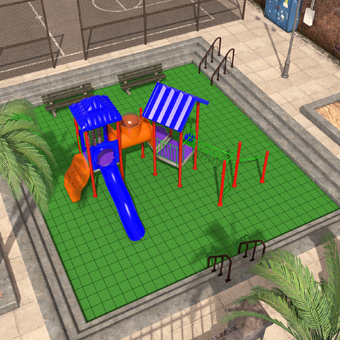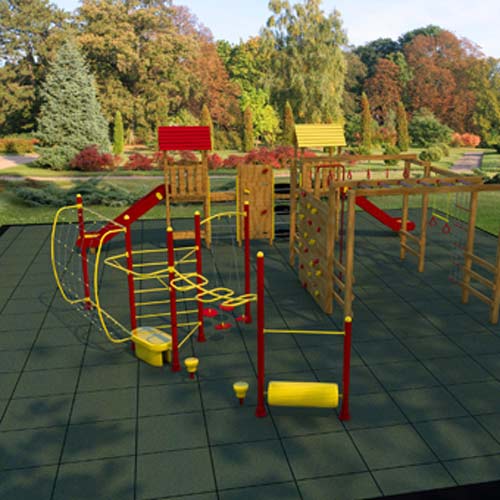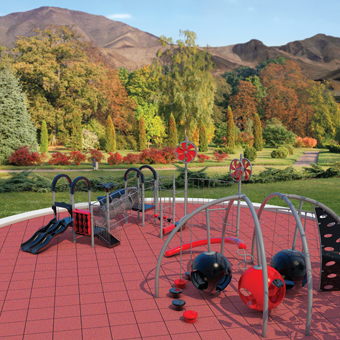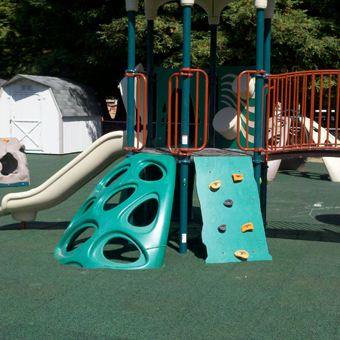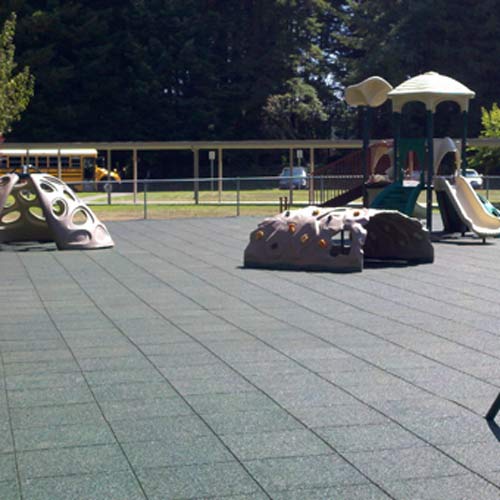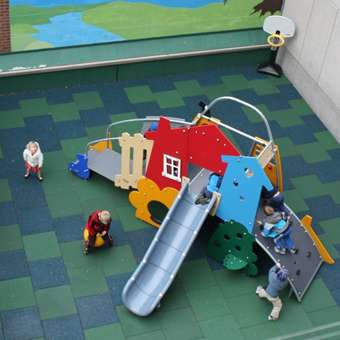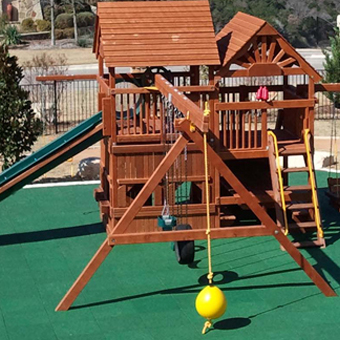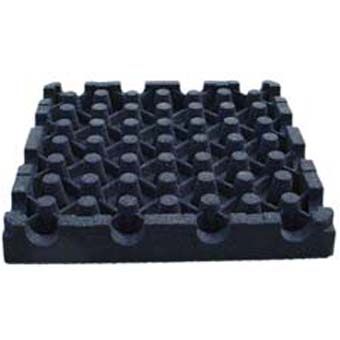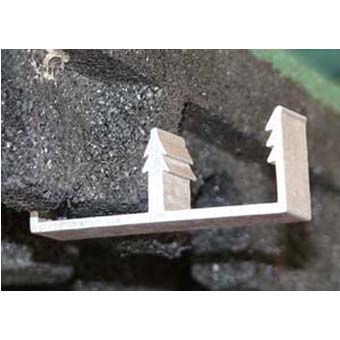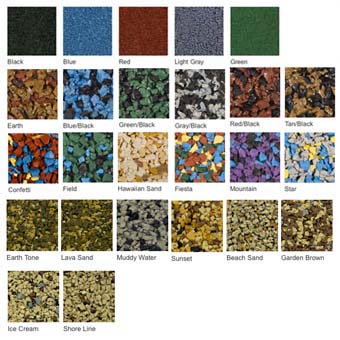 Playground tiles are the ideal surface for commercial playgrounds, churches, and schools. They provide a fall-height-rated surface to provide protection for falls from equipment such as swings or slides. Tiles can be installed directly over concrete or on a base of crushed stone or gravel. These tiles are available in a variety of color combinations as well as different thicknesses. They can be easily replaced as necessary.

Ramps are available for this product in various thicknesses to match tile height. Specifically molded inside and outside corner pieces will finish the installation. Kid's Kushion tiles are also available with ADA ramps for wheelchair access.

Made in the USA Recycled Content




Applications:
Park Playgrounds
School and Community Playgrounds
Rooftops Rubber Tiles
Home Playground Areas
Never worry about raking your playground surface again. With Kids Kushion playground tiles, you can keep a consistent fall-height protection for areas beneath monkey bars, slides, swings and other playground equipment. These protective rubber tiles maintain a constant and safe play area. Unlike sand, wood chips, or other types of loose fill playground flooring, no regular maintenance is required to keep your outdoor flooring level and safe. If a tile wears out after years of abuse in a high traffic area, you can simply replace it. This makes it very convenient when compared to other surfaces such as poured-in-place rubber.

Playground tile ramps are available for all tile heights. This product also comes with specifically molded inside and outside corner pieces that will complete the installation. Playground tiles can be installed with a full glue-down or clip installation method.

The Kids Kushion system provides a level and resilient surface and provides wheelchair accessibility complete with ADA (Americans with Disabilities Act) Compliant Ramps (24"x 27"). These have a 1:12 slope, which exceeds the ADA minimum 1:16 grade slope. To determine which thickness of the Kids Kushion playground tile that is necessary for your application, first determine your"fall height" (aka: "drop height"). Simply measure the height from the ground to the highest platform children would stand on. (By ASTM regulation, this distance is considered your fall height.

This product should NOT be installed directly on top of dirt or grass. Our only outdoor playground tile that can be installed directly on top of grass and dirt is the Kids Ergo Matta,. This product is a perforated, outdoor, soft plastic product.

The 2.5 inch thickness is used most frequently both indoors and out. When installed over fully cured concrete or asphalt, it provides a drop height rating of 6 ft. The 3.5" thickness provides an 8 ft. drop-height over fully cured concrete and the 3.75" thickness provides a 10 ft. drop-height.

The least expensive color option is black. Standard solid colors are: Azure (blue), Gris (charcoal gray), Terra Cotta (burnt red), and Verde (bright green). These four colors have been carefully tested for durability & longevity. Please note that all colored rubber will eventually fade. These colors have been selected because they withstand the effects of UV sunshine the best. (See Color Chart)

The preferred sub-surface for a Kid Kushion surface is fully cured concrete or asphalt, but it is acceptable to install our product on top of compacted dirt or crushed rock. These rubber playground tiles require a stable, solid surface with a grade. This will allow water to drain away from the surface area. You do not want water to puddle beneath the surface for extended periods of time as dips will form and the overall appearance of the surface will not be as pleasing.

Our single-component adhesive works especially well with this product because the same bonding agent present in this adhesive is used in the Kid tile itself. The bond formed will never fail. Of course, you won't be able to remove the tile once you've glued it in place. This is the most economical manner of installing our playground tiles, as well as the most theft-proof.

Aluminum metal clips must be used over dirt and any surface that is not permanent or completely smooth. The best advantage to the clips is that if you choose to move your Kid Kushion Tiles, you can. Also, a clip installation makes maintenance easier. Oftentimes, one tile will take a more continuous pounding by children's' feet (For example: at the bottom of a slide or under the swingset.) Tiles in these locations will probably wear out sooner than the other tiles and you'll want to replace it. With the clip system, this is much easier to do.

Adhesive and metal clips can be used together. A common installation is done with the aluminum clips used to hold center tiles together while the perimeter tiles are installed with adhesive. In this scenario, one row of center tiles, and the ramps (perimeter pieces) are glued. The result is a surface that is locked together with clips and adhered tightly by a glued-down perimeter.

Adhesive coverage is roughly 60 sq.ft. per gallon; Surfacing requires 3.6 clips per tile. These clips are to be used specifically with Kid Kushion Tiles only (2-1/2 , 3-1/2 , & 3-3/4 inch thickness), and cannot be used with ramp pieces. See Installations for more information.

The International Playground Equipment Manufacturers Association (IPEMA) certifies playground surfacing for specific fall heights as per Federal ASTM-1292-99 testing (for Head Impact Attenuation). CPSC also uses this same test to determine the safety of the playground surfacing.

Color Changes Notes:
Color wear will occur in areas of traffic and this is normal and to be expected. Color wear will not go away and the amount of color wear will vary depending on the amount of traffic.

The gray/black color will always amber a little bit in outdoor installations and may return to normal over time.

Warranty Note:
Based on the recycled content of the material of these tiles, and the exterior environment of the installations, and the potential extremes of some climates, color changes or variations of color of any kind are not covered by the warranty. Color ambering or changes in the shade of color over time are not considered product defects. If color changes do occur, in most cases the ambering effects will go away and the colors of the tiles will return to their original shades.

This product is shipped via freight delivery.
Please review our
shipping disclaimer.
Features:
Warranty: 5 Years
Contains no hazardous materials
Paint and binders are lead-free
All the crumb rubber used is 100% recycled rubber
The EPDM particles used for the top 1/4" of the special speckled colors are virgin rubber by definition
Kid Kushion tiles can be produced with a UL Class A or Class B fire rating, if required

Characteristics:
Recycled Content
Non Slip
Anti-Fatigue
Waterproof
Made in USA
No Adhesive Required
Outdoor and UV Resistant
Size and Dimensions:
Tile Size: 24x24 Inches, plus or minus 1/8 to 1/4 inch in either direction
Ramp Edge Size: 8x48 Inches
ADA Ramp Size: 27x24 Inches
Fall Height Rating per Thickness:
2.5 Inches - 6 FT Fall Height
3.5 Inches - 8 FT Fall Height
3.75 Inches - 10 FT Fall Height

View Installation PDF
View Install Transition Tiles PDF
View Color PDF
View Fall Height PDF
View Lead Test PDF
View Leed PDF
View Maintenance PDF
View MSDS PDF
View Specs PDF
Pricing Table
Thickness - Fall Rating
Black
Colors
Speckled Colors
EPDM Colors
2.5 Inch - 6 Ft Fall Height
$26.30 per piece
$28.95 per piece - $7.24 per SF
$28.65 per piece - $7.16 per SF
$44.60 per piece - $11.15 per SF
3.5 Inch - 8 Ft Fall Height
$29.75 per piece
$30.75 per piece
$32.00 per piece
$45.90 per piece
3.75 Inch - 10 Ft Fall Height
$30.75 per piece
$31.80 per piece
$33.05 per piece
$47.45 per piece
2.5" Ramp Edge
$24.20 per piece
$25.80 per piece
$27.05 per piece
$44.35 per piece
3.5" Ramp Edge
$33.55 per piece
$36.65 per piece
$37.90 per piece
$66.55 per piece
3.75" Ramp Edge
$34.60 per piece
$36.65 per piece
$37.90 per piece
$69.65 per piece
2.5" ADA Ramps
$45.90 per piece
$55.20 per piece
$56.50 per piece
$79.95 per piece
2.5" Aprons for ADA Ramps
$38.70 per piece
$40.75 per piece
$42.00 per piece
$56.75 per piece
3.5" ADA Ramps
$57.25 per piece
$68.10 per piece
$69.40 per piece
$115.55 per piece
3.5" Aprons for ADA Ramps
$40.75 per piece
$42.85 per piece
$44.10 per piece
$71.70 per piece
Tile Clips
$0.85 per piece
200 SF Minimum Order on this Product - for smaller projects please consider the - StayLock Perforated Tiles


Standard Colors

Black


Blue


Red


Gray


Green

Speckled Colors

Earth


Blue/Black


Green/Black


Gray/Black


Red/Black


Tan/Black

Playful EPDM

Confetti


Field


Hawaiian Sand


Fiesta


Mountain


Star

EPDM Earth Tones

Earth Tone


Lava Sand


Muddy Water


Sunset

EPDM High Solar Reflectance

Beach Sand


Garden Brown


Ice Cream


Shore Line

Customers who viewed this item also viewed: