Choose this type of modular floor tile for industrial ergonomic flooring, athletic cardio and aerobic floors, home gyms, basement floors, automotive shops or anywhere a comfortable and easy to install modular floor tile is needed. This modular floor tile features cushion ergonomic benefits to people that have to stand on their feet for long periods of time in industrial, athletic and standing work environments.

The bottom web structure of this modular tile features excellent cushion to provide real relief when standing on this floor tile. StayLock is available in bump top and orange peel top surface designs, this page shows the orange peel top surface design. The bump top texture will provide the most ergonomic benefits for industrial and standing work environments while the orange peel will deliver a more aesthetic appeal for commercial and home athletic, gym, cardio and aerobic environments.

StayLock floor tile is easy to connect together using a rubber mallet, anyone can put these modular floor tiles together. The tiles can easily be taken up when needed or replaced, and yet will stay together perfectly on the floor for as long as they are in use. The typical life span of this type of modular flooring tile is 20 years. Optional border and corner edge pieces are available.

When the floor tile life span is completed, this material can be reclaimed and reground back into base material that can then be manufactured into useful products, which means this product need never go to the landfill. Black is made from material with a low percentage of recycled content. Also available in several colors which are made from virgin PVC material.

This Product Ships UPS Ground, FedEx Ground and/or Freight.
Please review our
shipping disclaimer.
Features:

StayLock Connector Design
Cushion Fatigue Benefits
Ergonomic Flooring
Waterproof
Resistant to Oils and Acids
Border Ramps Available
Increase Worker Comfort
Install Large or Small Areas
Move as Needed
Easily Replace Damage Tiles
7 Year Warranty

Specifications

Tile Size: 1x1 Ft
Tile Thickness: 9/16 Inch
Tile Weight: 1.5 lbs
Pricing for StayLock Orange Peel Black
1x1 Ft x 9/16 Inch
$3.98 per piece
Customer Reviews
Customer Rating:
Great for high and low impact workout! Mat squares stay perfectly locked, no bumps, no pulling apart. Makes a very stable, firm surface on which to run, jump, etc. Installed ourselves into a 5' by 10' rectangle on top of carpet in basement. Looks great!
Customer support is wonderful! I phoned and was transferred directly to someone who was familiar with all the products and steered me to this one when I described what I needed. He noted that this one would be a good choice going on top of carpet due to it's firmness and stability...and he was spot on!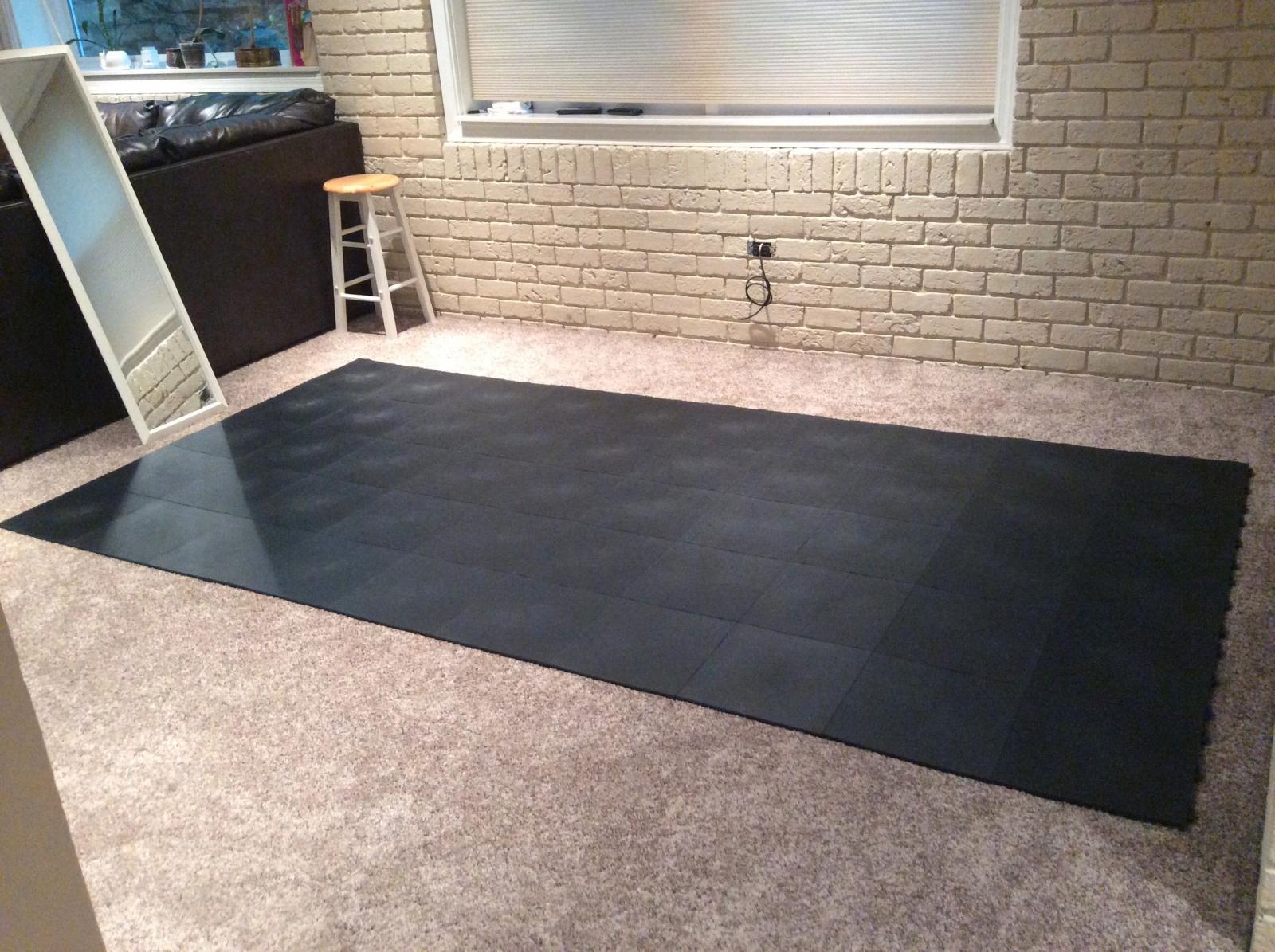 Pamela
Midland, MI
09/21/2014
Customer Rating:
This flooring presents a good solution for an active workout program such as aerobics, P90X, Insanity, etc.

My prior flooring was the interlocking foam rubber squares which continually became separated during exercise.

I researched many options before buying this product. I now have had it in use for one month and am pleased with the results.
Randal
Spring, TX
07/02/2014
Customer Rating:
In searching for mats for my gym, I spoke with a number of suppliers. Jim Schott and Great Mats were by far the most knowledgeable, helpful, and patient. I highly recommend Great Mats!

Dennis P

Madison, CT

01/03/2014