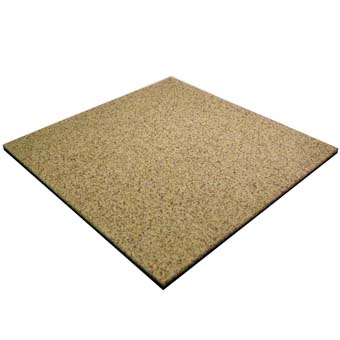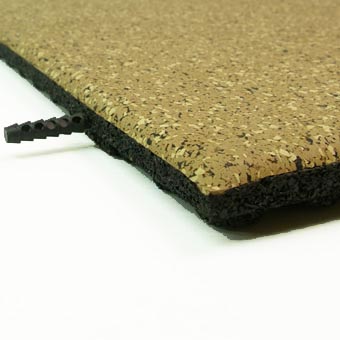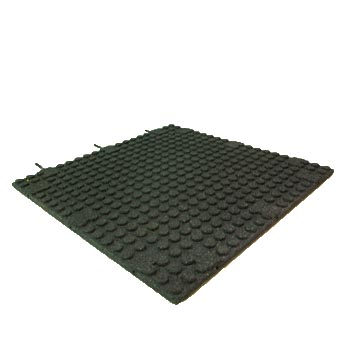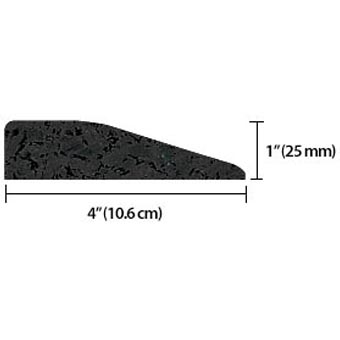 This rubber gym mat is available in standard black and 8 standard colors and 5 premium colors to let you choose the perfect look to match your health club or fitness center decor.

Designed to coordinate with leading fitness equipment and interior flooring, these Rubber Gym Mats Weight Strength Tiles will enhance the look of your facility while providing a tough, shock-absorbing workout and training floor.






Our Rubber Gym Mats Weight Strength Tiles feature a patented 1-inch thick top layer for durability and a pedestal underside to keep cables and wiring secure and out of sight. The easy-to-install 24"x24"x1" tiles are modular with a unique dowel rod fastening system that lets you add, move or replace tiles with minimal effort. There's no adhesive; tiles install quickly with no glue and no mess.

You don't have to sacrifice superior strength for good looks with our Rubber Gym Mats Weight Strength Footed Tiles. They're engineered to hold up to the brutal repetitive impact of fitness equipment and free weights - even dropped weights - and still retain their good looks. For the best in noise and shock absorption, and the ultimate in durability, select Rubber Gym Mats Weight Strength floor tiles for your facility.
Applications:
Home Gyms
Weight Rooms
Rec Facilities
Please Note:
Lead Time of 2-6 Weeks

This product is shipped via freight delivery.
Please review our
shipping disclaimer.
Features:
Material: Rubber
Material Density: 80 Shore A
Type: Tile
Country of Manufacture: USA
Tile Size: 2 feet x 2 feet
Thickness: 1 inch
Connection: 6 dowels per tile
Weight per:16 pounds per tile
Edge Type: Straight Edge
Ordering Minimum: 100 Square Feet
UV Treated: No
Stocked: No
Non Absorbent: Partial
Ships Out From Warehouse:1-3 weeks
Warranty: 15 Year prorated warranty
Border Strips: Reducers available
Installation: Pinned with dowels on hard flat surface. Reducers are glued to tile and floor.
Special Adhesives: Chemrex 941 for gluing reducer to tile and floor
Top Texture: Smooth, flat
Loss Per Tile: None
Reversible:No
Additional Features:
Sound and shock absorbent
Pedestal feet hide electrical cords
Slip resistant wet or dry
Can contribute toward earning up to 8 LEED points
Custom colors and logos
Easy installation and maintenance
Low life cycle costs
Reducers:
The Reducers are 4 feet Long, they span 2 tiles
The reducers are glued to the tile and should be glued to the ground also
There is no dowel connection between reducer & tile
There is no "corner" for the reducer material
100 SF minimum order
Pricing for Rubber Gym Mats Weight Strength
Black Color Tiles

On Sale Now




$21.95

per piece - $5.49 per SF
Was: $25.80 per piece

You Save 14%

Standard Color Tiles

On Sale Now




$23.40

per piece - $5.85 per SF
Was:$27.00 per piece

You Save 13%

Team Color Tiles:

On Sale Now




$25.20

per piece - $6.30 per SF
Was:$27.80 per piece

You Save 9%

Premium Color Tiles

On Sale Now




$26.95

per piece - $6.74 per SF
Was:$31.00 per piece

You Save 13%

Black Color Reducers 4 ft
$22.75 per piece
Standard Color Reducers 4 ft
$23.80 per piece
Premium Color Reducers 4 ft
$23.99 per piece
Team Color Reducers 4 ft:
$24.25 per piece
Dowels
$0.40 per piece



Black



Standard Colors
Premium Colors



Iron






Mocha






Steel






Slate






Bran



Team Colors



Cats






Vikings






Lions






Blue Jays






Cardinals






Devils






Tigers






Gators



Customers who viewed this item also viewed: