Dog Agility Mats for Large Dog Agility Flooring Installations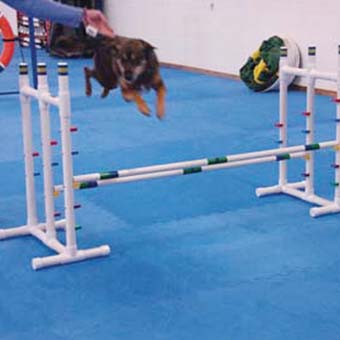 View Dog Agility Mats in our
Customer Gallery.
Greatmats offers the best dog agility mats on the market at the best pricing available. Our dog agility mats will provide a durable top texture that provides exceptional grip and traction for the dogs paws while providing enhanced support and cushion for the trainers and dogs alike. Use our dog agility flooring under any type of dog agility training equipment. More and more trainers consider light and portable Greatmats dog agility mats to be an important part of their dog agility equipment and flooring system for the comfort and safety of dogs and trainers alike.

Dog owners and dog agility floor users will enjoy maximum comfort for many years with these durable EVA foam dog agility mats that are double sided and in-line reversible, which means that both sides of the mats can be used. Durable dog agility mats provide comfort for trainers and dogs that is unmatched by many other product on the market at unbeatable prices. Consider this product for your next purchase of dog agility flooring. Please contact our professional customer service, or request a free sample online.

Precautions:
Because of the no-slip surface texture, some toe nail scuffing, puncturing, indentations or other markings in the dog agility mats surface is to be expected. Surface markings will not affect the performance of the agility mats or change the dog agility mats ability to provide maximum anti-fatigue cushion and traction.

Please Note:
Color and shade may vary somewhat from tile to tile within the same order, this is common with this type of EVA foam material.

Cleaning:
Vacuum weekly and clean the dog agility mats using Pine Sol on a regular bases as needed. An automated walk behind floor cleaner is recommend, use the softest scrubbers available and test prior to use to make sure the scrubbers will not damage the foam dog agiity mats.

This product is shipped via freight delivery.
Please review our
shipping disclaimer.
Characteristics:
Anti-Fatigue
Non Slip
Waterproof
No Adhesive Required
Size and Dimensions:
40" x 40" x 3/4"
6 lbs. per tile
Product Info:
Lead Free and Latex Free
Maximum Comfort for Trainers and Dogs
Excellent Traction and Grip
Double Sided Reversible
Light and Portable
Easy to Install
Custom Colors Available
Ships out of our warehouse in 1-3 days
Cleaning: Past customers recommened Bissel WET / DRY VAC. Use standard recommended detergent.

Blue

Back to Top of Page