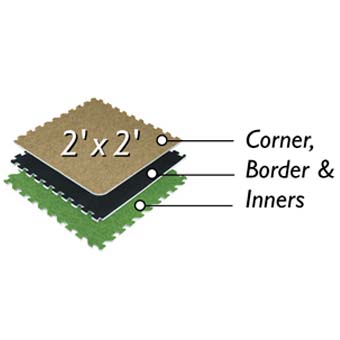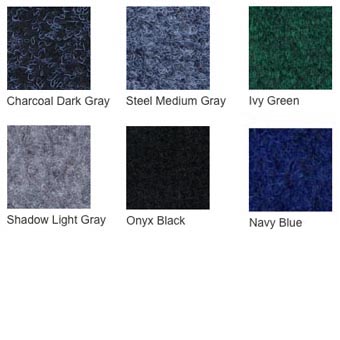 Comfort Carpet Tile
On Sale Now
$14.10
/ piece
Was:

$20.15

/ piece
Per SF $3.53 You Save 30%
Dense enough to withstand the weight of common foot traffic. Durable enough for tables and chairs. These mats are also excellent for high traffic areas, trade show booths, schools, conventions, and basements.

When installing make sure all the arrows on the bottom of these mats are pointing in the same direction.
Applications:
Trade Show Booths, Conventions and Showroom Flooring
Basements and Garages
Patios
Theaters
Sun Rooms
Workspace
Great for Concrete or and Hard Floor

This product is shipped UPS or FedEx Ground and or via freight delivery.
Please review our
shipping disclaimer.
Features:
Mix and match to create any layout or design.
Corner, border, and interior pieces are all full size 2x2 ft mats and are included to create a finished, smooth edge on the outside of mat.
Easy to install, easy to take up, lightweight and portable.
Easy to clean. Can be vacuumed.
Anti-Fatigue Relief
Place directly on concrete or tile ­ no adhesive needed for a snug, tight fit.
Waterproof and odorproof.
Anti-fatigue and insulative value similar to carpet.
Comfortable and Durable, Light and Portable
Will Stand up to Tables and Chairs and High Heels
Easy to Assemble, Easy to Clean
Build any size layout in 2 FT increments
Interlocking design makes for continuous surface system
The edge is not beveled down, it is a straight 90 degree edge. The straight edge will not present a tripping hazard.
Can be custom cut with an utility knife and a straight edge
Shipping Time: 1-2 weeks
Size and Dimensions:
Tile Size: 24" x 24" x 5/8"
Borders and Corners: 24" x 24" x 5/8"
Pricing for Comfort Carpet Tile
100-400 SF
$20.15 per piece
Ramped Edge Option
$2.50 per LF



Charcoal Dark Gray






Ivy Green






Onyx Black






Shadow Light Gray






Steel Medium Gray






Navy Blue