Interlocking foam mats are made of high-density EVA foam that will last for years. Safe and soft foam mats for kids, exercise, or both. Lay directly on any hard surface for a safer, durable floor.

Applications:

Children's Play Areas
Kids Flooring
Preschools
Elementary Class Rooms
Exercise Rooms
Basements and Garages
Multipurpose Rooms
Great for Concrete and Hard Surfaces

Product Info:

Purchase In 4 Pack Sets
Easy to clean. Can be vacuumed and washed with soap and water - test your vacuum.
Place directly on concrete or tile - no adhesive needed for a snug, tight fit.
Waterproof and odorproof. Closed cell EVA foam will not absorb moisture or other substances.
Can be used outside in mild climates, not UV stable, not suitable for extreme sunlight locations.
scuff resistance top texture for years of wear
Universal interlocking design.
Made in Taiwan
No border strips, all center tiles.

Please Note:

Test your vacuum on the mats to make sure your vacuum will not leave scratches in the tiles. Have your vacuum cleaner set at highest setting or just use hose and nozzle. Don't use power head. When used outside the mats may expand and curl if exposed to direct sunlight in warm climates for extended periods of time.

Color and shade may vary somewhat from tile to tile within the same order, this is common with this type of EVA foam material. Make a checkerboard pattern in your room to alleviate this potential issue.

If this particular foam mat is not perfect for your application or budget please consider one of our other foam mats, we offer a complete and comprehensive line of interlocking foam mats to our customers, some starting at $0.99 cents per square foot and while other foam mat products offer free shipping. Please browse our complete line of puzzle foam mats. If you have questions please Chat with us online, send an email or call our friendly customer service center to speak with one of our flooring experts about our foam mats.

This Product Ships UPS Ground, FedEx Ground and/or Freight.
Please review our
shipping disclaimer.
Characteristics:

Lead Free and Latex Free
Anti-Fatigue
No Odor
Non Slip
Waterproof
No Adhesive Required
Easy to install, easy to take up
Lightweight and portable

Size and Dimensions:

Tile: 24'' x 24'' x 1/2'' or 12.5 mm - thickness tolerance of 1 mm + or -
4 Tiles Per 4 Pack
Pricing for Playmats Foam Mats 4 Pack
2x2 FT / 1 lbs per tile
$19.04 per piece
Customer Reviews
Customer Rating:
Great service, fast shipping, no problems!
Katie
Youngsville, LA
09/09/2014
Customer Rating:
I purchased 6 4-packs of these for camping. The first time we used them was when scouts were over and it was pouring rain. We made a mat on the garage floor for a free-standing tent as one of the kids was afraid to sleep outside. The next time was for under a tent at a state park when the tent site had stones and roots. These mats seem pretty durable. They make a nice shoe mat for outside our large family tent as well. I chose these mats after seeing an ad for camping mats that cost over twice as much. They're not camo, but do I really care?
Randall
PAYNESVILLE, MN
07/11/2014
Customer Rating:
The mats are great. Easy to install, easy to clean, and most of all, they look beautiful.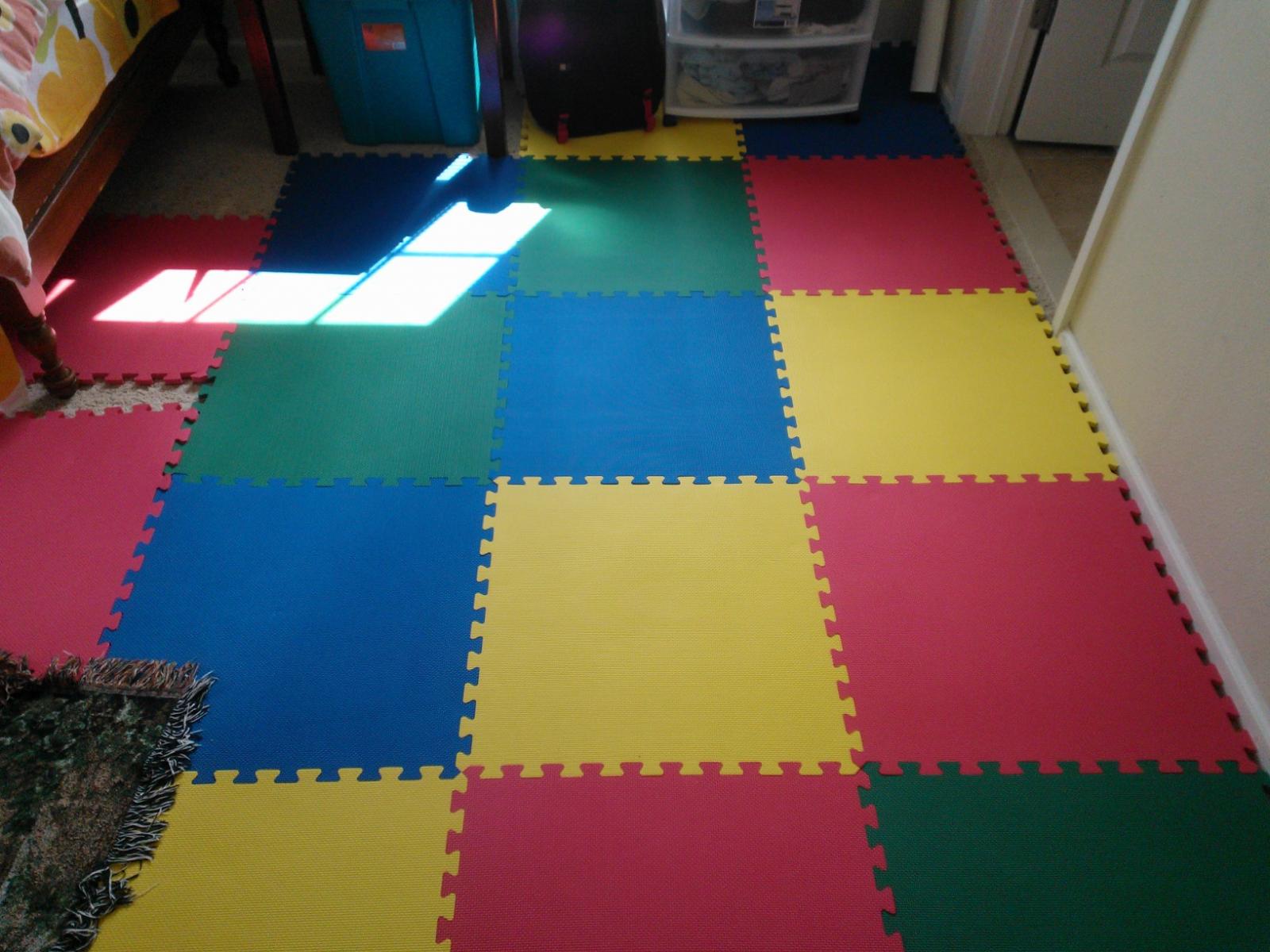 Jin
Wilmington, NC
06/18/2014
Customer Rating:
We ordered and received about 400 Sqft of play mats to cover our hard tile floor. The play area is comfortable and warmer. They look great, and were an awesome value. Our kids love playing in the area too.
DAWN
YELLOW SPRINGS, OH
01/13/2014
Customer Rating:
Great mats. I use them for dog beds. Each dog gets two, end to end, and each of my four have their own color. They last long, are easy to vacuum or wash, and easy to break down and store when necessary. PLUS, they love them.
Linton
Kerrville, TX
01/01/2014
Customer Rating:
Excellent product - so easy to clean, and colorful!
Lisa
Holt, MI
12/14/2013
Customer Rating:
Great floor for child's playroom
William
Bellport, NY
10/13/2013
Customer Rating:
love it. love it, love it. easy to clean, kids fall and dont get hurt. quiets sounds.
joan
white marsh, MD
10/01/2013
Customer Rating:
Easy and fast to put down and take up. No odor, light weight, great colors.
Jacquelyn
Milwaukee, WI
08/06/2013
Customer Rating:
I use the mats to block my knitted shawls after washing. Some of the shawls are quite large, and I have to use 6-8 mats for blocking each one. These mats are very suitable for my purpose as I can put them away when the shawls have dried. Because they are foam, the pins that hold the shawls in shape stay in place. They probably won't get dirty the way I use them, but I expect they'll be very easy to clean if needed.
Yvette
Oakland, CA
08/02/2013
Customer Rating:
Great price, fast shipping and the best part of all is that the product had no chemical type smell whatsoever. I was fully prepared to air it out for a week or so, but that wasn't at all necessary.
Natalie
Telford, PA
06/08/2013
Customer Rating:
Everyone loved the colors of the mats. They only mentioned thhat I installed them upside down( smooth side up). But it will be simply to flip them over.
George
Parma, OH
05/17/2013
Customer Rating:
Great product. Great service. It doesn't get any better. A huge thank you.

Debra DiMattia

Niantic, CT

05/06/2013

These are fantastic! Best prices I could find and outstanding quality. Shipping was also much faster than expected.

Jennifer

Onalaska, WI

03/07/2013

Excellent quality....fair price!

Chris Melissa

Ukiah, CA

02/10/2013

Good quality

Lolita

Mission Viejo, CA

01/13/2013

excellent product easy to clean fast shipment even on holidays

Alberto C

Lakewood, CA

01/09/2013

I ordered 6 sets of the colored mats for my kids play room. They work wonderfully!!! I love how thick & bright they are, and they are super easy to clean, just mop them or if you have a big spill take them outside & hose them down! As a bonus the price was great too!!

Janiva

Albuquerque, NM

12/28/2012

Great product, robust and comfort, my kid really loves it.

Paul

Beavercreek, OH

12/08/2012

I love these mats. Wished I had of gotton 2 more pairs last time I ordered. I use them to go around or infront of furniture, hearth, and doors ways for my 1yr great granddaughter. They make my life so much easier not having to worry about her hitting her head on corners. When the older kids come over they love the boxes and turnels I make for them out of all the mats. They love to play in them and build their house with them!

Marjorie

Lubbock, TX

11/10/2012

This mats are great. I had some that I used for my son when he was in the hospital to have a safe clean place to play in his room. They were great. I bought a couple sets to donate to the hospital and they use them for other kids to have a spot in their room that they can play. They are easy to wipe down and disinfect and are soft. Love them!

Nicole

Santa Maria, CA

10/04/2012

I actually use them for protection and as a cushion to kneel on during my construction projects, they work great.

JOHN

ROCHESTER, NY

09/20/2012

Great product and very good price! I layed these mats down on my outdoor patio for my child daycare. I am very happy and they are safe!

Carol

Santa Clara, CA

09/15/2012

Perfect fit and price! We love these mats!

Randi

Phoenix, AZ

09/13/2012

I teach first grade and these are in my library. They are awesome. Very colorful and comfortable.

Alexandra

Graham, NC

09/09/2012

These mats are colorful and perfect for a playroom. I really like the size and brightness. The only flaw is that they are easily marked up if something heavy is pulled across them.

Juliet

Boulder, CO

08/18/2012

The mats are great for our play activities for the 2-7 year olds in our play groups here at a local health department. Excellent quality and the kids love them.

Maureen

COLUMBIA, MO

07/23/2012

The entire transaction went smoothly and I am pleased with the product. I have tile and wood floors and use the mats to form a path in my house for walking exercise. The cushioning is enough that I can walk continuously barefoot for over an hour a day and not have my feet hurt or blistered. The mats are easily manipulated to form a walking path that fits my home. (I am 71 yrs. old and this exercise is important to my health.) I do have to place them in such a way that they will not slip a little as I walk. (I could attach the rubberized runners (that prevent carpet slippage) to the bottom of the cushions and that would work, too.) They are easily picked up in sections when I am finished walking each day.

Donna

Las Vegas, NV

07/18/2012

Great product! Nice & soft for my students to sit on. Will be easy to keep clean too!

Shannon

Frisco, TX

07/14/2012

Soft and sturdy. The only disadvantage was that there were no strips for the edges. Prompt and efficient delivery. Excellent customer service.

Soumya

Columbus, OH

04/29/2012