This modular carpet tile is ideal for basement carpet flooring, family rooms and all for retail and office space. Install CarpetFlex modular carpeting for a unique floor that features construction that allows for airflow and keeps the carpet away from potential dampness. Each modular carpet tile is a single, snap-together unit for easy installation. Best of all, CarpetFlex carpet tile comes in two popular colors to choose from.

CarpetFlex will be shipped with both vertical and horizontal textured tiles, half of each order will have vertically oriented tiles and half will have horizontally oriented tiles, alternate upon installation for a pleasing appearance.

Color shade variations may occur from tile to tile, this is common with all carpeting as dye lots vary from batch production run. Therefore we recommend laying out the tiles during installation prior to connecting the tiles together, and looking at the carpet tiles from a distance and mixing up any tiles that have color or shade variations.

Please note that this tile will expand and contract with exposure to sun. Not suitable for installation over carpet. Base construction uses pegs that raise the modular carpets tiles above the base flooring, allowing instant drainage. This detail also highlights the simple but sturdy snap-in loops that make assembly so easy.

This Product Ships UPS Ground, FedEx Ground and/or Freight.
Please review our
shipping disclaimer.
Pricing for Carpet Flex Basement Floor Carpet Tile
12x12 Inches
$5.19 per piece
Customer Reviews
Customer Rating:
I would highly recommend this flooring to anyone that is thinking about a basement area. It was easy to install and did all the work myself. I have a finished basement with 2 bedrooms, full bathroom, TV room and a walk in closet. My prior floor was a subfloor with wall to wall carpeting but was destroyed by the town back flushing the sewer line into my bathroom. So I wanted to but down an easy but durable flooring along with something that I would be able to pull up if anything happened again. It just seemed like this was the perfected match! I had a problem trying to up load the photos Sorry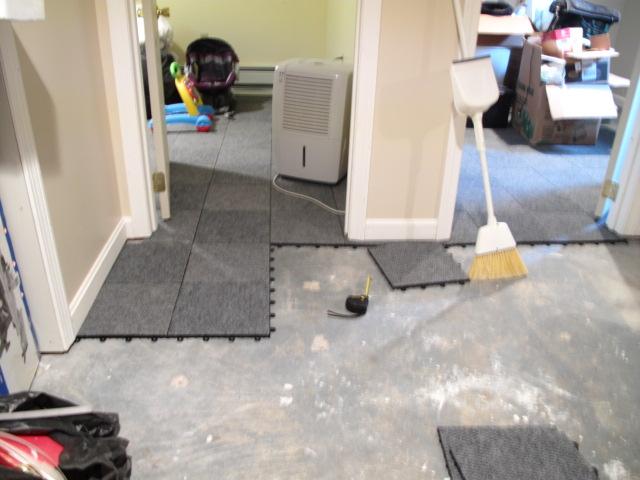 Peggy

Old Orchard Beach, ME

06/03/2013

They really look nice. Easy to work with. Wish I would have put them in basement years ago. Thanks

Rod

Allison, IA

01/06/2013

From ordering with your truly professional customer service staff through quick delivery to the easy installation, I could not be happier with my decision to purchase this terrific product from your company.

I have already recommended Great Mats to two people.

I also plan on ordering more in the very near future.

Thank you so very much for being here.

John

Roselle, NJ

03/12/2012

Love these carpet tiles.Very easy to install and I didn't have to take out all the furniture. Also they look very nice.

curtis

san francisco, CA

01/07/2012

Carpet Flex arrived quickly. The end result turned out to be better than expected. It installed with ease and once the basement was completed everything looked really high end. The only drawback is the price, but I would not have it any other way.

Alex

Stamford, CT

11/25/2011

Did my basement with carpet flex and tile flex. I like the carpet flex more then the tile, easy to install, I used a fine cutting tool to cut tiles. That was easier then using snips. The tan carpet tiles looked more gray then tan, but we are still happy with the results.

Barry

Baltimore, MD

10/12/2011

these tiles were easy to install, look great, easy to vacuum. they are comfortable to walk on. not too bad price for the value of the carpet.

jennifer

moscow, PA

09/15/2011

I have always had a problem with a little water in the basement. This product seemed like the perfect solution, so if a little water came in there would be no damage to the carpet. Bought a sample to see how it would look. Liked it, so went ahead and ordered enought to do my basement. It looks fabulous. Love it. Great product.

Couple of comments from putting it down. The squares lock together. I found the best way to engage the locks was to use a rubber mallet to connect them. Also, these are difficult to cut, but they should be given how they are made. I used a heavy duty pair of mental cutting snips. Also, got the trim pieces for the door openings -- glad I did, they look fabulous.

Overall, slightly expense product, but worth it. Looks great. Would highly recommend it.

Also, I got the 3 x 8 rubber mat to put under my treadmil. Also, a well made product.

Thanks

Steven

Cincinnati, OH

06/05/2011

We recently had the opportunity to install Greatmats carpet flex tiles in our basement. At first I wasn't sure they would work. We ordered a sample and decided to go ahead and purchase enough to do parts of the basement. After installation,my wife and I loved the way they looked in our basement.They were the perfect solution. The whole experience, from the ordering , to receiving,to installing was flawless. The ladies that I talked to during ordering were great and had excellent phone manners. A pleasure to deal with you. Thanks again for a great product and excellent service.

Sincerely;
Carl Hermann

Carl

Schuler, AB

10/25/2010

Great product. The tiles are expensive, and a challenge to cut and fit - but they are a fantastic solution to flooring a basement - particularly if there is a chance your floor could get wet.

Chester

Watertown, CT

10/22/2010