Sprung Floor Installation


Sprung Dance Floor by ROSCO was developed and tested by dancers to insure the perfect combination of resilience (spring or bounce) with stability.
Customizing Panels - An Installation Overview
Uses for Customizing Panels include permanent studio installations as well as wall-to-wall temporary installations.
Materials Needed:
2 x 4 lumber for edges
MDF sheet goods-cut to width and length
Customizing panels
Drywall screws
Step 1
Lay 2 x 4's around edge of room where panels will be installed.
Step 2
Measure all customizing panels to span gap between full Sub Floor panels and 2 x 4's at edges.
Layout of Customizing Panel next to subfloor panel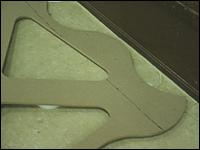 Cut line marked on Customizing Panel
Step 4

Cut 1/2" MDF to fit over customizing panel and 2 x 4
Drill countersink holes
Screw MDF to 2 x 4 perimeter
Screw MDF to "waves" of adjacent SubFloor panel
Additional Photos Illustrate:

Corners
Non-square edges
Doorway treatment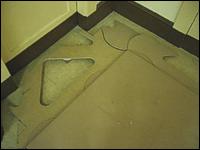 Customizing Panels filling corner of room right to the wall. Note the small infill to make up the corner. The MDF filler will support the small corner piece.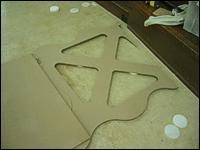 Customizing Panel cut with curve of stage. Panel is cut 4" from wall. A 2" x 4" is placed against the wall and the whole surface is finished with MDF screwed to the Customized Panels and to the subfloor panel.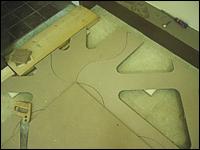 Customizing Panels making up corner with doorway. Note leveling shims in place to level floor. Also note 2" x 6" which will support ramp in doorway.