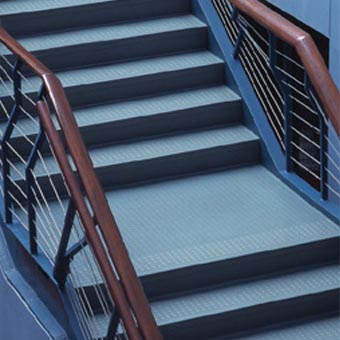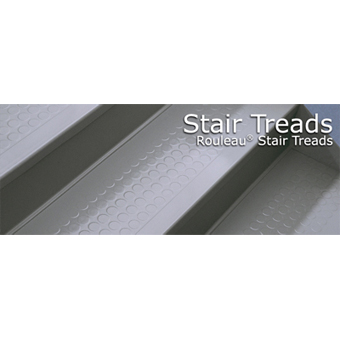 Commercial Stair Treads
We have you covered from the ground up. Burke makes it easy to color coordinate your projects. You have a broad range of standard colors to choose from your installation: 20 Uni-Color System colors, as well as many additional colors. Custom colors are also available with minimum order requirements.

Rouleau® Stair System: Tile, Treads & Risers
ROUND PROFILE - SQUARE NOSE & VISUALLY IMPAIRED

Rouleau® blends style, color, and performance into a naturally beautiful floor covering. Rouleau® gives you impressive durability and comfort while creating an impressive look. Its gently raised round and square profiles provide a slip-resistant surface. The unique composition and design of Rouleau® resists scuffing, gouging, cigarette burns, and most chemicals.  

Not only does rubber provide a beautiful look, but it also provides insulation for warmth and cushioning for walking comfort. Rouleau Tile is available in 20 Uni-Color System colors and custom colors may be special ordered.

Burke Marble Stair Treads
SQUARE AND ROUND NOSE - SMOOTH

With so many colors, patterns, and surface options, it's easy to choose the Burke stair treads that are right for your installation. And with color-coordinated base, tile, and accessories you can create a perfectly smooth transition from floor to treads.

Burke stair treads come in all the colors and patterns of Marble, as well as custom colors.

Most treads are available in Safety and Visually Impaired configurations so you can meet required governmental regulations while maintaining the resilient, colorful integrity of your original design.

As with all Burke rubber flooring products, durability, comfort, low absorption, and resistance to impact and static loads is assured while maintenance is kept to a minimum. The color chip pattern extends through the entire tread so colors will never wear off.

Burke rubber stair treads are ideal for areas such as shopping malls, restaurants, office buildings, hospitals, airports, schools, and government buildings to name a few.

LINEAR SERIES™ Stair Treads
MAXXI-TREAD® (VINYL AND RUBBER)

Linear Series Stair Treads have a unique grooved surface for improved traction and good looks.  

A variety of designs are available to meet Federal and State ADA specifications as well as meeting a wide range of budgets.  

12' Rubber and Vinyl Stair Treads are also available.  

Endura: Tile, Treads & Risers
ROUND PROFILE - SQUARE NOSE & VISUALLY IMPAIRED

Endura provides impressive durability and comfort. Its unique rubber formulation is highly slip-resistant and helps reduce noise from footfall while increasing comfort. Endura's built-in waxes produce a natural luster that requires no waxing or stripping and lowers maintenance costs.  

Backed by a ten-year warranty, Endura offers one of the best life-cycle flooring values available and is being used worldwide in thousands of commercial, institutional and industrial facilities.  



Applicable Standards:
Tile: ASTM F-1344, Class 1A
Treads: ASTM F2169, Type TS, Class 2, Group 1 & 2
Risers & Skirting: ASTM F1861, Type TS, Group 1, Style A & B
Indentation Resistance:
ASTM F970 - .000" residual indent at 250 PSI
Resistance Flame Rating:
ASTM E-648, Class 1
ASTM E-84, Class B

This product is shipped via freight delivery
Please review our
shipping disclaimer.
This product is non-returnable.
Features:
Material: Vinyl
Material Density: 85 Shore A
Type: Linear foot
Country of Manufacture: USA
Length Size: 3', 4', 5', and 6'
Thickness: 1/8"
Connection: None
Edge Type: Straight Edge
Ordering Minimum: 200 square feet
UV Treated: No
Stocked: No
Non Absorbent: Yes
Ships Out From Warehouse: 2 to 3 weeks
Warranty: 10 Years
Installation: Hard Flat Surface
Special Adhesives: BR-711 Rubber floor adhesive
Top Texture: Squares, Round, or Smooth
Reversible: No
Size and Dimensions:
Round - .125" - 18.125" x 18.125"
Square - .125" - 18.125" x 18.125"
Sculptured - .125" - 18.125" x 18.125"
Stair Treads
Product
Lengths
VI Strips
Relief
1/8" Round Profile
3',4',5',6'
Option
Round
1/8" Square Profile
3',4',5',6'
Option
Square
1/8" Uni-Step™ Round Profile
3',4',5',6'
Option
Round
1/8" Risers (7" height w/toe)
3',4',5',6'
n/a
none
1/8" Risers (6" cove)
4'
n/a
none
1/8" Skirting
12"x36" Slabs
n/a
none
1/8" Skirting (10" toeless base)
4'
n/a
none
Burke - Endura - Rouleau Stair Tread Pricing per LF
Visual Safety Rubber
10.74 per LF
Visual Safety Vinyl
7.47 per LF
Commercial 250 Rubber
8.23 per LF
Commercial 250 Vinyl
5.95 per LF
Commercial 210 Vinyl
4.93 per LF
Commercial 150 Vinyl
3.11 per LF
Maxxi Treads Rubber
10.33 per LF
Maxxi Treads Vinyl
8.26 per LF
Rouleau Round Profile Rubber
11.00 per LF
Rouleau Round Profile Uni Rubber
14.55 per LF
Smooth Marble Rubber 1/8"
10.54 per LF
Smooth Marble Rubber 1/4"
13.89 per LF
Burke Diamond Treads
13.20 per LF
Endura Solid Color Round/LVS
11.00 per LF
Endura Solid Color Uni Round/Sculptured
14.55 per LF
Endura Solid Color Uni VI Round/Sculptured
19.81 per LF
Endura Flecksibles LVS Square
13.56 per LF
Endura Flecksibles VI LVS Square
18.30 per LF
Endura Flecksibles Uni Sculptured
17.74 per LF
Endura Flecksibles Uni VI Sculptured
24.00 per LF
Request a Quote
For special order stair treads or other stair tread options not listed, please call for pricing.
VI stands for Visually Impaired. Uni stands for Uni-Step. LVS is a square profile.
Color options tend to match same product in floor tiles.
Volumne discounts apply, Contractors please call for special pricing.



502 Brown






597 Mocha






527 Clay






206 Light Beige






001 Malibu Sand






509 Nutmeg






607 Cranberry






701 Black






523 Black Brown






660 Rocky Slate






217 Charcoal






204 Gray Fog






208 Light Gray






663 Sky Gray






505 True Blue






323 Bluebonnet






506 Tahoe






254 Light Teal






331 DarkForest






875 Navy Night Blue



Customers who viewed this item also viewed: