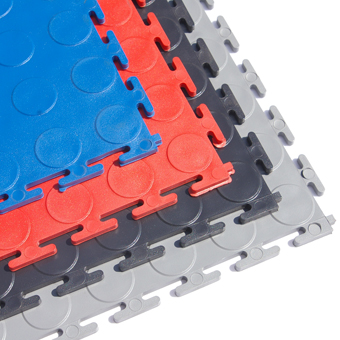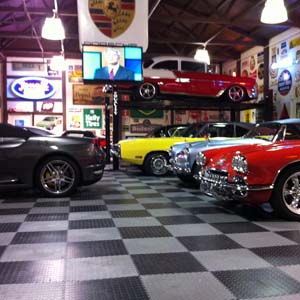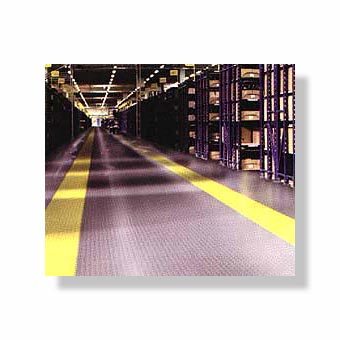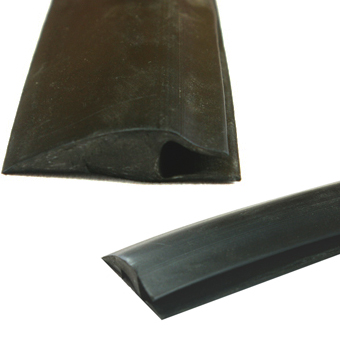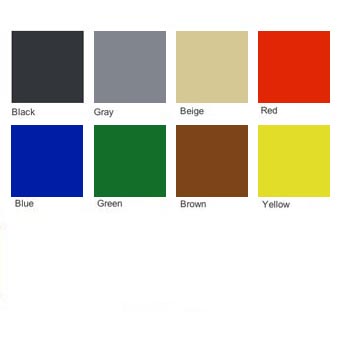 The coin top surface of this industrial floor tile provides a slightly raised surface that will lessen scuffing on the tile surface from vehicles and foot traffic. This industrial floor tile is featured in a variety of standard and safety colors that allow for unique design patterns in your facility. Make aisle ways or walking paths and safety markings or landing pad markings on the floor.

This tile is an economical industrial floor solution for new surfaces. You can also use it to repair old, worn out surfaces such as concrete. This industrial PVC floor tile offers a great look and provides safety and functionality for every installation. The surface texture of this industrial floor can either be the traditional coin top anti-slip surface or a smooth surface featuring a slight sandblast texture for wear resistance. Each tile will cover approximately 2.6 SF per tile. Border edging is available that simply slips onto the edge of the tile in lengths up to 50 linear feet.


Applications:
Garage Floors
Warehouses & Industrial Areas
Entrance Ways
Industrial Workshops
Arenas
This product is produced in gray and black with 100% reclaimed recycled PVC material content which makes this product a sustainable green product. Because the source of reclaimed material is always changing in the marketplace, it is important to note that the color gray will vary from batch to batch and it is important to order this product in full job quantities to insure the best possible color matching for this type of recycled content PVC floor tile.
Please note:
Use Tireguard overcoat application to product your new PVC modular floor tiles from discoloring.

Mix together parts A and B prior to application. 1 gallon of mixed Tireguard product will cover about 200 SF of floor space. Coat this product immediately after installation of this floor tile.

As an added precaution, we recommend that customers install black tiles in the areas of the floor where automotive tires will come into contact with this floor.

Tireguard costs $115.00 per gallon. Please speak with customer service to order this product.


This product is shipped UPS or FedEx Ground and or via freight delivery
Please review our
shipping disclaimer.
Features:
100% Recycled PVC for Black and Gray
Coin Top or Smooth Surface
No adhesive needed
Easy to clean: just damp mop
Damaged tile modules are easily replaced
Resistant to oil, gasoline, most solvents & caustics
Retards bacterial growth
Resistant to mold, mildew, and ozone abrasion aging
Anti-Skid qualities
10 Year warranty for wear and manufacturing defects
Color and tensile strength not affected by heat, cold, humidity
Composition:
PVC tile is manufactured from a 100% recycled tough injection molded PVC compound.
Dimensions:
Size: 1 tile with interlocking joints measures 19 5/8" x 19 5/8"
When interlocked, 4 tiles measure 38 7/8" x 38 7/8"
Thickness: 1/4 " average
Weight: 4.23 lb. average
Design:
Interlocking tiles with raised disc or textured finish, and grid pattern underside.
Maintenance:
General maintenance – damp mop. Cylindrical scrubber with combined vacuum using mild detergents may also be used. Rot proof and resistant to oil and most chemicals.
Physical Properties:
Hardness: ASTM 2240, (shore A) 90 + or -3
Moisture Absorption: ASTM D 471, Less than 3% by weight (72 hours @ 70° F)
Specific Gravity: ASTM D 792, (+ or - .02) 1.37
Tensile Strength: ASTM D 638, 2700 PSI
Testing:
ASTM F925, Resistance to Chemicals, on a scale of 0-3 and 0 meaning no surface dulling, surface attack, or color change. Tile scored a rating of 0 for all chemicals tested.
ASTM E 648, Critical Radiant Flux of Floor Covering Systems using a radiant heat Energy source: Class 1
ASTM E-662, Standard Test Method for Specific Optical Density of Smoke Generated by Solid Materials: 450 or less
ASTM D-2047, Static coefficient of Friction Conform to American with Disabilities Act (ADA) specifications.
ASTM D-149-97A, Dielectric strength – exceeded 45 kV (suitable for electrical facilities)
Limited Warranty:
PVC tile is warranted against defects in workmanship and material for five years from date of purchase.
Characteristics:
Chemical Resistant
No Odor
Non Slip
Waterproof
No Adhesive Required
Thickness:
5/16" - standard thickness
3/16" - for cost savings - Minimum order of 1000 SF
Weight:
Colors for Border Edging:
Pricing for Industrial Floor PVC Coin
5/16" Black

On Sale Now




$6.59

per piece - $2.53 per SF
Was:$8.98 per piece

You Save 26%

5/16" Gray
$7.10 per piece
5/16" Colors

On Sale Now




$8.49

per piece - $3.27 per SF
Was:$10.95 per piece

You Save 22%

3/16" Black
call for pricing
Border Strip
$2.00 per
400 SF plus
Request A Quote



Black






Gray






Beige






Red






Blue






Green






Brown






Yellow