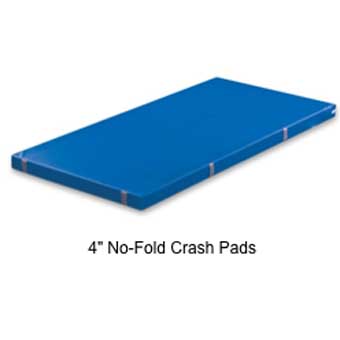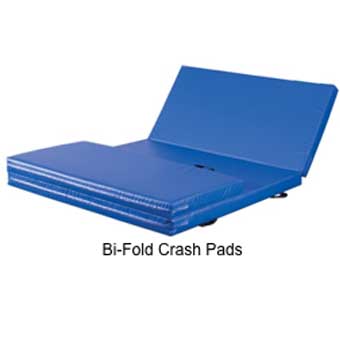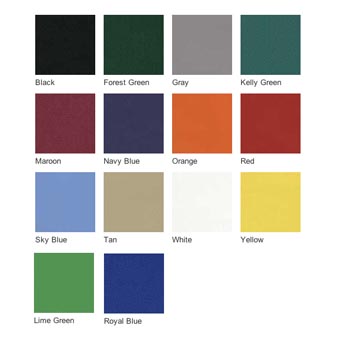 Our 4 inch safety mats are built for younger athletes or where just a little extra protection is needed. Our 8 inch mats are the workhorse of most martial arts programs designed for perfecting take-downs. Try our 12 inch crash mats where extra protection is desired especially on dynamic throws. All 8" and 12" safety mats have Breather Mesh sides and feature double stitched top surfaces.

The vinyl used with this product is 6P compliant for Phthalates and Lead Free, and meets California state law Proposition 65 requirements.

Crash mats are designed to absorb impact from falls, jumps, and throws. This product is ideal for cheer teams, gymnasts, and martial artists who are looking for a soft landing surface for various exercises. Made in America of the best quality materials, crash mats are built for repeated uses in commercial settings. They are extremely durable.

Find the perfect crash mat for your application whether you're into martial arts, tumbling, gymnastics, or just looking for a durable mat for the kids to roughhouse on. Available in several colors and three thickness options.

All Mats meets USAG, NCAA and NFHS competition specifications. All mats consist of 50 ILD polyurethane vinyl cover. Nylon mesh side panels breathe, allowing air to escape on landings.

Applications:
Martial Arts Studios
Combat Training
YMCA Multipurpose Rooms
Indoor Kids Facilities & Playgrounds

This product is shipped via freight delivery.
Please review our
shipping disclaimer.
Features:
Easy Take Up and Down
Cover: 18 oz vinyl coated polyester surface
Heavy duty #10 YKK zipper
2" polyester web handles on all sides
Durable Construction
1.8 lb density x 50 ILD polyurethane
Pricing for Landing Mats
4x6 ft x 4 inch 18 oz
$204.00
4x6 ft x 8 inch 18 oz
$315.00
4x6 ft x 12 inch 18 oz
$356.00
4x8 ft x 4 inch 18 oz
$244.00
4x8 ft x 8 inch 18 oz
$381.00
4x8 ft x 12 inch 18 oz
$452.00
5x10 ft x 4 inch 18 oz
$336.00
5x10 ft x 8 inch 18 oz
$554.00
6x12 ft x 4 inch 18 oz
$505.00
6x12 ft x 8 inch 18 oz
$810.00
6x12 ft x 12 inch 18 oz
$971.00
Pricing for Single Fold Landing Mats
Single Fold 5x10 ft x 4 inch 18 oz
$400.00 per piece
Single Fold 6x12 ft x 4 inch 18 oz
$569.00 per piece
Single Fold 5x10 ft x 8 inch 18 oz
$614.00 per piece
Single Fold 6x12 ft x 8 inch 18 oz
$838.00 per piece
Single Fold 6x12 ft x 12 inch 18 oz
$1,015.00 per piece
Pricing for Bi-Fold Landing Mats
Bi-Fold 5x10 ft x 4 inch 18 oz
$434.00
Bi-Fold 5x10 ft x 8 inch 18 oz
$651.00
Bi-Fold 6x12 ft x 4 inch 18 oz
$640.00
Bi-Fold 6x12 ft x 8 inch 18 oz
$893.00
Bi-Fold 6x12 ft x 12 inch 18 oz
$1,060.00

Black


Forest Green


Gray


Kelly Green


Lime Green


Maroon


Navy Blue


Orange


Red


Royal Blue


Sky Blue


Tan


White


Yellow