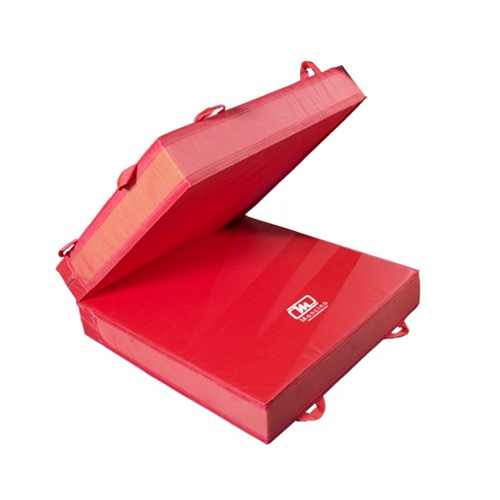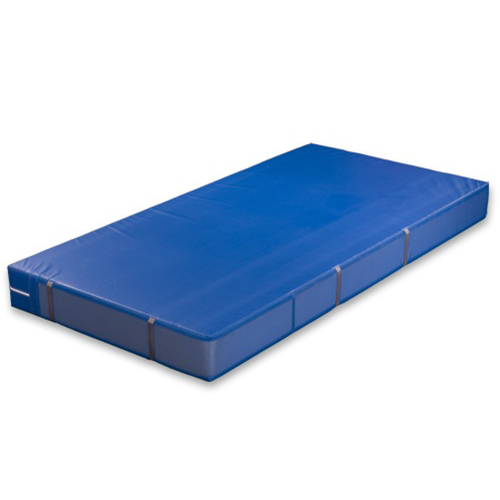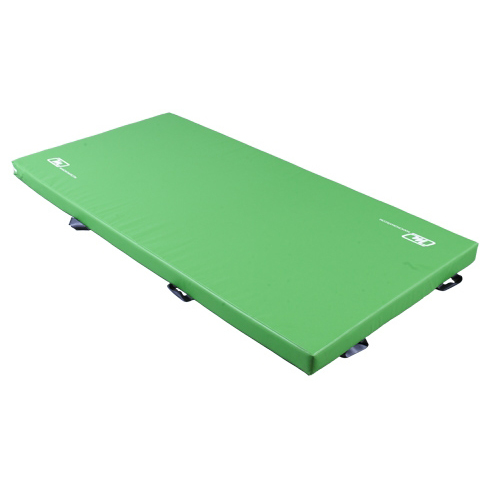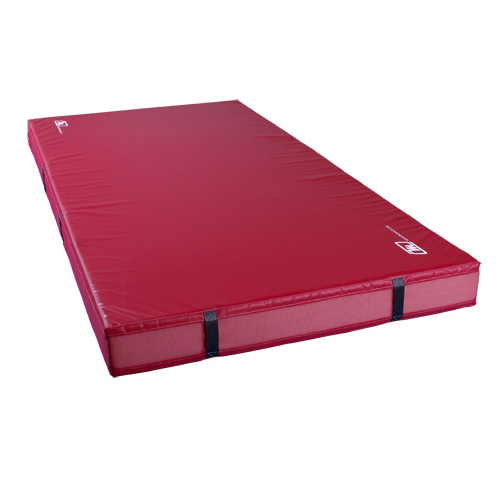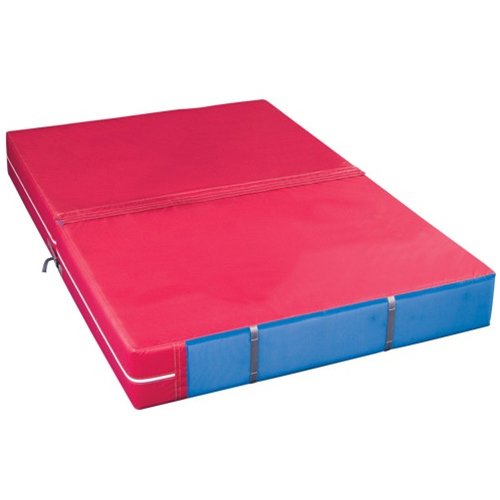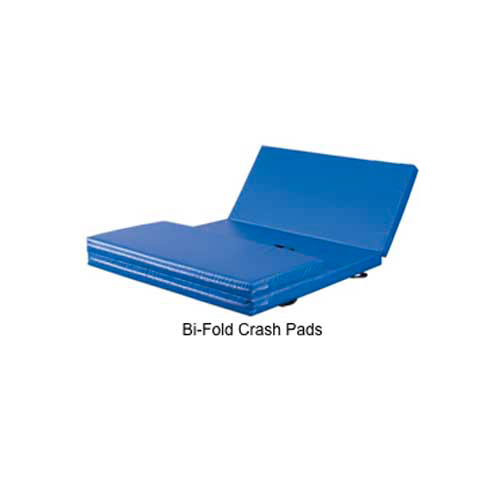 Skill Cushion Mats All Sizes
Be the First to Write a Review
SKU# Skill Cushion Mats
$204.00 per Mat
Ships out 2-4 Weeks on Average
Ship times are typical, inquire for immediate availability.
Please see pricing chart in description tab. All mats are custom made to order, please request a quote or contact customer service.
Use Types
Gymnastic Mats, Skill Development, Cushion Mats
Pick the perfect thickness for your program! Our 4 inch gymnastic skill cushions mats are built for toddler and preschool rooms where just a little extra protection is needed. Our 8 inch gymnastic cushions mats are the workhorse of most gymnastics and tumbling programs. Try our 12 inch mats where extra protection is desired. All 8 and 12 inch gymnastic skill cushions have breather mesh sides and feature double stitched top surfaces.
Single Fold Skill Cushions
These mats have one fold in the middle of the mat and are available in many thicknesses and sizes. Bi-Fold Skill Cushions mats have two folds and are available in larger sizes.

Softy Mat
Need a softer landing for your students?
Our custom formulated polyurethane foam creates the perfect 'pillow soft' landing. Order more than one and we will add our custom attaching system at no additional charge. Wide width vinyl available in Royal, Red, Black, Gray and Green only. Choose any mesh color.
Available in your color choice of our premium 18oz vinyl coated polyester.Sizes: 16 inch x 6 x 8 ft or 18 inch x 7 x 14 ft

Fluffy Mats
This denim covered mat is perfect for skill work where the athlete is repeatedly landing on his or her stomach or back while learning a skill. Used around bars and vault for releases and timers, your athletes will love it. Soft foam and cover take away the slap and sting of landing on a traditional 8 inch cushion mat. Easier to move around the gym than a modular pit. Tough, durable cover and high-density foam give this mat a long productive lifespan in any gym. Size is 12 inch thick by 60 by 80 inch.

All of these mats are not recommended for outdoor use as they are not waterproof and are not UV stable.

The vinyl used with all of these products is 6P compliant for Phthalates and Lead Free, and meets California state law Proposition 65 requirements.
NOTE: This item is a custom order and is not returnable.
Shipping
Ships via ground service or freight delivery.
This Product Ships UPS Ground, FedEx Ground and/or Freight.
Please review our shipping disclaimer.
Pricing for Skill Cushions Mats

4x6 ft x 4 inch 18 oz $204.00 per piece
4x6 ft x 8 inch 18 oz $315.00 per piece
4x6 ft x 12 inch 18 oz $356.00 per piece
4x8 ft x 4 inch 18 oz $244.00 per piece
4x8 ft x 8 inch 18 oz $381.00 per piece
4x8 ft x 12 inch 18 oz $452.00 per piece
5x10 ft x 4 inch 18 oz $336.00 per piece
5x10 ft x 8 inch 18 oz $554.00 per piece
5x10 ft x 12 inch 18 oz $634.00 per piece
6x12 ft x 4 inch 18 oz $505.00 per piece
6x12 ft x 8 inch 18 oz $810.00 per piece
6x12 ft x 12 inch 18 oz $971.00 per piece

Pricing for Single Fold Skill Cushions Mats

Single Fold 5x10 ft x 4 inch 18 oz $400.00 per piece
Single Fold 6x12 ft x 4 inch 18 oz $569.00 per piece
Single Fold 5x10 ft x 8 inch 18 oz $614.00 per piece
Single Fold 6x12 ft x 8 inch 18 oz $838.00 per piece
Single Fold 6x12 ft x 12 inch 18 oz $1,015.00 per piece

Pricing for Bi-Fold Skill Cushions Mats

Bi-Fold 5x10 ft x 4 inch 18 oz $434.00 per piece
Bi-Fold 5x10 ft x 8 inch 18 oz $651.00 per piece
Bi-Fold 6x12 ft x 4 inch 18 oz $640.00 per piece
Bi-Fold 6x12 ft x 8 inch 18 oz $893.00 per piece
Bi-Fold 6x12 ft x 12 inch 18 oz $1,060.00 per piece

Pricing for Softy Mat

16 inch x 6 x 8 ft $887.00 per piece
18 inch x 7 x 14 ft $1,773.00 per piece

Pricing for Fluffy Mat

60 x 80 x 12 inches $368.00 per piece


| | |
| --- | --- |
| Product Type | Mat |
| Material Type | Vinyl covered Foam |
| Product Edging | Straight |
| Thickness | 4 inch |
| Width | 0.00 feet |
| Length | 0.00 feet |
| Weight | 0.00 lbs |
| Packaging | Bags |
| Number of Pieces per Package Type | 1 |
| Non Absorbent | No |
| Special Adhesives | No |
| Interlock Loss | 0.00 feet |
| Interlocking Connections | No |
| Made In | USA |
| Order Minimum | 1 |
| Surface Finish | Smooth flat |
| Surface Design | Solid color |
| Installation Method | Layout flat |
| UV Treated | No |
| Reversible | No |
| Border Strips Included | No |
| Manufacturer Warranty | 3 year limited |
Pricing for Skill Cushions Mats

4x6 ft x 4 inch 18 oz $204.00 per piece
4x6 ft x 8 inch 18 oz $315.00 per piece
4x6 ft x 12 inch 18 oz $356.00 per piece
4x8 ft x 4 inch 18 oz $244.00 per piece
4x8 ft x 8 inch 18 oz $381.00 per piece
4x8 ft x 12 inch 18 oz $452.00 per piece
5x10 ft x 4 inch 18 oz $336.00 per piece
5x10 ft x 8 inch 18 oz $554.00 per piece
5x10 ft x 12 inch 18 oz $634.00 per piece
6x12 ft x 4 inch 18 oz $505.00 per piece
6x12 ft x 8 inch 18 oz $810.00 per piece
6x12 ft x 12 inch 18 oz $971.00 per piece

Pricing for Single Fold Skill Cushions Mats

Single Fold 5x10 ft x 4 inch 18 oz $400.00 per piece
Single Fold 6x12 ft x 4 inch 18 oz $569.00 per piece
Single Fold 5x10 ft x 8 inch 18 oz $614.00 per piece
Single Fold 6x12 ft x 8 inch 18 oz $838.00 per piece
Single Fold 6x12 ft x 12 inch 18 oz $1,015.00 per piece

Pricing for Bi-Fold Skill Cushions Mats

Bi-Fold 5x10 ft x 4 inch 18 oz $434.00 per piece
Bi-Fold 5x10 ft x 8 inch 18 oz $651.00 per piece
Bi-Fold 6x12 ft x 4 inch 18 oz $640.00 per piece
Bi-Fold 6x12 ft x 8 inch 18 oz $893.00 per piece
Bi-Fold 6x12 ft x 12 inch 18 oz $1,060.00 per piece

Pricing for Softy Mat

16 inch x 6 x 8 ft $887.00 per piece
18 inch x 7 x 14 ft $1,773.00 per piece

Pricing for Fluffy Mat

60 x 80 x 12 inches $368.00 per piece