Gymnastics Inclines - Folding and Standard Inclines, Custom Colors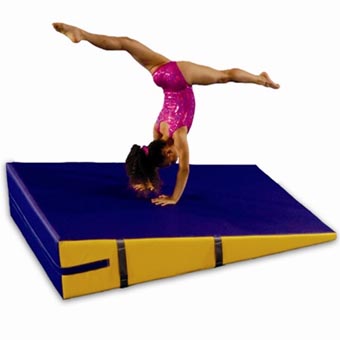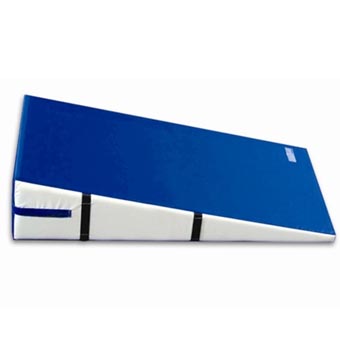 Prices Start at - $137.00
Please click the pricing tab for more specifics.
Call or Email to Order or to Request A Quote
Use these inclines for uphill vaulting, transition training on bars, basic tumbling on floor, and conditioning.

Our larger versions allow for consecutive moves and transform into firm mini-pits or spotting tables. New sizes to the folding incline family are our 24" x 48", 36" x 72", and 60" x 84". Order in one solid or two contrasting colors.
The vinyl used with this product is 6P compliant for Phthalates and Lead Free, and meets California state law Proposition 65 requirements.

This product is shipped via freight delivery
Please review our
shipping disclaimer.
Features:
Versatile Progressive Skill Builders
Order in one or two colors
Various Sizes Available
Competitive Pricing
Pricing for Non Folding Inclines
24"W x 48"L
Incline
$135.00
36"W x 72"L
Incline
$269.00
48"W x 72"L
Incline
$339.00
60"W x 84"L
Incline
$479.00
Pricing for Folding Inclines
24"W x 48"L
Folding Incline
$159.00
28"W x 72"L
Folding Incline
$249.00
30"W x 60"L
Folding Incline
$249.00
36"W x 72"L
Folding Incline
$309.00
48"W x 72"L
Folding Incline
$419.00
60"W x 84"L
Folding Incline
$549.00
60"W x 120"L
Folding Incline
$869.00
72"W x 144"L
Folding Incline
$1,299.00

Gray

White

Purple

Royal Blue

Forest Green

Navy Blue

Kelly Green

Sky Blue

Pink

Red

Maroon

Orange

Yellow

Tan

Lime Green

Black