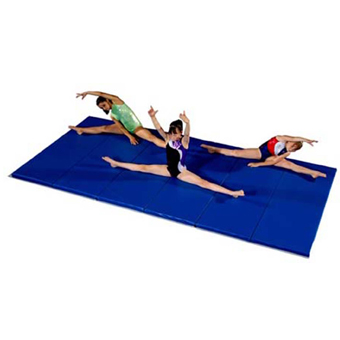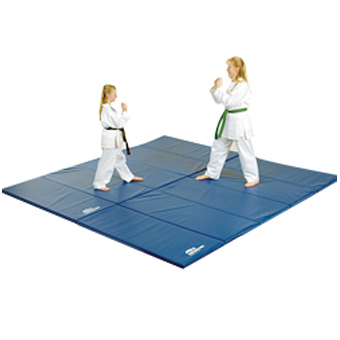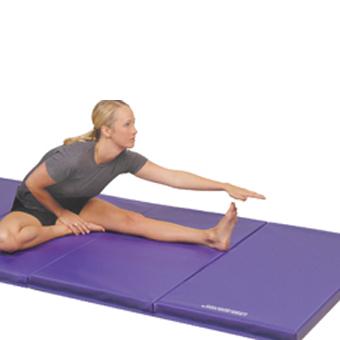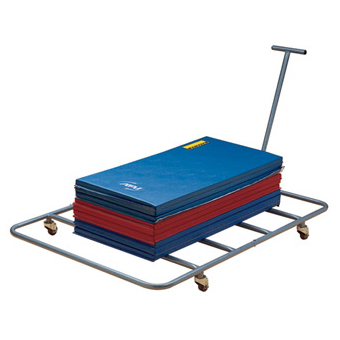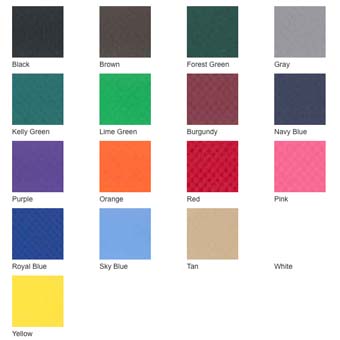 These gym mats feature superb shock absorption making this an excellent multi-purpose folding mat product for school and home use. Durable 18 oz. vinyl cover is standard for these gym mats. Choose your hook and loop attachment style: V2 has hook and loop fasteners on short sides of the mats; V4 has hook and loop fasteners on all four sides. Choose 4V for attaching the gym mats to each other on the long side of the folding gym mats (side-to-side placement). Choose V2 for attaching the gym mats on the short side for a long run.

You can opt for one of many colors or color combinations to match your facility. Custom sizes are also available by order.





These gym mats are made in the USA by a leading high-quality manufacturing facility that is dedicated to quality and customer service. Use this type of folding gym mat for athletic purposes in schools and universities. They are also great for gymnastics training, cheerleading, martial arts, and tactical training. This mat is very popular with elementary and middle school gym teachers for their quality and value.

Mat sizes range from 4x6 to 6x12 feet are available in three thicknesses. Custom sizes and colors of these gym mats is also available. Please inquire with our customer service team.

The underside of these mats features a gray vinyl material. This is a cost-savings measure. If you do not want gray vinyl on the underside of your custom-made folding gym mat, please specify that with customer service.

Use gym mats for school gym classes, tumbling training and gymnastics. The mats easily fold up for storage and are easy to transport. These mats are great for martial arts take down mats in professional martial arts schools. Or use this vinyl covered foam mat product for cheerleading and tumbling training at home. Use the thicker mats for large people and the thinner mats for elementary and low weight individuals.

The vinyl used with these gym mats is 6P compliant which makes the vinyl material phthalates and lead free. It meets or exceeds California state law Proposition 65 requirements.

Discount pricing is available for orders of 10 custom folding mats or more; please request a volume quote from one of our gym mats specialists.

A Greatmats logo is printed on these mats, if you do not want a Greatmats logo on your gym mats, please let your sales person know your wishes when you order.

Production Lead Time: 2-4 weeks.

Mat Safety Tips:
Mats and protective equipment are not the complete answer to eliminating or reducing injuries; mats are not fail-safe. Nothing can substitute for proper instructions, spotting, and common sense in the teaching of gymnastics or other sporting activities. Landing on the head or in an out-of-control position can result in injuries even with excellent floor padding.

This product may ship via freight delivery
Please review our
shipping disclaimer.
This product is non-returnable.
Thickness Options:
1.5 inches
2 inches
2.5 inches
Size Options:
4 x 6 FT. 16 lbs
4 x 8 FT. 21 lbs
4 x 10 FT. 21 lbs
4 x 12 FT. 25 lbs
5 x 10 FT. 31 lbs
6 x 12 FT. 43 lbs
Product Info:
Hook and Loop Fasteners on 2 or 4 Sides
18 oz Vinyl Cover
Pricing for 1.5 Inch Thickness Custom Folding Mats
Mat Size
2 Sides Hook and Loop Fasteners
4 Sides Hook and Loop Fasteners
4x6 FT
$125.00 per piece
$147.00 per piece
4x8 FT
$165.00 per piece $5.16 per SF
$182.00 per piece
4x10 FT
$184.00 per piece
$217.00 per piece
4x12 FT
$230.00 per piece
$272.00 per piece
5x10 FT
$230.00 per piece
$272.00 per piece
6x12 FT
$351.00 per piece
$391.00 per piece
Pricing for 2 Inch Thickness Custom Folding Mats
Mat Size
2 Sides Hook and Loop Fasteners
4 Sides Hook and Loop Fasteners
4x6 FT
$129.00 per piece
$145.00 per piece
4x8 FT
$190.00 per piece
$210.00 per piece
5x10 FT
$269.00 per piece
$311.00 per piece
6x12 FT
$408.00 per piece
$448.00 per piece
Pricing for 2.5 Inch Thickness Custom Folding Mats
Mat Size
2 Sides Hook and Loop Fasteners
4 Sides Hook and Loop Fasteners
4x6 FT
$155.00 per piece
$176.00 per piece
4x8 FT
$185.00 per piece
$214.00 per piece
5x10 FT
$283.00 per piece
$325.00 per piece $6.50 per SF
6x12 FT
$420.00 per piece
$460.00 per piece
Pricing for Mat Truck
4x6 ft
$575.00 per



Black






Brown






Forest Green






Gray






Kelly Green






Lime Green






Burgundy






Navy Blue






Purple






Orange






Red






Pink






Royal Blue






Sky Blue






Tan






White






Yellow



Customers who viewed this item also viewed: