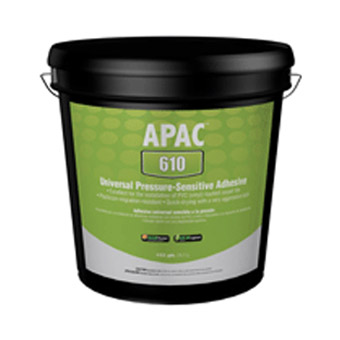 APAC 610 universal pressure-sensitive adhesive is a high-solids, acrylic, emulsion-based adhesive for the installation of a wide variety of floor coverings. APAC 610 resists plasticizer migration, provides exceptional tack and has great adhesion to all common types of floor surfaces. APAC 610 can be used to create both a releasable or permanent bond, depending on the installation method.

This product is shipped UPS or FedEx Ground and or via freight delivery.
Please review our
shipping disclaimer.
Features:
Single Component
Easy to Spread
Releasable Adhesive
Pricing for APAC-610
1 gal. pail

On Sale Now




$39.00

per -


Was:$56.00 per

You Save 30%

4 gal. pail

On Sale Now




$130.00

per


Was:$186.00 per

You Save 30%