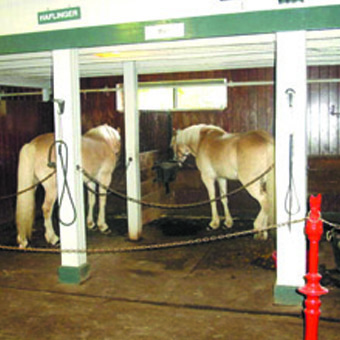 These horse stall mat kits are made of the best recycled rubber material on the market for maximum longevity in easy-to-install equine mat kits. These mats are rated to last for 20 years or more in equine environments and feature a 12 year warranty against manufacturing defects.

Greatmats interlocking horse mats are 100 percent recycled rubber stall mats for horse matting that features a flat bottom for cleanliness with a diamond top surface pattern for a comfortable horse mat.


Applications:
Horse Stalls
Wash Stalls
Aisle Ways
Foaling Stalls
Semen Collection Stalls
Trailer Floors
Grooming Areas

This product is shipped via freight delivery.
Please review our
shipping disclaimer.
This product is non-returnable.
Features:
Top Quality Material - Best on the Market
Waterjet cut interlocking system provides the tightest fitting mats possible
Made in the USA
Diamond Top Surface Pattern
Flat Bottom for Cleanliness
Designed to provide maximum quality and longevity
Requires no adhesive for installation
Made from 100% recycled rubber
12 year warranty
Easy to install and maintain
Characteristics:
Non Slip
Made in USA
Recycled Content
No Adhesive Required
Size and Dimensions:
Kit constructed from 4x6 mats
10x10 FT interlocking Kit
10x12 FT Kit
12x12 FT Kit
Custom sizes available to fit your floor.
Weight: 100 lbs per 4x6 ft mat
View Product Specs PDF

Care and Cleaning: Use a nuetral PH cleaner - such as Taski Profi
Pricing for Horse Stall Mats
10 x 10 FT
$318.00 / Stall Kit
10 x 12 FT
$339.00 / Stall Kit
12 x 12 FT
$388.00 / Stall Kit
Customers who viewed this item also viewed: