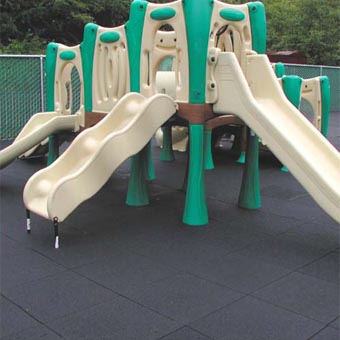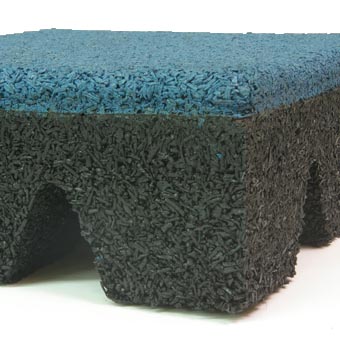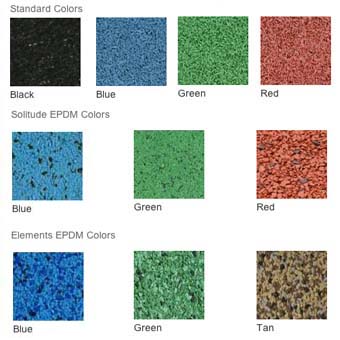 Playground Surface Bounce Back Tiles
Starting at
$25.70
/ piece 1.75" Black
Typically ships in out in 3-5 weeks from time of order. Please call for immediate product availability.

Unlike other surfacing options such as wood chips or loose-fill sand or gravel, these tiles do not have to be continually raked to maintain a consistently safe surface for your playground. The solid construction of these playground surface tiles does not allow foreign objects to hide out of sight. This provides a safer environment for children. Also, unlike poured-in-place rubber surfacing, you don't have to replace your entire surface if some of the higher-wear areas begin to wear down. If you have a tile that's wearing down (such as under the swingset or at the base of the slide) you can simply replace that tile. No patching or excessive labor is required.

This tile is an excellent safety surface that is fall-height rated for indoor or outdoor usage. It will perform year-round in all weather conditions for years. This product features colorful EPDM mixed color options that will enhance the appearance of any playground surfacing.


Allows Play Year Round
Design allows for continuous use even during the rainy season, because water does not puddle on the surface, but moves quickly through the top and through the "legs" of the cushions, the play area is ready for use soon after heavy rains.
Virtually Maintenance Free
No daily maintenance required to maintain safety standards means less cost and less hassle. It looks and performs great!
Residential Customers
A few things to be aware of. This material CAN NOT be installed on top of dirt. It does require a flat hard surface such as concrete, asphalt, decking or if you have dirt then a base of crushed stone that is compacted and leveled is required. Our only outdoor product for playgrounds that can be installed directly on grass and dirt is, Kids Ergo Matta
Applications:
Playgrounds
Play Areas
Decks
Patios
Rock Wall Climbing
Safety Areas
Skateboard Parks
24-7-365
Proper safety and protection 24 hours a day, 7 days a week, 365 days a year. Unlike loose fill, product in the most critical Fall Zones is not displaced by children during play activities.
Peace of Mind
Unlike loose fill, Bounce Back has a consistent shock absorbency throughout the play area and has the ability to meet all safety standards for Fall Zones higher than a 6' fall. Less worries. Fewer Injuries. Reduced Liability. Lower Premiums.
Many Colors Available
Solid colors include Black, Red, Green, or Blue. Black with a variety of color fleck options are also available.
100% Recycled
Earth Friendly. Each 24" x 24" safety tile is made from scrap tires that would otherwise be landfilled. Bounce Back can be recycled again and again.
Easy to Install
Low cost installation that is easily installed over concrete, asphalt, or roofs by grounds personnel or support groups. Not recommended for installation over dirt. Installation instructions available upon request.
Bounce Back cushions meet and exceed the requirements as established by the Consumer Product Safety Commission (CPSC) and Americans with Disability Act (ADA) and American Standard for Testing Materials (ASTM) methods. Testing is done regularly.

This product is shipped via freight delivery.
Please review our
shipping disclaimer.
Characteristics:
Recycled Content
Non Slip
No Odor
Made in USA
Outdoor and UV Resistant
Anti-Fatigue
10 Year Warranty
Fall Heights in Feet:
3 Feet equals 1.75 inch thickness
5 Feet equals 2.25 inch thickness
6 Feet equals 2.5 inch thickness
8 Feet equals 3.5 inch thickness
10 Feet equals 4.00 inch thickness

Playground Surface Bounce Back Architectural Specifications PDF
Pricing for Playground Surface Bounce Back
Thickness - Fall Rating
Black
Standard Colors
SOLITUDE EPDM Colors
ELEMENTS EPDM Colors
1.75 Inch - 3 Ft Fall
$25.70 per piece

On Sale Now




$25.95

per piece - $6.49 per SF


Was:$35.91 per piece

You Save 27%

$37.50 per piece - $9.38 per SF
$38.85 per piece - $9.71 per SF
2.25 Inch - 5 Ft Fall
$25.70 per piece

On Sale Now




$25.95

per piece - $6.49 per SF


Was:$35.91 per piece

You Save 27%

$37.50 per piece - $9.38 per SF
$38.85 per piece - $9.71 per SF
2.5 Inch - 6 Ft Fall
$25.70 per piece

On Sale Now




$25.95

per piece - $6.49 per SF


Was:$35.91 per piece

You Save 27%

$37.50 per piece - $9.38 per SF
$38.85 per piece - $9.71 per SF
3.5 Inch - 8 Ft Fall
$32.40 per piece
$33.40 per piece
$40.25 per piece - $10.06 per SF
$41.65 per piece - $10.41 per SF
4.00 Inch - 10 Ft Fall
$32.40 per piece
$33.40 per piece
$40.25 per piece - $10.06 per SF
$41.65 per piece - $10.41 per SF
Pricing for Playground Surface ADA Ramp
Size
Black
Standard Colors
ADA Ramp 2.25 inch
$60.00 per piece
$67.00 per piece
ADA Ramp 2.5 inch
$54.00 per piece
$61.00 per piece
ADA Ramp 3.5 inch
$175.00 per piece
$199.00 per piece
Pricing for Playground Inside Corner
Size
Black
Standard Colors
Inside Corner 2.25 inches
$93.00 per piece
$105.00 per piece
Inside Corner 2.5 inches
$93.00 per piece
$105.00 per piece
Inside Corner 3.5 inches
$111.00 per piece
$127.00 per piece
Inside Corner 4 inches
$157.00 per piece
$179.00 per piece
Pricing for Playground Outside Corner
Size
Black
Standard Colors
Outside Corner 2.25 inches
$93.00 per piece
$105.00 per piece
Outside Corner 2.5 inches
$93.00 per piece
$105.00 per piece
Outside Corner 3.5 inches
$111.00 per piece
$127.00 per piece
Outside Corner 4 inches
$157.00 per piece
$179.00 per piece
Pricing for Playground Surface Edge
Size
Black
Standard Colors
Edge 2.25 inches
$47.00 per piece
$52.00 per piece
Edge 2.5 inches
$41.00 per piece
$52.00 per piece
Edge 3.5 inches
$50.00 per piece
$59.00 per piece
Edge 4 inches
$72.00 per piece
$84.00 per piece
200 SF Minimum Order on this Product - for smaller projects please consider the - StayLock Perforated Tiles





Black



Standard Colors
Solitude EPDM Colors
Elements EPDM Colors