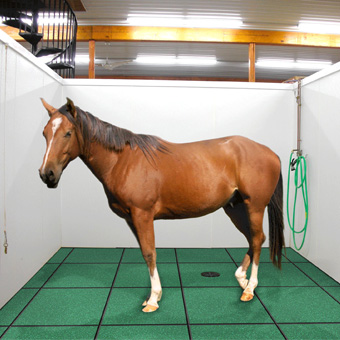 Our equestrian safety rubber tiles transform traditional flooring into fatigue-free, safe surfaces to protect your horses and livestock.

Equine rubber flooring is perfect for barns, wash racks, stables, breezeways and more. Provide unmatched safety and comfort for your horses and livestock. Made from 100% recycled rubber, these one-inch thick, interlocking rubber tiles provide a slip-resistant, anti-fatigue surface when wet or dry. Choose this superior, eco-friendly alternative to traditional flooring materials for better cushion and traction, all while reducing injury and bedding costs. Attractive color choices with a flat top or brick top pattern to fit your design requirements.m

Color Changes Notes:
Color wear will occur in areas of traffic and this is normal and to be expected. Color wear will not go away and the amount of color wear will vary depending on the amount of traffic.

The gray/black color will always amber a little bit in outdoor installations and may return to normal over time.

Warranty Note:
Based on the recycled content of the material of these tiles, and the exterior environment of the installations, and the potential extremes of some climates, color changes or variations of color of any kind are not covered by the warranty. Color ambering or changes in the shade of color over time are not considered product defects. If color changes do occur, in most cases the ambering effects will go away and the colors of the tiles will return to their original shades.

This product is shipped UPS or FedEx Ground and or via freight delivery.
Please review our
shipping disclaimer.
Features:
Enhanced cushion
Better traction
5 year warranty
Superior design - Exceptionally durable and resilient; water permeable and fast drying
Slip resistant – wet and dry
Easy installation with modular design – fully-adhered or floating applications for barns, wash racks, stables, breezeways and a other traffic areas
Safe - Non toxic and certified 100% steel free
Eco-friendly – molded from 100% post-consumer waste tires, each tile diverts up to 1 tire from our landfills
Easy maintenance – requires only basic cleaning with a vacuum, broom or standard garden hose
Long Lasting - water permeable and fast drying. Won't rot, decompose or attract insects
View Warranty PDF
View Install PDF
View Lead Test PDF
View Leed PDF
View Maintenance PDF
View MSDS PDF
View Specs PDF
Pricing for Equi Rubber Tile Colors
Equi Rubber Tile Black
$22.10 per piece - $5.53 per SF
Equi Rubber Tile Colors
$24.75 per piece - $6.19 per SF
Equi Rubber Tile Speckled Colors
$26.00 per piece - $6.50 per SF
EPDM Custom Colors
Call for quote

Black


Blue


Red


Gray


Green

Speckled Colors

Earth


Blue/Black


Green/Black


Gray/Black


Red/Black


Tan/Black

EPDM Earth Tones

Earth Tone


Lava Sand


Muddy Water


Sunset

EPDM High Solar Reflectance

Beach Sand


Garden Brown


Ice Cream


Shore Line