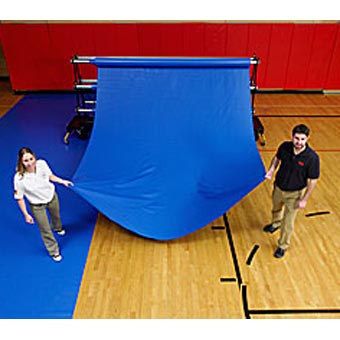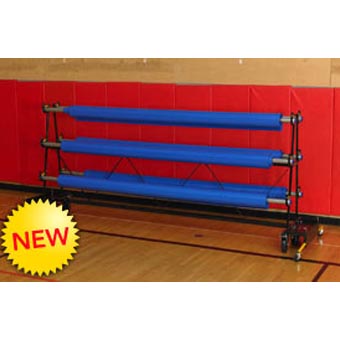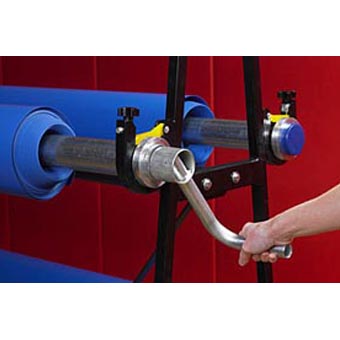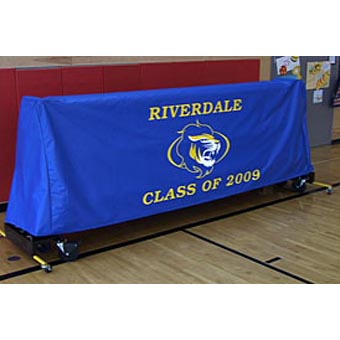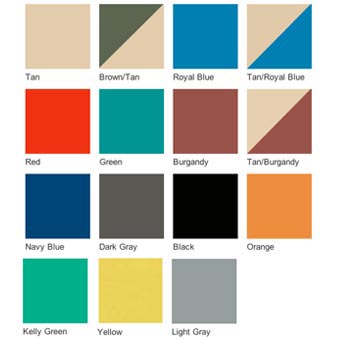 Vinyl Sheeting Gym Floor Covers, Protect Your Gym Floors
Prices Start at - $0.53 Per SF for 18 oz
Please click the pricing tab for more specifics.
Please Call to Order
Two people can easily deploy a floor cover system over your entire gym floor within 30 minutes which will help to protect your investment.
*The Weight is the actual weight of the material Per Square Yard.
Premier Safety Storage Rack
The new Premier Rack includes the following safety features:
Six 8" diameter wheels reduce risking damage to floor boards by distributing weight load and allow for easier rack movement
Safety leg extenders with two 3" wheels virtually eliminate the possibility of the rack tipping over
Storage trays hold items such as extra rolls of tape or the power winder
Included with all racks:
2 hand cranks for easy winding
3 fabric clips per roller for securing cover to roller
Instructions for assembly and operation
Vinyl Gym Floor Cover colors by size
Color Available:
18 oz
22 oz
27oz
32 oz
Tan
x
x
x
x
Brown/Tan
x
x
x
Royal Blue
x
x
x
x
Tan/Royal Blue
x
x
x
Light Gray
x
x
Red
x
x
x
x
Green
x
x
x
x
Burgundy
x
x
x
x
Tan/Burgundy
x
x
Kelly Green
x
Navy Blue
x
x
x
x
Dark Gray
x
x
Black
x
x
x
x
Orange
x
Yellow
x
x
The Number of Uses Per Year equates to Oz Weight Recommended:
18 oz
6 Times / Year or Less
22 oz
6 - 12 Times / Year
27 oz
13 - 23 Times / Year
32 oz
24 Times / Year or more

This product is shipped via freight delivery
Please review our
shipping disclaimer.
Features:
Rolls are 10' wide
Ultra-durable, 3-ply fabrics - reinforcing polyester mesh yarns coated evenly with PVC on both sides, so you can use either side up
Fire retardant to all standard fire codes
Exceeds ADA and OSHA requirements for slip-resistant surfaces
Seams engineered to be as strong as the fabric itself and to lay smooth and flat
15 colors available
5 weights available: 32oz., 27oz., 22oz. and 18oz.
Waterproof, rot and mildew resistant, anti-fungal and anti-bacterial
System Accessories
Brush Assembly
Sweeps each 10' section clean while winding up
Easy to attach
Durable nylon bristles in steel housing
Tape with hand-held and walk-behind dispensers
Secures overlaps and perimeter edges
Leaves no residue on floor or cover edges
3" wide x 36 yds. of transparent vinyl per roll
Power winder
Quickly and easily winds up each section.
Eliminates hand cranking.
Power winder specifications
Motor: Universal 115V
Switch: Heavy-duty paddle type with safe lock-off switch,
separate forward and reverse switch
Gear hand: Spur and worm gear reduction drive, aluminum housing
Body and handle: Durable heavy duty fiberglass-reinforced plastic
Spindle speed: 32 RPM (no load)
Weight: 12.5 lbs. (5.5 kg) drive only
Length: 20" (51 cm)
Vinyl Storage Rack Cover
When not in use, keep cover and rack clean. Dress up the rack to prevent people from leaning and climbing on it.
Mobile Rack Specifications
Sizes:
34"W x 12'6"L x 67"H for 10'-wide covers
34"W x 6'4"L x 67"H for 5'-wide covers
Capacity
2,800 lbs. of fabric Rollers
2-1/2" diameter, 14-gauge steel, all with locks to prevent accidental unwinding
Frame
Mig welded, all-steel construction
Brackets
Steel with Delrin roller bearings
Wheel:
8" non-marking urethane swivel types, all with foot locks
Warranty
20 years against defects in material or workmanship
Pricing for Gym Floor Cover
32 oz
$0.95 per SF - $0.95 per SF
27 oz
$0.86 per SF - $0.86 per SF
22 oz
$0.72 per SF - $0.72 per SF
18 oz
$0.59 per SF - $0.59 per SF
Pricing for Gym Floor Cover Safety Storage Racks
6 Roller
$1,769.00
8 Roller
$1,959.00
10 Roller
$2,375.00
Pricing for Gym Floor Cover Premium Safety Storage Racks
6 Roller
$1,965.00
8 Roller
$2,155.00
10 Roller
$2,375.00
Add 13% for storage rack pricing when purchased without vinyl floor covering
Pricing for Gym Floor Cover Accessories
Storage Rack Cover
$230.00
Lettering/Logo option on Rack Cover
Call for Quote
Electric Power Winder
$680.00
Self cleaning brush attachment
$450.00 - $525.00 without rack
vinyl floor tape - 3"x 36 yds
$5.50 / roll - 16 rolls per case
Walk behind tape dispenser
$249.00
3" Hand held tape dispenser
$25.00
12 ft Fiberboard storage tubes
$24.70



Tan






Brown/Tan






Royal Blue






Tan/Royal Blue






Light Gray






Red






Green






Burgundy






Tan/Burgundy






Kelly Green






Navy Blue






Dark Gray






Black






Orange






Yellow



Customers who viewed this item also viewed: