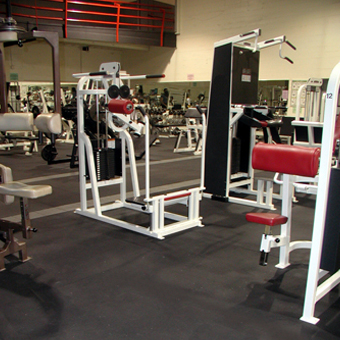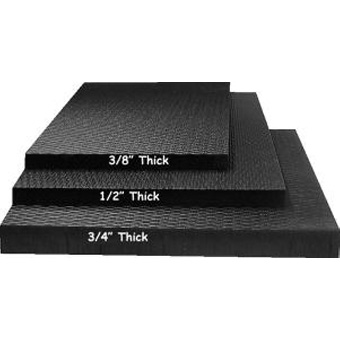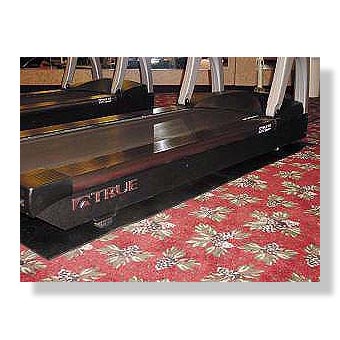 4x6 Rubber Mats, 4x6 Rubber Gym Mats
Our 4x6 foot rubber floor mat are offered in 1/4 inch, 3/8, and 1/2 inch thickness. These rubber floor mats come in solid black and black with small, white flecks. This rubber mat product is a low odor floor matting option because it is not made with sulfur which produces the heavy rubber smell often associated with vulcanized rubber floor mats.

This rubber floor mat is one of the most affordable and economical options when a durable and large single piece of rubber mat material is needed in weight rooms, workout rooms and gym floors. This rubber mat can also be used for equine applications in horse stalls and aisleways. Use this product on commercial rooftops for convenient walkways or any commercial location a durable rubber flooring mat is required.

Black color is 100 percent recycled rubber and natural color is a recycled content black mat with very small random white flecks in the mix. The natural coloring option is offered as a price savings option to our customers. Both types of colored black mats are guaranteed to be free from any foreign metal or contaminate objects that are not rubber material.

Choose this product for your next project where a black basic rubber mat is required.


Applications:
Athletic Clubs
Horse Stall Mats
Schools / Universities
Home Use
Sports Plexes
Animal Care
Under Swing Sets
Walk Ways

This product is shipped via freight delivery.
Please review our
shipping disclaimer.
Size and Dimensions:
Tile sizes: 4 x 6 FT
3/8" Thickness - 55 lbs per tile
1/2" Thickness - 73 lbs per tile
3/4" Thickness - 105 lbs per tile
Characteristics:
Recycled Content
Non Slip
Made in USA
No Adhesive Required
Low Smell Options Available
Low Cost Material
Size Variation Tolerance: plus or minus .125 inch
Not Guaranteed to be Squared
Waterjet Cutting Option Available for 3.00 per Tile, this option is available with West shipping only.



Black






Natural



Customers who viewed this item also viewed: