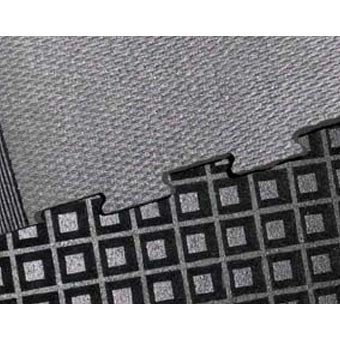 Anti Fatigue Floor Mat Waffle Interlock
Prices Start at - $3.59 per SF
Please click the pricing tab for more specifics.
Standing for hours on a hard floor can cause feet, leg and back fatigue that literally drains people of enthusiasm and productivity. Our unique Anti Fatigue Floor Mat Waffle greatly reduce fatigue problems by providing more cushioned comfort and that means, an energized and a more productive employee!

Our Anti Fatigue Floor Mat Waffle are available as a 4x6 ft mat with beveled edges on all four sides or as interlocking tiles that can be made into any customer configuration to cover large areas.


Applications:
Industrial settings and machine shops
Factories
Warehouses
Retail
Additional Information:
4x6 FT Interlocking or Straight Edge Mats
Straight edge mats have bevels on all four sides.
Interlocking tiles can create any custom size and configuration.
Excellent anti-fatigue relief
Use the oversized BIG LOCK interlocking option for forklift operation on the mats
Interlocking tiles will loose 2.5 SF per tile - actual coverage per tile is 21.50 SF

This product is shipped via freight delivery.
Please review our
shipping disclaimer.
Features:
Waffle bottom
nonskid surface
Reduces foot, leg, and back pain
Increases comfort & productivity
Can be interlocked to cover any area
Beveled edges
Heavy-duty or medium thicknesses available
Easy to install and keep clean
Characteristics:
Anti-Fatigue
Non Slip
Made in USA
Recycled Content
No Adhesive Required
3/4" Waffle Bottom - heavy duty for industrial applications - 66 lbs per 4x6 ft tile
1/2" Waffle Bottom - more economically priced with all the benefits of our heavy-duty mat - 51 lbs per 4x6 ft tile
Interlocking Component Piece Sizes:
4 x 6 FT x 3/4"
2 x 6 FT x 3/4"
3 x 4 FT x 3/4"
120 SF Minimum order
Pricing for Anti Fatigue Floor Mat Waffle Interlock
3/4" Thickness
4x6 FT Beveled Edges
$69.00
4x6 FT Straight Edges
$73.00
4x6 FT Interlocking
$4.15 per SF
1/2" Thickness
4x6 FT Beveled Edges
$58.00
4x6 FT Straight Edges
$62.00
4x6 FT Interlocking
$3.59 per SF



Black