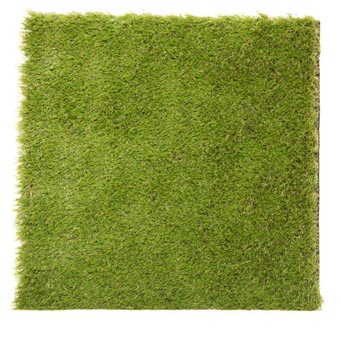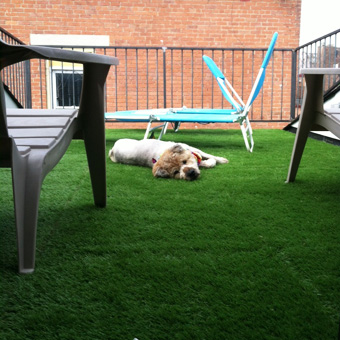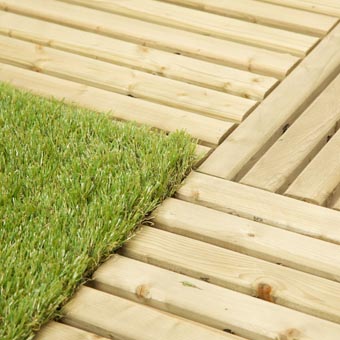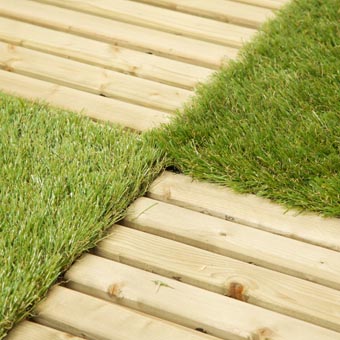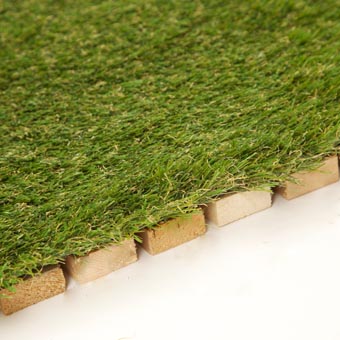 Each tile measures 23.75 by 23.75 inches and is 1.625 inch thick. The patented deck mats are flexible due to two durable, plastic tubes installed through the slats which enables the mats to lie flat on uneven surfaces.

These tiles are an excellent alternative to cold, hard, cement balconies and rooftop terraces in apartments and condominiums. They can be used to cover damaged or weathered wood decks. Construction adhesive may be used to fasten the deck tiles to an existing hard surface or they can be dry laid without glue.

These tiles are well suited for outdoor balconies and rooftop terraces. Since water can drain through the tiles, there is no danger of water damage to the concrete surfaces of condominium balconies. These tiles will enhance the outdoor living space of any balcony or rooftop terrace.

This type of outdoor tile is an excellent way of improving the look of old and worn out deck surfaces. Installed over existing decking in minutes, the tiles will transform an old, discolored wood deck into a thing of beauty. The tiles can also be installed like traditional patio slabs or interlocking stone providing a neat, well-proportioned look. These artificial grass tiles are ideal for condo balcony decking, roof decks, terrace decks, patio decks, resurface free-standing decks, DIY decking, and pool decking.

These deck tiles were created to improve the look of balconies, rooftop terraces, outdoor patios, and walkways with the warmth of natural wood or the longevity of recycled plastic. This patented, revolutionary new breakthrough in outdoor flooring looks incredible, extends your outdoor seasons, and increases the value of your property.

These condo-approved, outdoor deck tiles are flexible, fit any shape or landscape area and need no nails or screws to install. These can be installed in minutes, and can turn a cold hard dull surface into a warm, beautiful natural-looking floor.

This product is shipped UPS or FedEx Ground and or via freight delivery.
Please review our
shipping disclaimer.
Features:
Artificial Grass Turf Top
Comfortable on Bare Feet
Durable and Long Lasting
Designed for Outdoor Usage
Tile Size of 23.75 x 3.75 inch x 1.625 inch Thick
Treated Wood 10 lbs per Tile
Product Specification PDF
Pricing for Artificial Outdoor Turf Tile
24x24 Inch Tile

On Sale Now




$29.95

per piece
Was:$39.95 per piece

You Save 25%

200 SF
Request A Volume Quote