Basement Portable Floor Tile 5/8 Inch x 1x1 Ft.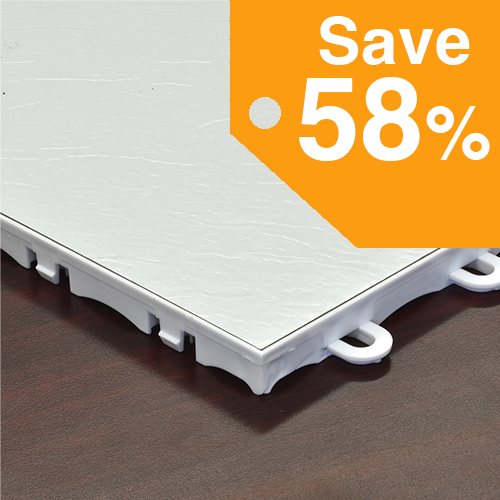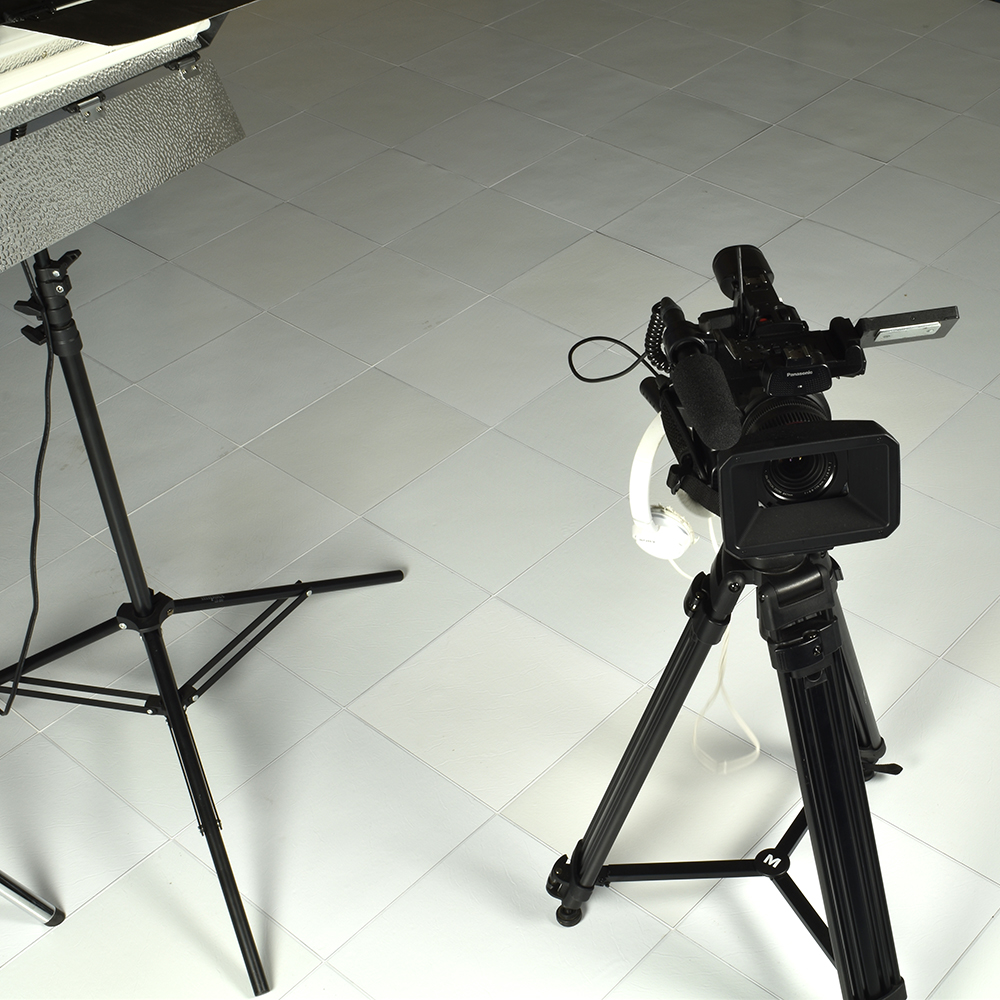 Economical basement floor tile
Snap together connection for fast and easy DIY installation
Great for tap dance and temporary outdoor events
$3.98
/tile
(You Save 58%)
(21 Reviews )
Free Shipping
- lower 48 with $85 Purchase
Ships Out: Estimate 1-3 Working Days

White
How Much Flooring Do I Need?
VIDEOS
Basement and Portable Event Floor Tiles
Transition Free Carpet and Modular Tiles
TOP FEATURES
Economical basement floor tile
Snap together connection for fast and easy DIY installation
Great for tap dance and temporary outdoor events
Modular raised base allows for air flow and drainage
Quality durable no maintenance vinyl top surface
Ramped borders available
Installs over any hard, flat surface
Use Types
Basement Floors, Kids Rooms, Trade Show Floors Family Rooms and Bedrooms
Wood look portable event and dance floor tile.
If seeking raised styles of waterproof modular floorings at home, work, or for events Basement and Portable Event Floor Tile 5/8 Inch x 1x1 Ft. will provide a perfect solution. Gain convenience and portability without compromising style when you buy from Greatmats. These basement dance floor tiles are lightweight and easy to handle. 
FAQ Portable Flooring Q&A
How much are portable dance floors?
The final price for event dance floors will depend on the material and thickness measurements selected. With ours, expect to pay between $2 and $6.25 per square foot of coverage. Rolls made of vinyls are the least expensive, yielding a ton of covered space for a small price. For hotels or banquet halls that need a high quality portable wood look tile flooring to host things like anniversary parties and weddings, the cost will approach the higher end of the range.
What type of flooring is best for tap dancing?
As a general rule, these dancers will have the greatest level of success using a hardwood, like maple. This delivers the purest sound from the taps, and the maple dance floor stands up to harsh treatment without worry of indents or splintering. However, it can be tough to fit these expensive styles of floorings into a budget. Instead, consider our
portable flooring kit
for tapping. It measures 3 by 3, which is ideal for a single person to use.
How do you make a surface for a dance floor event?
For easily installable types of portable flooring for events, we suggest interlocking floor tile. These take very little time to lay out and take apart, creating floor covers for events that are ready to go in no time for multiple usage plans. The interlock edges stay together tightly, and they will not pull apart when placed under stress. Some of these models even have the ability to provide turf protection or ground protection as portable flooring for grass.
Can you rent a portable floor for dancing?
Yes. In most cities, special tent flooring rental or event flooring rental near me is relatively easy to find. However, for those who have frequent requirements for creating a temporary flooring for events, an outright purchase generally delivers the best results. By owning the portable flooring, customers always have the correct amount of tiling on hand and the desired color and style available. The rental location could be short handed on the desired product, leaving the customer scrambling for a replacement option at the last minute or settling for an undesirable look in their rented portable floors.
What is the best Greatmats dance floor?
Various selections are available. Start by thinking about the expected use case and types of dances that will be performed. Portable flooring works nicely for temp installs, while marley is a smart choice for more permanency or for multiple styles of dancer practices in a huge room. Add a cushioning layer under the marley if seeking a practice area that protects the lower body joints of the dancers. For questions, contact our customer service team for product recommendations. We even have free shipping on some portable flooring.
Portable Tap Dance Floor for Practice
Use these successfully dozens of times, thanks to our unique interlocking tab design. It's easy to install and disassemble this product in just minutes. 
Our tiling is made with a polypropylene plastic base. It connects together with an interlock tab system.
Each segment measures 12-1/8 x 12-1/8 inches and 5/8 inch thick. Individually, the pieces weigh a little more than 1 pound apiece. 
Border Ramps
 and 
Corner Ramps
 are available to complete the design. 
These floor tiles can be installed atop any hard flat surfaces, including cement, hardwood, or ceramic. However, this tile is not suitable for installations over carpeting of any type. The 1.5 mm thick vinyl top surface and is designed for residential use only and is not high heel proof. 
To install the event floor tiles or event carpet on concrete, we recommend putting down a 2 mm to 6 mm underlay. This rubber underlayment provides shock absorption, increases comfort, and muffles sound.
Rubber laid on top of cement should reduce unwanted stray noises for tap dancers, only hearing the taps. Choices include the 2mm EZ or 3 mm options. If installing this in an area where leaks may occur, though, do not use an underlayer. 
How Many Borders do I Need?
For Island installations: Where the layout will have all four sides exposed to the room. In this case, the number of borders needed will be the length + width of the layout for each border type, and 4 corner pieces. Use half male and half female borders in this instance. Example 10x12 ft layout, 10+12 = 22 male borders, and 22 female borders, and 4 corners.
For Corner Installations: Where the layout will be pushed into one corner and will have 2 sides exposed to the room. In this case, the number of borders needed will be the length + width of the layout and one corner piece. Use all male borders in this instance. Example 10x12 ft layout, 10+12 = 22 borders, all male, and one corner.
For Inside corners, two border ramps will have to be manually cut at diagonal to fit. Use a sharp utility knife to cut this product or a table saw.
Indoor and Outdoor Event Floor Tile Covering
If using these as heavy duty outdoor portable flooring pieces, pick them up and place them into storage immediately afterward. Our products even work as event deck flooring, as long as they are not excessively exposed to weather. They work nicely indoors, but the material is not weather protected for continuous use as outdoor flooring solutions.
If looking to create sports practice areas in outside locales, such as a
portable basketball floor
, multiple options exist in our catalog, such as perforated portable basketball court tiling that allows rainwater to drain through, rather than pooling on the surface.
Portable turf is another option for soccer or baseball event flooring, either outside or inside a facility. The portable indoor turf delivers a true ball roll, while standing up to constant use.
DIY Event Flooring System
Sometimes, event flooring will need to have a durable, yet lightweight, design. For example, portable trade show flooring must be disassembled and reassembled repeatedly after being moved between locations for the next convention on the calendar. Or if there's a gap in the schedule, individual pieces quickly can be placed in storage until the next time they're going to be used.
This solution needs to be simple to carry or ship from one locale to another, allowing for a fast setup. It needs a high level of cushioning, so those employees who are standing for the entire day in the convention booth are able to avoid tired legs and ankles. And it needs to hold up against heavy displays installed inside the booths, as well as quite a bit of foot traffic from potential customers.
Portable flooring for conventions or weddings and for many other planned usages is a piece of cake to find when you stick with Greatmats, whether that's dancing, sports, trade shows, and other options. We are ready to ship all types of models at a reasonable cost that matches the requirements our customers have for their budgets.
Maintenance
Damp mop as needed
Shipping
This Product Ships UPS Ground, FedEx Ground and/or Freight.
Please review our shipping disclaimer.
ACCESSORIES
Accessories for BASEMENT PORTABLE FLOOR TILE 5/8 INCH X 1X1 FT.
ANSWERS
Product Questions:
Q: Can this dance floor be used outside? (on Grass)
A: For installation over grass, we recommend the use of our portable floor tile under these dance floor tiles to support them. The tiles are waterproof, and can expand in direct sunlight exposure, like all polypropylene floor tiles.
Q: Are they priced per title or are they a pack example (pack of 10)?
A: They are priced per tile.
Q: How would this work over carpet? Would there be problems with shifting or mold in a medium humid environment? What about with a dehumidifier?
A: Mold is not the issue, the issue over carpet could be the cushion of the carpet, if one tile is stepped on and it gets pushed down then the tiles might de-lock. With a low pile carpet we do not see this issue.
Q: Can the tiles be used as a basement floor covering with furniture?
A: Yes this is a good option.
Q: Show many would you recommend to get just for a regular dance floor enough room for 6. People
A: That depends on the type of dance, maybe a 10x10 ft would be good.
Q: Can tap shoes be used on this product?
A: Yes its ok for tap shoes.