TruTread Black With GritTuff 3x5 Feet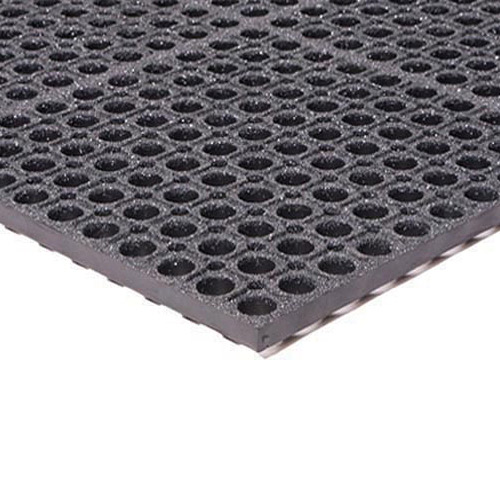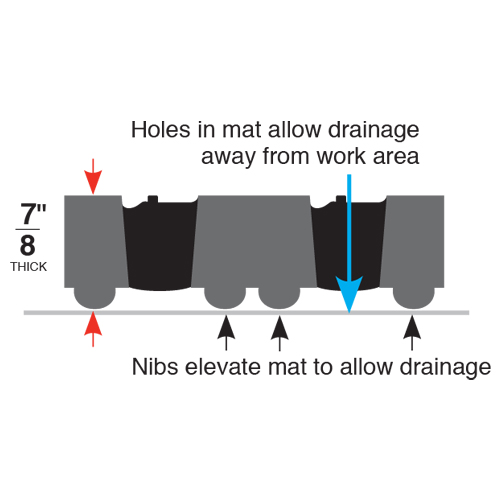 Drainage holes allow liquids and waste to pass through matting
Available in a greaseproof red or grease resistant black color
Comfortable construction eases fatigue and increases productivity
$85.70
/mat
(You Save 20%)
(1 Reviews )
Ships Out: Estimate 4-6 Working Days
TOP FEATURES
Drainage holes allow liquids and waste to pass through matting
Available in a greaseproof red or grease resistant black color
Comfortable construction eases fatigue and increases productivity
Wear Resistant
Oil and grease resistant
Anti slip traction
Water repellant
Anti fatigue
Use Types
Kitchens, Industrial, Cafeterias, Machine Shops, Service Counters, Bakeries, Restaurants, Automotive
NOTE: This item is a custom order and is not returnable.
The heavy duty construction of the 7/8 inch thick TruTread Black With GritTuff 3x5 Feet eases worker fatigue and increases productivity. Featuring an abrasive GritTuff surface with drainage holes, allow liquid and waste to pass through, making this mat an excellent choice for wet or greasy environments. Use the TruTread X-Connector to join multiple mats together for larger spaces.
TruTread Safety Drainage Mats With GritTuff

For the highest level of durability in slip resistant mats for use in commercial or residential environments, consider our TruTread Safety Drainage mats with a GritTuff texture surface.

These impressively designed mats will deliver a number of benefits for customers. They contain large drainage holes that allow liquid to pass through to the subfloor. The water or liquid then can reach a floor drain in the room, meaning there are no concerns about leaving standing water on top of the mats.


Mats Allow Excess Water to Drain Away
To further encourage drainage after spilling water or other liquids over the top of the safety drainage mats, these mats have nubs on the bottom.
They only measure a tiny fraction of an inch in thickness, but they are able to hold the bottom surface of the mat off the subfloor. This provides extra channels to give the water that passes through the drainage holes a means of moving toward the floor drain quickly.
Highly Durable Rubber Mats With Safety Grip Texture
Even with all of these design elements meant to move water away from the surface of the rubber, these mats do not lose their ability to provide a sure grip and footing for people walking on them.
At 7/8 inches in thickness, they still have enough material and integrity to produce a sure footing for people standing on them or walking across them. Installers can connect several of these 3x5 mats together securely for large layouts.
The multiple holes in the mat do reduce the overall weight of the material to 44 pounds for 15 square feet of coverage, so installers can move them around easier than a solidly built rubber mat without holes.
The rubber surface of our safety drainage mats includes a grippy and gritty texture called GritTuff. This textured material reduces the possibility of slips by gripping the soles of the shoes or boots people may be wearing.
Multiple Use Cases for Safety Drainage Mats
These mats will work in a wide range of potential use cases, including:
Industrial setting: For workers who must stand for much of the day in a factory or industrial setting, having a type of flooring mat that delivers ergonomic benefits by reducing the wear and tear on the lower body joints is a significant benefit.

Machine shop: When working around heavy materials with large tools, employees may occasionally drop these items on the floor. Our thick rubber mats will absorb the contact from heavy items without showing damage and while protecting the subfloor.

Restaurant kitchen: Commercial kitchens in large restaurants can be messy places, as cooks spill food or other ingredients. Employees can maintain safety against slips on a wet floor by standing on top of these mats while preparing food and adding ingredients.

Cafeteria or buffet line: In buffet-style restaurants where customers will be serving themselves, they may drop food or spill sauces. This can create a significant slipping hazard, leaving the restaurant liable. Connecting our 3x5-foot rubber mats along the length of the buffet serving area creates a safer space and reduces the risk of a slip and fall accident.

Locker room, bath, shower, or pool area: Consider installing these rubber mats in areas where water frequently collects from splashing or dripping. Areas around pools and locker rooms often have cement or other unforgiving flooring materials, creating slippery conditions when the floor is wet. Our mats eliminate this hazard.

Deck or patio: When trying to use a deck or patio setting, worn-out wood in the deck or crumbling concrete on the patio can reduce the enjoyment of the space. Place these rubber mats over the top of the old surface, and it will give the space a safe layout that also has a fresh, new look.

Bar or serving area: When working behind a bar, servers may spill ice or other liquids while mixing drinks. This can create a significant slip hazard over the course of a busy night. Having our mats in place will deliver a safer place for servers to stand, while also creating an anti fatigue surface for protecting the servers' ankles, hips, and knees from soreness.
Anti Slip TruTread Tile Specifications
Width: 3 feet

Length: 5 feet

Thickness: 7/8 inches

Coverage: 15 square feet

Weight: 44 pounds

Color: Black

Texture: Abrasive surface with drainage holes
Maintenance and Care
These tough rubber mats do not require a lot of time to clean and maintain. They will continue to look like new and to provide the anti fatigue and anti slip properties expected from safety drainage mats, as long as customers perform basic cleaning tasks.
Customers can sweep the mats with a broom to remove any dry debris, or they can run a vacuum cleaner over the top. Avoid using cleaners with harsh chemicals on the surface of the rubber mats, as this could damage the textured surface, or it could damage the rubber itself.
When needed, the customer can carry the mat outdoors and rinse it with a garden hose. Allow it to drip dry before reinstalling it in the original location.
Maintenance
Clean with a non detergent cleaner such as Simple Green. Do not clean with detergent based cleaners.
Shipping
This Product Ships UPS Ground, FedEx Ground and/or Freight.
Please review our shipping disclaimer.
ACCESSORIES
Accessories for TRUTREAD BLACK WITH GRITTUFF 3X5 FEET
ANSWERS
Product Questions:
Q: How strong are the mats?
A: This anti-fatigue matting surface is designed for foot traffic.
SPECIFICATIONS
| | |
| --- | --- |
| SKU# | A313-39-271-3x5 |
| In Stock | Yes |
| Product Type | Mat |
| Material Type | Rubber |
| Product Edging | Straight |
| Thickness | 7/8 inch |
| Width | 3.00 feet |
| Length | 5.00 feet |
| SF per Item | 15.00 |
| Weight | 44.00 lbs |
| Packaging | Cartons |
| Number of Pieces per Package Type | 1 |
| Non Absorbent | Yes |
| Special Adhesives | No |
| Universal Interlock | No |
| Interlock Loss | 0.00 feet |
| Interlocking Connections | No |
| Made In | Sri Lanka |
| Surface Finish | Drainage holes |
| Surface Design | Solid color |
| Installation Method | Lay flat |
| UV Treated | No |
| Reversible | No |
| Border Strips Included | No |
RELATED PRODUCTS
RELATED BLOGS