What Are the Best 18x18 Rubber Tiles and Mats?
By Kyle Schurman Created: April, 2021 - Modified: November, 2022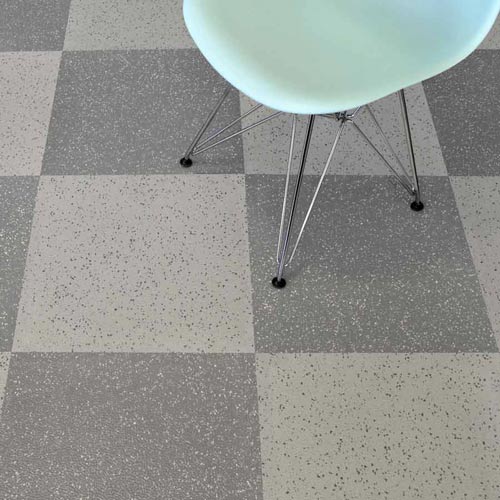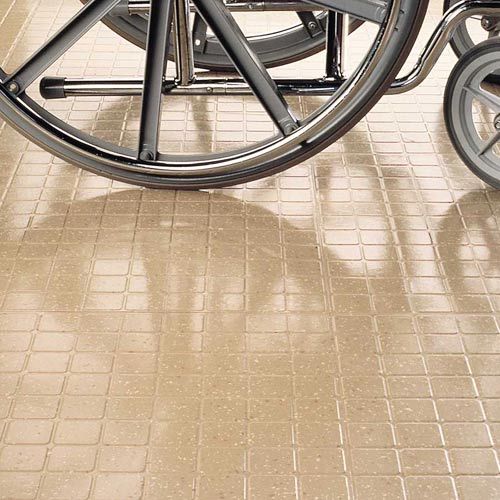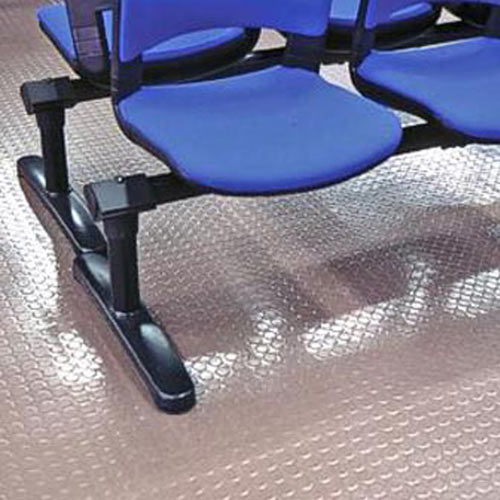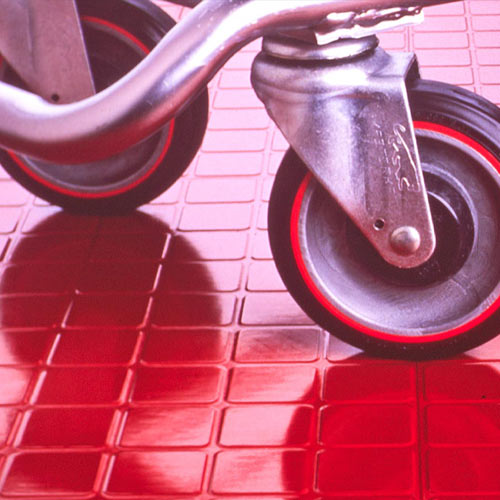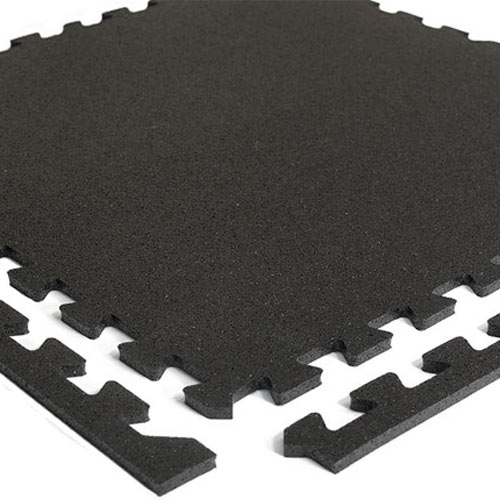 When seeking the highest quality 18x18 rubber tiles, it's important to stick with tiles that have the best and safest ingredients. Selecting a brand of tile or mat that's made in America gives customers the peace of mind that they're receiving the best materials, durability, and manufacturing processes.
Three of the best 18x18 inch rubber tiles to buy and install for indoor usage include:
Endura Solid Color Rubber Tile


Endura Flecksibles Rubber Tile


Geneva Rubber Tile
Although customers can install these rubber floor tiles in a home or residential setting, they often appear in commercial installations, such as in an office building, at a school, at a gymnasium, or at a museum or similar institution.
The Endura models of tiles provide impressive style, delivering a large number of color and texture options that can match any desired design. The Geneva model, meanwhile, is made for installations in a gym or exercise studio, as it emphasizes ease of installation over colorful styles and finishes.
What Are Some Benefits of Colorful Endura 18x18 Rubber Tiles?
Here are some of the biggest advantages of the Endura brand tiles.
Comfort
With the Endura tiles, customers receive an impressive mix of comfort and durability. Although other rubber tiles also have these traits, the Endura tiles take this process to another level versus less expensive models of rubber tiles by using a patented formulation method for creating the tiles.
Even at only 1/8 inch in thickness, these 18x18 rubber tiles have an impressive level of cushioning, while remaining slip resistant.
Minimal Maintenance
Because of the way the manufacturer adds the protective waxes to the tiles at the factory, it creates a natural sheen to the flooring that looks amazing.
The natural waxes do not wear away, meaning the installer doesn't need to apply more wax or to strip the tiles in the future, as the Endura tiles need little to no maintenance, other than normal cleaning.
Texture Options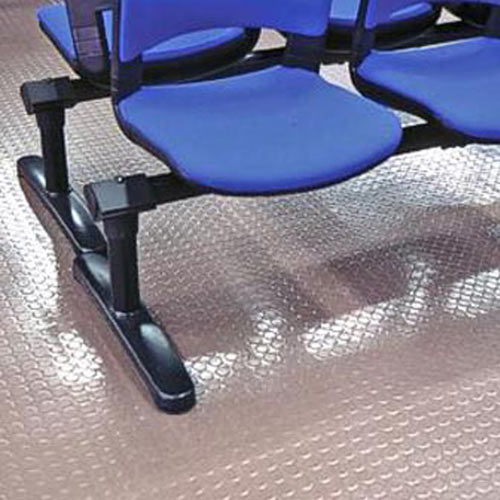 The Endura Solid Color Rubber Tile product offers three different texture options of:
- Round (resembling a coin top)


- Square (where each 18-by-18-inch tile looks like four tiles)


- Sculptured (with a slightly rough texture)
The Flecksibles tile offers the square and sculptured texture options.
These textures do not extend very far above the surface of the tile, meaning they will not represent a tripping hazard or an impediment to push carts or wheelchairs.
Even with a low profile in the tile texture, it provides a bit of extra grip for those walking across it, while also delivering an eye-catching design in the flooring that adds to the professional look of the installation.
Color Options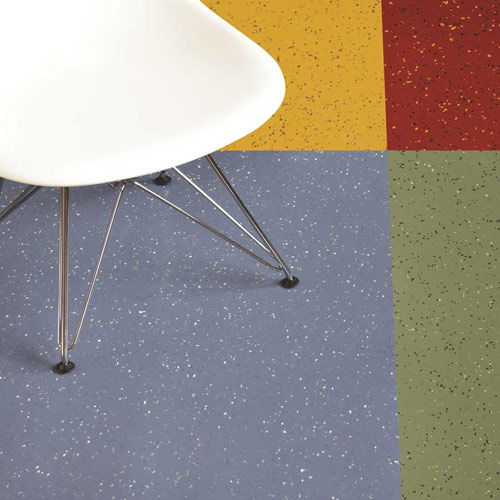 The Endura Flecksibles Rubber Tile's offers more than a dozen different color options, each of which have complementary flecks of color inside the base color. Having these types of color options is not common in 18x18 rubber tiles, which makes the Endura Flecksibles product stand out from the crowd.
Some of the base color options include multiple shades of blues, beiges, grays, greens, and reds.
The Endura Solid Color product, meanwhile, offers multiple solid base colors without flecks. Some of its color options include multiple shades of grays, tans, blues, and greens.
Professional Look
As each of these Endura tiles has a straight edge on all four sides, it results in a professional looking installation. With the colors and textures available in these tiles, having a glue down, straight edge installation yields a highly desirable, clean look.
Because of the thin design, it's easy to cut these tiles to fit in a wall-to-wall design with a utility knife and a straight edge.
Is It Possible to Install Rubber Tiles Without Adhesive?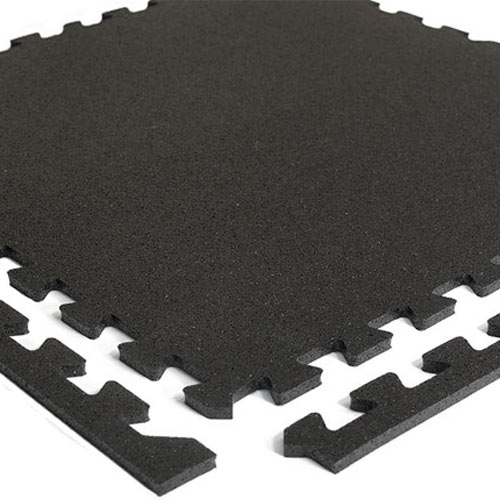 For 18-by-18-inch tiles that will stay in place securely without the need for adhesive, even during workouts, the Geneva Rubber Tile product offers an interlocking edge that stays in place securely.
Because it does not need glue, these tiles are portable, so the customer can move them to a new location or can pick them up and place them in storage whenever desired.
Each Geneva tile measures only 1/4 inches in thickness, which keeps the weight of each tile at almost 3 pounds per tile, which is a manageable level for portability. Even though a single tile is lightweight, the full weight these connected black tiles holds them in place for any use case.
Installation is an easy process with these tiles, as they have a puzzle edge design. Just pop the puzzle edges together on adjacent tiles, and they will remain tightly connected without the need for glue. Installing these tiles works nicely as a DIY project for those wanting to create a home gym.
For the perfect finishing touch, each tile ships with two border edges that contain the same puzzle style edge as the main pieces of tiles. The border pieces will look like they belong with the main flooring, creating a professional looking layout with clean, straight edges in a residential or commercial workout area.