Go Mat Artificial Grass Mat 1.5 Inch 5x8 Ft.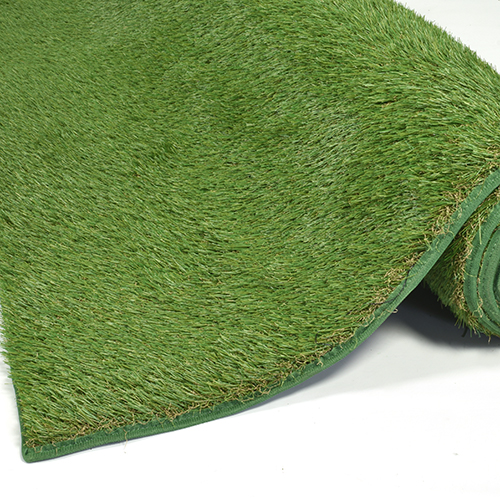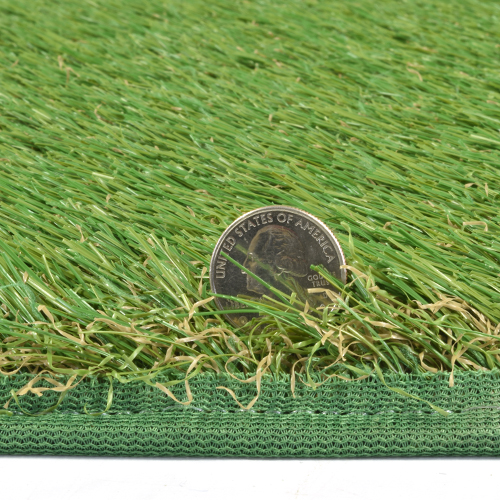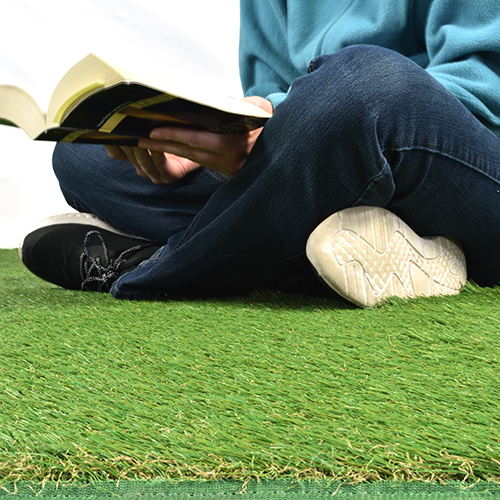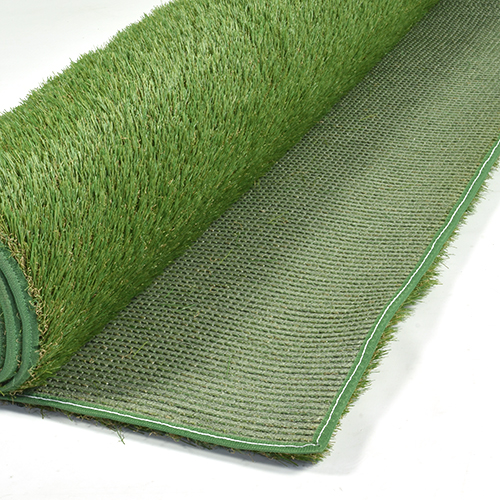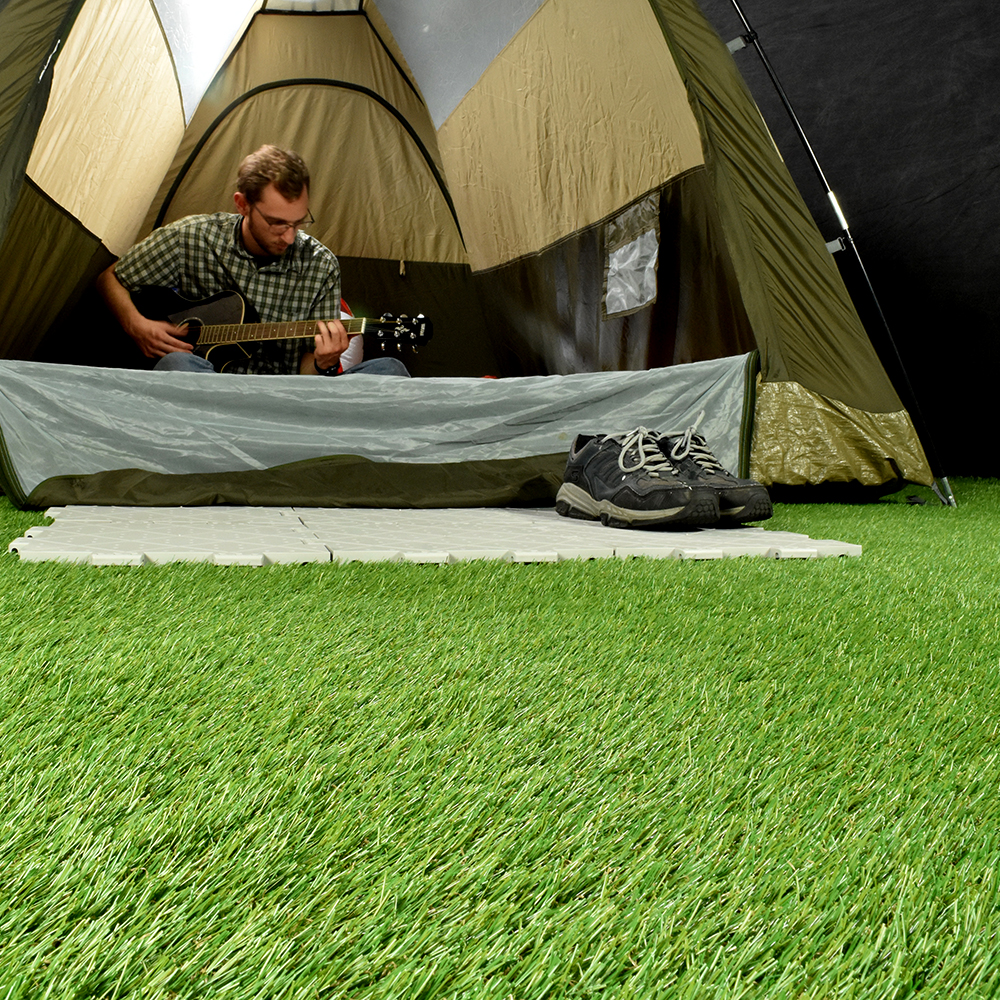 Realistic look and feel
Rinse-Clean drainage technology
Made in the USA
Ships Out: Estimate 7-10 Working Days
VIDEOS
Go Mat Artificial Turf Mats for Camping
Does Artificial Turf Get Hot In The Sun - Temperature Testing
TOP FEATURES
Realistic look and feel
Rinse-Clean drainage technology
Made in the USA
No fading or fraying
Supremely soft
Stain resistant fibers
Portable mat has a finished edge
UV resistant
Use Types
Pet, Camping, Patio, Balcony, Play Area, Tailgating, Exercise, Golf, Pools
NOTE: This item is a custom order and is not returnable.
Go Mat Artificial Grass Mat 1.5 Inch 5x8 Ft. – Backing polypropylene, urethane
Go Mat Artificial Grass Mat 1.5 Inch 5x8 Ft. is an outdoor turf mat that can be used for tailgating, camping and for kids or pets to play on.
Our artificial turf mat has a simple drainage system with a non-absorbent backing that ensures it can be used in all kinds of weather. Our mat drains quickly and won't stain or retain odors from spills.


Portable Option

If you like to travel with pets or young children, having an synthetic grass mat available can make your trip more enjoyable. Whether you're camping, tailgating, or hanging out for a day at the beach, this mat gives you a means of providing a safe play area for a pet or child without having to worry about grass allergies or insects like ticks.
Our 1.5-inch faux grass mat is easy to roll up and carry with you on all of your adventures. This mat measures just 3 by 5 feet in size, and it only weighs 8.5 pounds, which means it won't weigh you down. It's designed to be a movable and portable option to take anywhere.
For example, say you are taking your pet to the beach on a camping trip. If you bring a portable dog run cage, you can use this portable turf mat as the flooring for the dog run, giving your pet a safe place to lay that doesn't absorb heat like the sand.
Multiple Use Cases
This portable turf mat product has a variety of potential use cases that you'll appreciate.
Camping: Our customers love to take this lightweight mat camping with them. You can lay this mat out directly in front of your tent flap or at the door of your RV, giving you a place to step outside without worrying about muddy feet. Some people will choose to set camping chairs on top of this mat near the campfire too, meaning the legs of the chairs won't sink into the sand or mud.
Exercise: If you'd like to do some exercising outdoors, but you don't want to take your normal exercise mat outdoors and expose it to weather, you can use our portable turf as an exercise mat. It will keep you away from slippery wet grass, allowing you to work out safely.
Golf: If you want to practice playing golf at home, our mat is a perfect option. You'll be able to use this mat with plastic golf balls to work on your swing, or you can put up a golf ball net and practice striking actual golf balls. Our mats are extremely tough, meaning they'll stand up to use for golf or exercise needs.
Patio Area: If you have a patio surface with drab, worn concrete, use the portable turf mat to make the area look nicer when you're entertaining guests. Some people like the splash of color this green turf provides for a patio as well. For these same reasons, you'll find people using this type of mat on a balcony or deck area too. And because this mat allows water to pass through, it works great on a balcony or deck where you don't want water to collect and pool.
Pet Area: When traveling with your pet, you want to be able to give the pet a safe place to rest after a hike. If you're in an area with muddy ground or tall grass that could harbor ticks, using our temporary artificial turf is a smart idea to allow the pet to rest safely.
Play Area: When taking the kids to the beach or hiking, you can use this temporary artificial turf to give them a safe place to play that will not soak up the heat from the sun. Youngsters will like having a soft place to play, even when playing outdoors, that is dry and cool to the touch.
Tailgating: You'll like using this portable turf mat when tailgating at football or baseball games in the parking lot. Not only does this green mat look great as a gathering area, but it also can protect you from muddy areas in the parking lot. If you're looking to play ladderball or cornhole during your tailgating time, our mat provides a perfect area to define the boundaries of the game.
Some people appreciate the ability to use this synthetic grass mat rather than actual grass in certain areas. Obviously, the temporary artificial turf doesn't require the type of maintenance that you must perform with natural grass, yet our artificial grass mat provides a realistic look and feel. This grass mat won't fade, staying green regardless of the time of year you're using it or the amount of rain you've been receiving.
The temporary artificial turf used in this product is 3/4 inches in height, which contributes to the realistic look it provides. These mats are the perfect solution for creating a lush, green outdoor living space without the hassles of mowing, watering, and weeding.
Long-Lasting Materials
Our mats have an sleek finished and a bound edge to prevent any fraying. This ensures you'll be able to use these mats many times without concerns over longevity. Additionally, this finished edge gives our portable turf mat a great look that you'll be able to use in almost any location, whether it's at your home, at your business, or on vacation.
You'll receive a 3-year manufacturer warranty with this artificial turf mat, further guaranteeing that you can count on the high level of build quality you'll receive with this product, making it a good value.
This Made in the USA portable turf mat contains only the highest quality of polyethylene plastic materials, ensuring it will be safe to use around children and pets.
By using top-end materials in our temporary artificial turf construction, the mat will work in all kinds of weather conditions. Whether you're using it in cold weather and below freezing temperatures or in hot, humid weather, this mat will stand up to the conditions beautifully. Even if snow falls on this mat's surface it will continue to give you the performance you want.
Easy to Use
One reason why our customers love this faux grass mat product is because it's so easy to use. Unlike some other synthetic grass mat products where you must perform a significant amount of prep work to the ground before installation, this mat can be laid out almost anywhere, and it still will give you a high level of performance.
Some types of artificial turf products will need to be placed in an area that has treated wood placed around the edges of the installation. You then must attach the faux grass directly to these wood pieces, which helps to ensure a permanent installation.
For our portable turf mat though, it's designed to be picked up and moved, so there's no need to prep the ground or attach the mat to the ground like you would with a permanent installation. Just lay out the mat for the day and roll it back up when you're done using it.
Should you need a product that provides the option for a permanent in-ground installation, we have a variety of artificial turf products that can give you the level of performance you need. Just contact our customer service personnel for more information on other products we offer that may meet your needs better.
We do not recommend cutting this mat to fit a certain area, because it has a finished edge on all four sides. By cutting the mat, you'll negate the benefit of the finished edge and introduce the possibility of fraying. Instead of cutting a mat, contact our customer service team to learn about other kinds of artificial grass products we offer that may better meet your needs.
Maintenance and Ordering
Cleaning and maintaining the temporary artificial turf product is relatively easy. If there are debris on the mat, you can shake them off, much like you'd shake out an area rug. Or you can use a leaf rake to remove debris. Another option is to use a leaf blower to remove dry debris from the surface of the artificial grass.
If you want to fluff up the individual fibers in the mat, a natural bristled broom will do the job.
To clean pet waste, you can pick up solid waste and discard it, just like you'd do on a natural grass surface. If any of the solid waste remains stuck on the individual fibers, you can rinse them with water. Use water to rinse away pet urine as well. Because water passes through the base and the individual fibers in the portable turf mat do not absorb water, water is the best option for cleaning the mat.
When you're ready to order your artificial turf mat, please contact our customer service team. If the 5-by-8-foot size of this portable turf mat won't meet your needs, we do offer some other sizes, including 3-by-5 and 7-by-10 feet.
Maintenance
Use rakes for debris or use leaf blower, stiff natural bristle broom to fluff. Can be rinsed with water, if needed.
Shipping
Ships via ground delivery, larger orders may ship via freight.
Please review our shipping disclaimer.
SPECIFICATIONS
| | |
| --- | --- |
| SKU# | GoMat-5x8 |
| In Stock | Yes |
| Product Type | Mat |
| Material Type | Polyethylene/Polypropylene |
| Product Edging | Straight |
| Thickness | 1-1/2 inch |
| Width | 5.00 feet |
| Length | 8.00 feet |
| SF per Item | 40.00 |
| Weight | 22.00 lbs |
| Packaging | Cartons |
| Number of Pieces per Package Type | 1 |
| Non Absorbent | Yes |
| Special Adhesives | No |
| Interlock Loss | 0.00 feet |
| Interlocking Connections | No |
| Made In | USA |
| Surface Finish | Artificial grass |
| Surface Design | Solid color |
| Installation Method | Layout flat |
| UV Treated | No |
| Reversible | No |
| Border Strips Included | No |
| Manufacturer Warranty | 3 year |
RELATED PRODUCTS
RELATED BLOGS