4x8 Ft x 1.5 inch. Our gym mats for sale are ideal for cheerleading training, gymnastics training, floor exercises, wall pads, martial arts training, pilates, and a variety of other exercises in home or commercial settings.

These gym mats are for sale for home tumbling and cheer practice. They are also great for gymnastics training or for training in martial arts studios. Cheerleading teams find these mats convenient because they are so easily transported and provide great impact absorption. All of these tumbling mats feature hook and loop fasteners on all 4 sides. They come with a rugged 18-oz vinyl cover.

This 4x8 mat in 1.5 inch thickness comes in royal blue, green, and purple.

All of our gym mats and tumbling folding mats are hand-crafted of extremely durable 18-oz coated vinyl with double-stitched seams. These tumbling mats feature 2-foot wide panels that fold accordion-style for easy storage and transportation. All folding gym mats feature 2 inch hook and loop fasteners on all four sides for end-to-end and side-to-side attachment as desired.

Softness and shock absorption make these sale-priced mats an excellent multi-purpose mat. They can be used to cushion athletes from high impact activities but are also comfortable enough to be used for floor exercises.

These mats can be used as wall padding also, simply screw the external flange on the long side of the mats to a firing strip attached to the wall.

The vinyl used with this product is 6P compliant for Phthalates and lead-free. This product meets California state law Proposition 65 requirements.

Mat Safety Tips: Mats and protective equipment are never 100% effective at eliminating or reducing all injuries. Mats are not fail-safe. Nothing can substitute for proper instructions, spotting and good common sense in the teaching of gymnastics or other activities. Landing on the head or in an out-of-control position can result in injuries regardless of your surface padding or the number of mats you use.

Hook and Loop Fastener Information: V4 has Hook and Loop Fasteners on all four sides. Choose 4V for attaching the gym mats to each other on the long side of the gym mats - for side-to-side placement.

Applications:

Cheerleading Training
Gymnastics Training
Floor Exercises
Wall Pads
Martial Arts Training
Pilates
Home Exercise

Made in Asia

This Product Ships UPS Ground, FedEx Ground and/or Freight.
Please review our
shipping disclaimer.
Colors:

Royal Blue
Green
Purple

Thickness:

1.5"

Size:

4 x 8 FT. 20 lbs
Hook and Loop Fasteners on 4 Sides
18oz Vinyl Cover
Customer Rating:
Exactly what I was looking for. Now my kids can practice some gymnastic skills at home. Wonderful product!
Shannon
Lauderhill, FL
08/19/2013
Customer Rating:
Here are a couple of shots of a Jiu Jitsu class we started at my gym, using your Greatmats. Of course you have a reputation for having a fantastic mat, but only after we received the mats did I realize how good they are! We started off with a half-dozen to see if the class would be successful - and we have already ordered 3 more. Thanks for a great product! Vaughn Medford General Manager Sacramento Pipeworks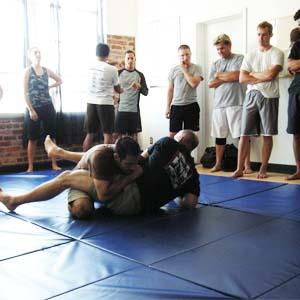 Vaughn
07/23/2013
Customer Rating:
great sterter mats
Very Happy
Eric
Tracy, CA
07/17/2013
Customer Rating:
Excellent product at a fair price.
Lou
Sarasota, FL
06/28/2013
Customer Rating:
Everything as advertised. Use it for my morning workouts and great for my handicapped wife to use as well. Easy to fold up and put out of the way for all other activities.
Gary
Winslow, AZ
06/17/2013
Customer Rating:
My last order of these mats took several weeks longer than I expected to get. Despite that, I will be ordering more of these mats in the future. These mats are great quality and have high durability. We already have 2 more that we've been using heavily for over a year. These mats are easily the best bang for the buck and present a good balance of quality and economics.
Johnathan
El Mirage, AZ
06/13/2013
This is great!
Tracy
Spring Valley, IL
01/30/2013
We ordered a 4 x 8 mat for Christmas for our 8 year old daughter. When I first started looking at mats, I was shocked at how expensive they are. Then I found this mat out there as a Christmas special Greatmats was offering. I feel Greatmats provided the best deal out there! Our daughter loves it! Her 10 and 12 year old brothers also like it a lot. It is sturdy, folds up nicely, and feels just like the mats that she uses in her gymnastics class. I like that it has velcro so that we can attach another mat to it one day if we choose. I would definitely order from Greatmats again!
Wendy
Fredericksburg, VA
01/21/2013
My daughter loves the mat. Shipping time was quick. Price was comparable.
Sharon
Bel Air, MD
01/18/2013
The mat I purchased for my 4 year old granddaughter is perfect! I gave it to her for Christmas and she absolutely loves it! She just started taking gymnastics a few months ago, and this is just what she needs at home to practice all the new things she is learning!

Plus the purple color is lovely too! My daughter and son-in-law like how easy it is to fold and move from place to place for her. Everyone is very happy with the new mat!

Your company's customer service was excellent from my first phone call to ask questions and then place my order, right down to delivery! Delivery was very fast and it was packaged so well. It arrived exactly when you said it would. My whole experience with your company has been wonderful! Thank you so much for all you do!

Kathy
Kathy
Ocean, NJ
01/11/2013
Wonderful!! It was delivered in time for Xmas for my granddaughters in another state.
Instead of taking out of package, their Mother had them decorate the brown paper wrap it came in. They got out their markers & color crayons & made a beautiful package. By the way, never guessing what it was!
They are both taking gymnastics & use the mat to practice at home. I have fun watching the videos their Mom sends to me.
Good quality - great product!
Janice
Lakeville, MN
01/11/2013
We are very pleased with the Gymnastics Mat that we ordered so far.
Andrea
Wayne, PA
01/04/2013
My 5 year old daughter absolutely loves her new mat. Besides being perfect for her gymnastics she loves using it to play her other toys on. It is very sturdy and the color blue is perfect. Would definitely recommend this mat!
Kristy
Tecumseh, KS
01/03/2013
delievered on time
excellent quality
Carrie
Charlotte, NC
01/03/2013
Got for 11yr old daughter. She loves
It for tumbling. It seems to be made of good
Quality material.
Melissa
Salisbury, NC
12/30/2012
Great quality, durable, comparable price and delivered quickly. My kids are in beginners gymnastics and they love it!
Jackie
Osage, IA
12/27/2012
Excellent product. I love the ability to perfectly join multiple mats with the built in Velcro.
Thomas
Las vegas, NV
12/16/2012
We buy a ton of these to use as ab or stretching mats in our fitness centers. Our members use them quite often and like them. We usually get about a year of use out of them and then replace them, but they get pounded for a year.
Eric
Maumelle, AR
12/14/2012
The mats were perfect for what we needed. They are well made for the price that was paid. The mats were able to be folded over posts to protect children as they played. They shipped fast. I will purchase again from this vendor.
Dean
Naperville, IL
10/06/2012
Wonderful!!!!
My grandaughter loves it. And it folds to store under her bed.
Great Product.
Thank you
Melba
Melba
Pfafftown, NC
09/12/2012
Mats were good quality, heavy vinyl. Fast delivery, great customer service.
Barb
Eureka, MT
09/10/2012
For the price a very nice portable mat suitable for tumbling, gymnastics, martial arts, whatever!
Thomas
CRAWFORDSVILLE, IN
07/16/2012
We are using the mats in our finished basement over top of wall-to-wall carpet. They work reasonably well, but they do slide on the carpet, even with the velcro facing down. We were really hoping that didn't happen, but they are the right size for our space and provide the cushion that we require.
Barbara
Davidsonville, MD
06/20/2012
The mats are working appropriately for our needs.
Kim
Cloquet, MN
03/19/2012
Mat is excellent. Especially important is that it fold beautifully, as i live in a small space. Mat is the right thickness and consistency for me. I lie down on it a lot, as i bought it especially to do special movements for my spine. Thank you.
Joseph
Joseph
Pittsburgh, PA
02/29/2012
Pricing for Gym Mats 4x8 Ft x 1.5 inch V4 18oz
4x8 ft x 1.5 inches
$139.00 per piece