Aerobic Flooring Tiles
Aerobic and cardio dance exercise flooring. This durable interlocking floor tile is specifically designed for daily repetitive usage in commercial aerobic facilities for aerobic flooring. This aerobic mat has a durable top texture and will stand up to the most punishing of commercial aerobic applications.

This Product Ships Freight and/or FedEx Ground.
Please review our
shipping disclaimer.
Customer Rating:
Easy installation. Clients seem to like the feel. Installed as aerobic floor. To early to tell about durability. Color variation could use some improvement.
Jake
Newark, OH
05/01/2013
Customer Rating:
I purchased the Great Mats aerobic flooring for my Jazzercise Center which I was relocating. I had seen the picture on the website which features a center so I had been contemplating this product. One of my associate instructors had ordered a sample and after receiving it I placed a Facebook question asking about the product and other experiences. Based on those and having a little piece in my hands, I ordered it! It was amazingly easy and quick to install and it feels great to workout on!
Nancy
Eagle River, AK
04/24/2013
Customer Rating:
Looks like it will work great. Thanks for helping me with the shipping! -Newenka
Newenka
Hinsdale, IL
04/23/2013
We LOVE this floor! It is awesome for walking, dancing Zumba, cleaning and does not absorb odor (pretty important for a fitness franchise). However, it did have a smell the first few days that went away, and our Kirby vacuum cleaner made horrible marks in it the first time we tried to use it. The only other con is that it is pretty loud when we get a lot of people on the circuit as everything bounces off the smooth surface. As a result, we've been looking into sound proofing somehow. Any suggestions?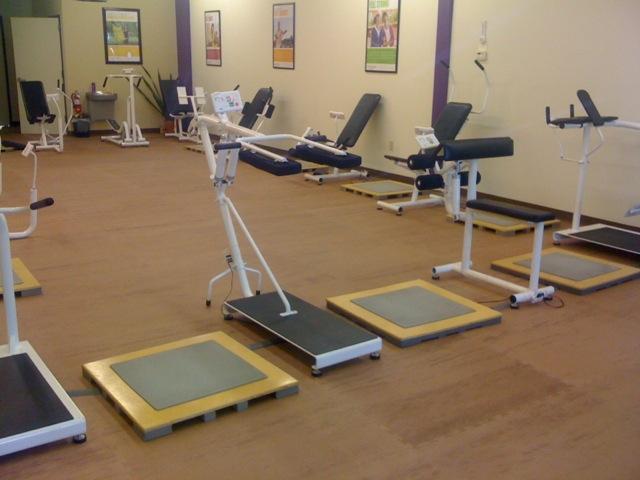 George D
Driggs, ID
02/25/2013
Pricing for Aerobic Flooring Tiles
40x40x3/8 Inch
$29.95 per piece