Our Home Style Slate Floor Tiles are also suitable for commercial installations. Use these tiles as accents to match your decor. The accent tiles can be changed when you decide to redecorate. When using this product in garage or automotive settings we recommend that TireGuard protective coating be applied to the tiles after installation to avoid tire marking from some higher end car tires.

Constructed of durable PVC, Home Style Slate Floor Tiles feature a hidden interlocking design. Installation of these tiles is fast and easy. They can be installed over any solid surface flooring without glue or adhesives, and they can be trimmed to fit your area. Home Style Slate Floor Tiles offer an upscale look with a variety of color options.

These tiles provide a stain resistant, durable flooring solution for kitchens, basements, and bathrooms. In addition, their excellent slip resistance and the ability to withstand heavy loads makes these tile a wise choice for commercial floors as well.

Also available in the following popular earth tone color choices:

Light Gray
Navy Blue
Forest Green
Beige
White
Sandstone
Terra Cotta

This Product Ships UPS Ground, FedEx Ground and/or Freight.
Please review our
shipping disclaimer.
Pricing for Home Style Slate Floor Tile Black or Graphite 6 tiles
20x20 inch
$45.95 per piece
Customer Reviews
Customer Rating:
excellent product , easy to install
Marlene
Medford, MA
06/18/2014
Customer Rating:
Thanks for your assistance in my floor project. It installed just fine and I am including a few photos of the "updated" mudroom. The floor will work out great during our rainy Eureka California winters and two dogs coming and going from the back yard. I provided samples to my tile contractor...you may get more business in the future from the Eureka area. Mark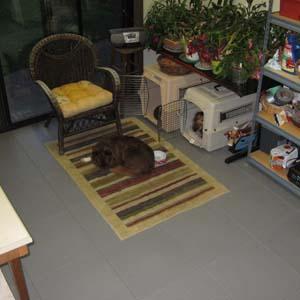 Mark
Eureka, CA
07/23/2013
Customer Rating:
We appreciate the great customer service both in person and over the phone. Our tiles were delivered on time as promised. I was able to lay about 50 cartons in one day with the help of my son-in-law. It's so nice to have basement back in order since the flood. Never realize how much you use that space until you can't! Still have some wall detail to attend to but the flooring looks great. Easy to install, easy to cut. Color sample are pretty accurate too!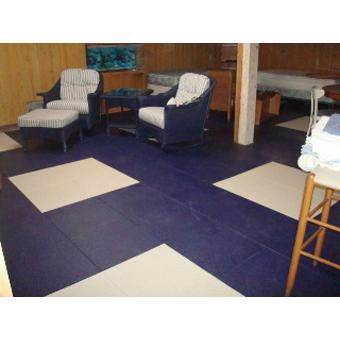 Donna

07/23/2013

I spoke to the sales rep about the shipping costs on the original quote, and by shipping to my work was able to get a much reduced cost and service, better than anything I could arrange on my own.
I have been very pleased with the quality of the product, and the majority of the basement floor that I installed went down very easy in one day (about 700 sq. ft). However, I needed to cut about 70 tiles and this is a tough proposition. The tiles can be cut with a utility knife, or 10" tin shears, but it is hard on the hands. Ultimately I used a circular saw for straight cuts, and a combination of the other tools for other cuts. The finished look is very pleasing, much more luxurious than the carpet I replaced. it feels nice underfoot, warm and semi-soft, and I'm confident will survive the next hurricane Sandy!

Michael

Massapequa Park, NY

01/16/2013

"We purchased the graphite tiles for our basement and couldn't be happier. Ryan the salesman was extremely knowledgeable and spent a lot of time going over different shipping options. I would recommend Ryan any day."

Annette

Flemington, NJ

11/18/2012

I was very pleased with the result we got from using the tiles in our utility washer/dryer area of a remodel/rehab we did. They look really great there and provide the cushion and water resistance we want. I want to do this flooring in my garage area for either the whole garage or at least a part of it in a future project. The customer service was very good and attentive. Easy to get in touch with both by phone and email. The responses were timely. One of the cartons we ordered didn't arrive with the original shipment. The missing carton was tracked, but when it didn't show up within a reasonable time you sent another carton which arrived quickly. Thanks for the service.

Mike Tipton

Michael

Valparaiso, IN

02/08/2012

This product was super easy to install. Making cuts to the tiles was fairly easy using a box cutter. I used it in the basement under a washer and dryer. Although I only butted it up against one wall, it hasn't moved 1 inch. Very impressed with the quality of the product.

Nicole

Chicago, IL

05/15/2011

You have a great product. We use it in the mud room in our Colorado home. The mud room is the first room you enter into the house. With all the snow and mud that comes in from the great outdoors of Colorado the floor becomes a mess fast. With your flooring we just mop it up and the mess is gone. The old indoor outdoor carpet absorbed the snow and mud and made stains.

The installation was pretty easy as well. I had a lot of cuts around corners and around the heater vent. At first I had a hard time cutting the product because the instructions showed using a utility knife. That did not work well at all. I went to ACE Hardware and purchase a tile knife. This knife cut the flooring like butter.

My brother came over last weekend and could not believe it I did not use any glue. I pulled a tile to show him how easy it will be to replace a tile if one gets damaged or stained. I think he is going to purchase the flooring in the near future for his home.

Great product give it a 5 star

Terry

Littleton, CO

02/24/2011

Very happy with product, It looks great and very functional. Certainaly recommend to others. Exactly what I was hoping for.

Jim

Jim

Devils Lake, ND

01/12/2011