The tile is 11-5/8 x 11-5/8 in size and 1/2 inch thick. Easy to install with the unique interlocking tab and loop connecting system. Easily cut this PVC floor tile with a utility knife for any wall to wall installation. Border strips are not available.

Consider flooring around your outside pool or spa area. This drain through tile will not absorb any moisture and lets all water drain right through in order to insure a constantly dry surface on top of the tiles.

Applications:

Wet Areas
Pool Side
Spas
Jacuzzi
Shower
Hot Tub
Swimming Pool Areas
Decks
Saunas

This Product Ships UPS Ground, FedEx Ground and/or Freight.
Please review our
shipping disclaimer.
Features:

Comfortable on the Feet
UV Stable for Outdoor Use
Drain Through Tile
Easily Snap Together
Cut to Fit as Needed
No Border Ramps
Use in Wet Areas
Pool and Spa Surrounds
Slip Resistant
Customer Rating:
YOUR PRODUCT IS GREAT.WORKS GREAT FOR MY NEEDS.SEEMS A BIT PRICEY BUT ALL IN ALL GREAT PRODUCT AND SERVICE
jed
florence, KY
08/22/2013
Customer Rating:
Love the product. Easy to work with and to put together. Highly recommend it!
Anthony
Long Beach, NY
08/15/2013
Customer Rating:
great product and exactly what i was looking for at half the price of the marine stores , I use them to in the bottom of all my storage lockers on a bass boat so they keep the rods, reels and equipment off the damp carpet.
jerry
wakefield, MA
08/05/2013
Customer Rating:
I actually purchased these tiles for a tavern that I worked at. They work great for placing clean glasses. They are raised so that the water drains out and the don't sit in the water.
DK
Mt Pleasant, WI
07/25/2013
Customer Rating:
My deck project has finally been completed. The most complimented area receiving the most attention is the conversion of the former aluminum pool deck utilizing your Aqua tile. A very elegant finish to a formerly bland and unappealing area. The tiles were simple to work with and very easily configured into odd angles that i was worried about. The material was easily cut to fit and appears custom made just for me. I am tempted to continue the tile all the way around the plank deck of the entire pool. This was the answer to resolving an area that has seen many different attempts at other rugs, pads, etc. thanks so much!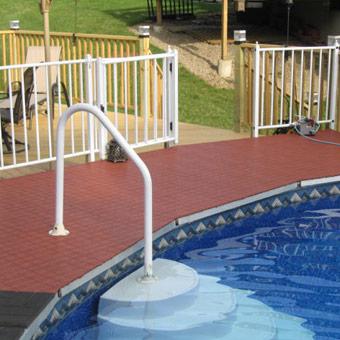 Joe
07/23/2013
Customer Rating:
Your staff, particularly Angie, was extremely helpful in assisting me with sending tile samples, ordering the tile, etc. The tile was delivered quickly, and it performed exactly as advertised. It is extremely easy to install & forgiving of minor mistakes in trimming, etc.. It totally transformed the appearance of my pool deck. I HIGHLY recommend this product. Michael Bush Morton, Illinois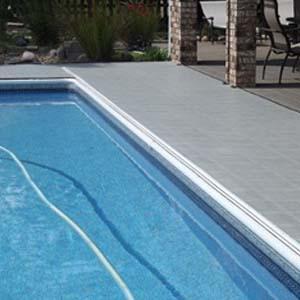 Michael
Morton, IL
07/23/2013
Customer Rating:
Here is the finished pool deck. It looks amazing and we are extremely pleased! The pool is 23 years old and was reinforced underneath the deck with 4' x 4' wood posts. The deck itself is vinyl over wood, but in the last 5 years the vinyl was splitting and peeling. We covered all these areas with a duct tape that is good to 40 degrees below zero, then we put the new pool tiles on top. The manufacturer of the pool told us 5 years ago that it would cost somewhere between $3000 & $4000 to replace the deck. Obviously, we weren't about to spend that kind of money. We had been looking at different alternatives for the last 2 years, and I came across your company on the Internet. We are now looking forward to many more enjoyable years with our pool, at a cost that was considerably less than anything else we could find. Thanks to Angie-who quickly answered all my e-mail questions, the customer service reps who directed me to you, and to you for getting my order out quickly. We appreciate all the assistance, and wouldn't hesitate to use Greatmats again!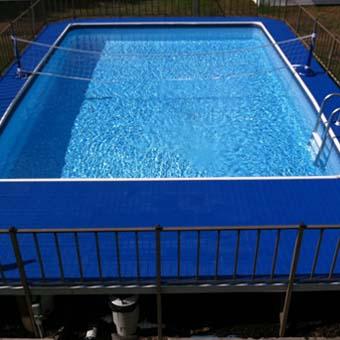 Karen
07/23/2013
Customer Rating:
We installed the tiles on a 5th floor terrace that gets a lot of sun, and the cement floor would get very hot in the summer and also slippery when wet. It has worked out just great!
Caroline
New York, NY
07/22/2013
Customer Rating:
This is an incredible product! It's light and durable. I have a very damp basement. I used the tiles to make a path in my basement. It was very easy to use. The price was right and it arrived very quickly! I am very pleased!
Andrea
Greenfield, MA
07/11/2013
Customer Rating:
We bought your product Patio tile aqua to put around our pool. The concrete looked horrible, cracked, small pieces missing, looked terrible. To replace the concrete they wanted $3500, entirely too much!!! This went down easily & looks beautiful. What an improvement. Thank you Great Mats!!!!
Kathleen
Steubenville, OH
07/01/2013
Customer Rating:
Prompt shipping, since I ordered 4 times to complete the job! OOPS! What's a tape measure?
richard
rockville, MD
06/27/2013
Customer Rating:
Love the tiles. Made a runner at pool to keep people from falling. Looks and works great ! Thanks
KEN
ADVANCE, NC
06/20/2013
Customer Rating:
Easy to install, great product. I purchased 16 squares last year and left them out to see how they did during the winter. They did great, so I covered my entire hot tub area.
Dave
Kingston, OK
06/15/2013
Customer Rating:
Came fast, super easy to install and fun. Cheapest place to get these too. Worth every penny. Would do again when needed to.
David
Macomb, MI
04/25/2013
Customer Rating:
Great product; great price.
Thomas
Anna Maria, FL
04/11/2013
Customer Rating:
the patio tile are comperable and some cases better than competitors snap together
service was top rate and fast
Gary R
PUYALLUP, WA
03/22/2013
I have a dog that is blind and the doggie door leads outside into a dog kennel so he doesn't get lost in the yard. I have put the mats inside the kennel and put artificial grass on top and that is his place to potty. The grass if off the ground just high enough that I can keep it wash off and clean. Works great! I'm glad that I found your mats.
Susan
Chatsworth, CA
02/01/2013
Looks very good and very durable. Members really like the feel of the mat on their feet.
Suann
Denver City, TX
01/28/2013
The tiles arrived very quickly, and were exactly what I expected. Joining them together was a breeze. We are delighted with how they look, as well as how they serve the purpose for which we purchased them. A neighbor who saw them shortly after I installed them instantly ordered some for his entry way. We suspect other owners in our condo complex will be doing the same. Excellent product!
James
Hendersonville, NC
01/26/2013
We love the patio tile we purchased. We installed it over ceramic tile to prevent slipping & falling when the ceramic tile is wet.
ESTHER
WIMBERLEY, TX
01/17/2013
We used these to cover our uneven basement floor and it has been a perfect match to our needs. Affordable, functional, wonderful, easy to install and adjust. The customer service has been great as well honoring sale prices.
Merideth
Lebanon, NH
01/05/2013
This is a great deal for a highly functional patio/floor cover. Easy to put together, a snap to keep clean. I bought the clay color - it looks terrific on my small patio. Service was excellent and quick delivery, too! Thank you.
Linda
Santa Rosa, CA
12/19/2012
This Aqua Tile is perfect for our greenhouse/conservatory. It has made the room look very updated and fresh. I no longer worry about watering the many plants we have, no problem with runoff.
R. elaine
R Elaine
Long Beach, MS
11/28/2012
This Aqua Tile is perfect for our greenhouse/conservatory. It has made the room look very updated and fresh. I no longer worry about watering the many plants we have, no problem with runoff.
R. elaine
R Elaine
Long Beach, MS
11/28/2012
The Aqua tiles work great for the cockpit of my boat. It keeps your feet dry and out of fish guts. It also keeps the cockpit looking great, because all the dirt and debris goes under the mats and not ground into the deck. Will send a picture
Chet
Glen Ellyn, IL
11/11/2012
We are very happy with our purchase of the Patio tiles.
The surface looks great and we were able to install the product with in-house maintanence staff.
Tony
BOSTON, MA
10/25/2012
The product was shipped to me very fast and the box was perfect and it was extremely easy to install. When I do a larger project I will buy more.
Joseph
Oceanside, NY
10/24/2012
I have a 40-foot catamaran sailboat. I used this in the bottom of some of the storage lockers and at the entrance to our salon. It was very easy to cut to fit and comfortable to walk on.
John
Apollo Beach, FL
10/21/2012
Ordering was easy, very good price, delivery prompt enough. I bought these to put in the bottom of the canoe for my dogs to sit on. Have only used them once so far. They kept the dogs comfortable, were easy to carry to and from on a steep trail and worked pretty well for my intent.
Amy
Burdett, NY
10/08/2012
Perfect for application in utilty room in high humidity area. Very easy to work with and looks
great.
Stanton
Marlborough, MA
09/13/2012
Pricing for Patio Outdoor Tile
11.7 x 11.7 x 1/2 inch
$2.69 per piece