Economy Foam Puzzle Mat 1/2 Inch
This interlocking foam mats option is stocked in our warehouse in very large quantities for those quick ship larger scale projects when you need foam mats shipped next business day. Choose from three of the most popular colors, this 12 mm thick foam mat is great basement floors, commercial installations, kids play areas, kids flooring, preschools, and around the home.

Lay right on any hard surface for a safe and soft - yet durable floor.

Applications:
-Kids Flooring
-Schools
-Preschools
-Children's Play Areas - Home and School Use
-Exercise Rooms
-Basements and Garages
-Indoor Sports & Multipurpose Rooms
-Parachute Staging Areas
-Great for Concrete and Hard Surfaces

Characteristics:
-Anti-Fatigue
-No Odor
-Non Slip
-Waterproof, does not absorb moisture
-No Adhesive Required

This Product Ships UPS Ground, FedEx Ground and/or Freight.
Please review our
shipping disclaimer.
Customer Rating:
I Put the mats in my basement for dog agility. I have jumps, a tunnel and some weave poles. I decided the cushion was so great I would jump rope on it myself.
Even grooming my dog, I stand on it. Big improvement.
With wild runs, his nails do tear in.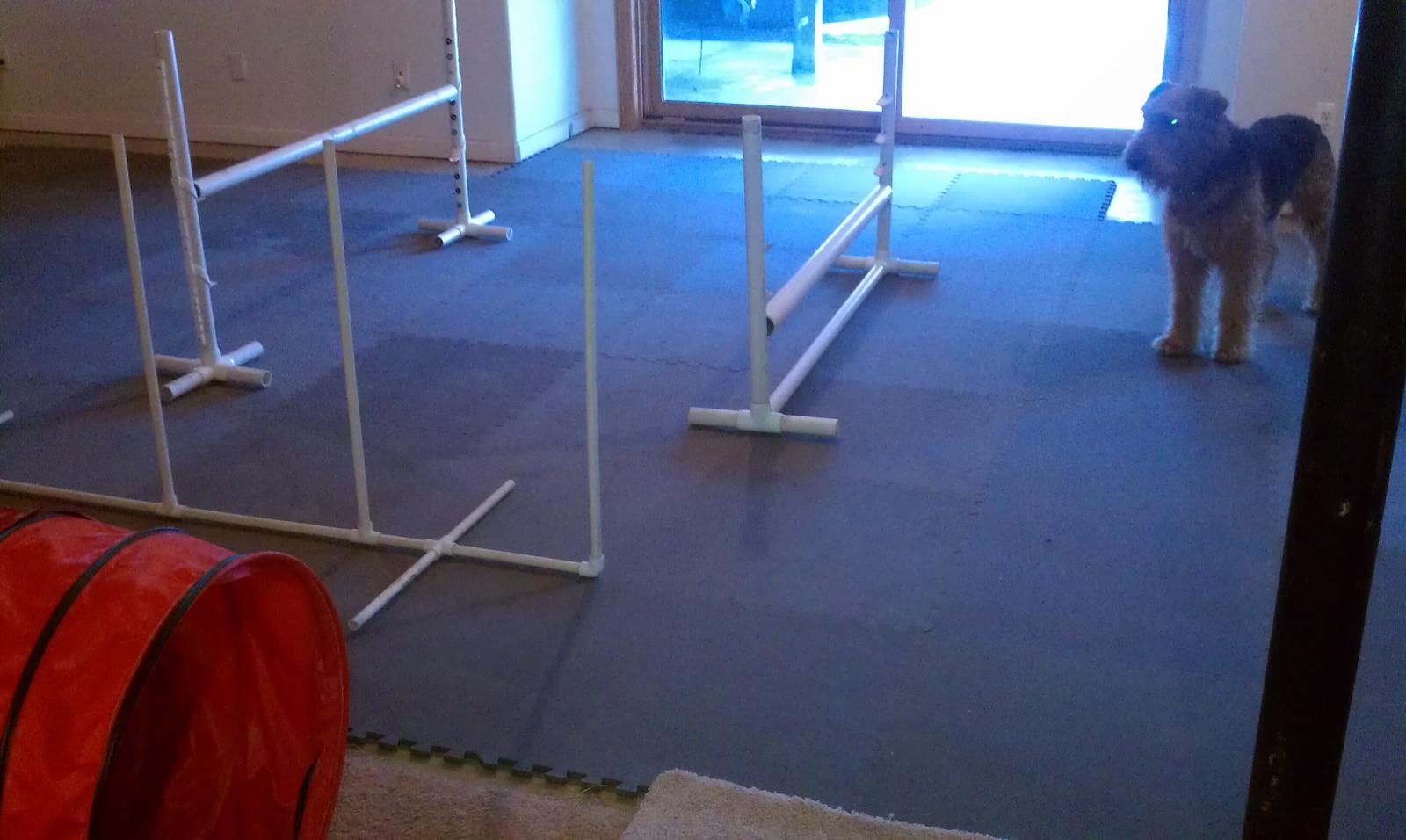 Jacqui
Milford, MI
03/30/2013
Really great for blocking my finished knitting projects!!! Would be even better if you made and sold these in 12" squares as well.
Josh
Alexandria, VA
03/01/2013
These are great mats, fit together smooth an snug. The word economy is not accurate, they are the highest quality 1/2" mats I have seen.
ROYD
ORLAND PARK, IL
02/28/2013
I like - thanks
Sylvia
Lake Geneva, WI
02/14/2013
We used these mats to create a soft, warm area for our children to play in our basement. They work great on the concrete floor! We plan to buy more soon to expand the basement play area.
Christopher
Columbus, OH
02/10/2013
great product, great price, and fast delivery. Its nice to be happy with a company and it's product again, i will buy more and recommend to others, thanks
jeff
pottstown pa, PA
01/17/2013
Easy to put down, easy to trim, looks great, works great! THank you
Jane
Chester, CT
01/12/2013
Exactly what I expected.. Great price for what you get. A couple of the interlocking pieces at the edge weren't exactly flat but one you lay them down after a hit of time they are good. I would recommend!
rebecca
colchester, VT
01/10/2013
I think these mats. They are great in a cold basement. Ease on the feet and keep the cold off of you. Water doesn't hurt them either. I've had a set out by the grill on the patio for a couple years and the hold up well. If you set somthing heavy on them like a couch you will get a depression where the feet were that won't come back, just some thing to be aware of.
Garret
Waite Park, MN
01/04/2013
We have been very pleased with foam puzzle 1/2 inch thick mats. I placed them over an unfinished basement floor in order to turn the basement into a winter and inclement weather play space for my kids. The mats cushion the floor without too much "give", and they look very nice. I bought an inexpensive electric utility cutter (a Skil, in my case, but there are several similar ones), and used that to very easily cut the mats so that they fit corners and other irregular edges. My basement has been transformed, and I have received nothing but compliments from visitors.
Eric
Clark, NJ
01/04/2013
This product was an awesome one. We have a truck and I thought about how to preserve the paint job in the bed of our truck, and so these mats worked out great. I could easily cut them, and the clean up was a sinch. Thanks
Penny
Egegik, AK
12/30/2012
Wonderful! It provides the cushion I was looking for. I'm using it in my den in the work-out area. The price was excellent.
Sheryl
Klamath Falls, OR
12/14/2012
The order arrived in good time and condition. We bought these to provide soft resting places for our old dog, Bennett, who has painful hips. With 10 pieces, we were able to put pads in several of the places on the deck and porch where he is most likely to lie down. We didn't know if he would accept the texture of the surface, but he seems to like it fine. I had earlier bought a package of the product designed for children's play mats. But they were thinner and less precision cut. They came apart too easily, but Greatmats have held together since I put them down for him.

I had been using the product in the gym I belong to, and that's what gave me the idea for buying some for Bennett.
Cecilia
Sautee Nacoochee, GA
11/15/2012
Great product for our bonus room (that has hardwood floors) that we needed to be kid friendly. These mats are better than using a rug.
Regina
Hartselle, AL
11/03/2012
This is a wonderful solution for a kids' area that isn't too expensive. It looks nice and has a vibrant color, and the price can't be beat. A lot of other economy foam I looked at had poor reviews due to a strong odor, but this didn't smell at all.
Rudi
Aurora, IL
11/02/2012
Great product. Quick shipping from Greatmats. I am using this in my unfinished basement that I have turned into a home gym.
John
Taylorsville, GA
10/17/2012
Your products are exactly what you promise. Your people are AMAZING!! GREAT customer service!!! I go out of my way to tell everyone I come across about your website. Your prices are highly competitive, but your service is the REAL reason I bought form you guys, I bought again and again, and will return again if ever I need anything resembling mats!
Thomas Falzarano
Thomas and Divina
san jose, CA
10/15/2012
Service, pricing, delivery, product quality, were all excellent. I would recommend to everybody.

Thanks

Dc
Doug
Langley, BC
09/27/2012
GREAT SERVICE ! ! ! and very good on the turn around to get this product out to my customer to finish up a project that they had already purchased the same product.
You will be my first choice for future projects.......

Thanks
Tom O'Neal
Commercial Account Specialist
Lowes of Florissant, MO
Tom
Florissant, MO
09/03/2012
I was a little apprehensive about ordering an "economy" mat but was incredibly surprised when I received the order. I installed it on a concrete floor in the basement which is used as a playroom. The kids loved it. I initially wanted to go with a thicker mat but found the 1/2 inch provided more than adequate cushioning. An added benefit was the warmth the mats provided in the basement. The mats acted as a barrier to the cool air coming off the basement floor.
Steve
Niskayuna, NY
08/31/2012
These are good looking, tough mats. The quality is much better than what I found at big box stores. Best I have seen.
DAVID
NEWMARKET, NH
08/02/2012
I have had a great experience with you folks from the answering of question to the pricing of the items and the shipping. I will keep your company in mind for future reference.
Tom
Florissant, MO
07/23/2012
The mats are very nice for the price and are reasonably durable. I am using them for a grappling/Judo mat and they seem to be holding up alright besides a few missing puzzle edge pieces. They are a little thin for this activity but they are better than nothing. I would recommend a slightly thicker mat for grappling/ judo or double the mats up.
Timothy
Sidney, OH
07/18/2012
Very happy with the product and the quick delivery. I have recomended to family and friends
william
the villages, FL
07/11/2012
I recently needed tiles to match some older tiles I purchased from a different manufacturer some time ago for a basement exercise room. Greatmats sent me a free sample that matched closely and I was able to complete my project. My orders, including the free sample, were complete and shipped promptly. I would recommend Greatmats to anyone. Thanks!
John
Ball Ground, GA
07/07/2012
Product appears fine, but I haven't started using it yet. Service very good and helpful. The only response I had out of four companies I reached out to. That got the sale. Keep up the customer service, Paul, it made the sale.
Gail
Elmore, OH
06/09/2012
Great mat great price
Rick
West Branch, MI
05/28/2012
I'm very satisfied :) and the customer service was wonderful! I plan on purchasing home gym flooring soon, and have referred your website to several friends! :)
jessica
palm bay, FL
05/21/2012
Very pleased with the service we received, and also with the product. It was easy to install, and looks great on the floof of our screened in porch.
Brian
Amarillo, TX
05/18/2012
Everything went fine with your product. No complaints.

Thanks, Mike
Mike
St. Charles, MO
05/17/2012
Pricing for Economy Foam Puzzle Mat 1/2 Inch
2x2 Ft x 12 mm
$3.99 per piece