Max Tile - Modular Floor Tile
12x12 inch tile, please review main product page for details.

This Product Ships UPS Ground, FedEx Ground and/or Freight.
Please review our
shipping disclaimer.
The dance floor has worked out great! We will add to it and make bigger in the future.
Michelle
Carmel, IN
03/09/2013
I am very pleased with my Portable Dance floor, & was impressed with the quick delivery. Everything was just as promised, & was extremely easy to assemble. It looks great, & serves the purpose that I wished for. The value of the product is outstanding. I also received excellent customer service when I called with questions about shipping. I have recommended Greatmats to several people.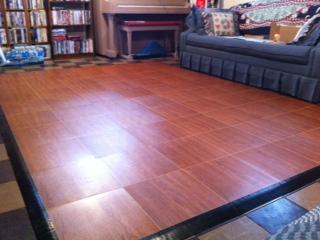 Denise
Owosso, MI
03/07/2013
Ordered for my son for Christmas so he could practice his ballet in the carpeted basement - it fit together easily, but the order was missing a corner edging piece - it was delivered to our doorstep while we were out of town, so I never signed for or inspected it (who really does that with the delivery person standing there anyway?). Other than the missing corner, it was by far the best "hard" flooring we found for the price.
Kristen
Longmont, CO
02/15/2013
We are so pleased with our GreatMats purchase of the max tile dance floor. It is exactly what we wanted for a 10 ft. by 10 ft. in-home dance floor which we installed in our downstairs finished basement. From the start of the process we found the customer service people so friendly and helpful. The product came exactly as they said, and within the time frame that was promised. We were able to install it ourselves right away, and the individual tiles fit together very tight so it appears as one complete floor. It is a beautiful addition to our room !
Ed and Robin Sostak
Edward
White Sulphur Springs, NY
01/14/2013
Ordered, delivered within a week, easy to put together.
Love my 10X10 dance floor! Installed over existing carpet.
Cyndi
BRIGGSVILLE, WI
12/28/2012
Great product. Perfect solution for my laundry floor which is a concrete slab with a high level of water vapor. My house is in Florida. Easy to install. Fast and helpful customer service. I would buy the product again and have recommended it to others.
louise
Longwood , FL
12/13/2012
Great product with excellent durability. Very easy to clean. Extremely portable with easy assembly.
Scott A
Coopersville, MI
12/10/2012
Great flooring. Easy to assemble on carpet. However its best you put a hard surface for best results. The floor looks very nice, once everything is assemble.
Amber
El Paso, TX
10/24/2012
Bought 9 square tiles for my daughter to practice her tap dancing. She loves them. Good product, quick shipping, easy to assemble.
Kimberly
Clinton, OH
10/10/2012
Thank you for the GREATMATS tile floor. It was relatively easy to put together and works perfectly for my in-home tap floor. I would recommend this to anyone in need for a similar use.
Rosegenee
Macon, GA
09/03/2012
First I want to thank Ryan for all his help. My basement has a center stairway along with a few closets and a central air conditioning unit. And he was glad to help figure how many tiles I would need. The tiles arrived in one shipment and we started to install them that weekend. Installation was straight forward, Ryan told me that cutting the tiles would be easy with any kind of power saw, and he was right. So far the tiles look like they were just installed,even though they have been down for more than a month. That includes construction dust and dirt that is going on on the other part of the basement.
Thanks again
William B
Peabody, MA
08/02/2012
We have been very happy with the Great Mats dance floor we put in our game room. The customer service was friendly, accurate and timely. Their regular price was already the lowest we could find and they had a sale going on top of that. The floor looks and works well.

One installation tip: The tiles go together fairly easily when on a firm surface, but it was a little tricky on carpet. We slid a firm piece of plastic under the joints when pressing them together and that made it much easier.
Neil A
CYPRESS, TX
08/01/2012
I received my order for an 8'X8' portable dance floor from Greatmats in just three (3) days! The product far exceeded my expectations! The quality is excellent! Thank you,Greatmats'!
Susan Arena
Susan
Jupiter, FL
07/29/2012
Satisfied with the product and service
Mike
ROCKVILLE, MD
07/07/2012
The floor installed easily and looks great on my summer home's first floor / cement slab. The construction of the tile is appears to be bullet proof and very duable. I guersws only time will tell if was worth the investment, but what I've seen so far I think it was a wise decision.
Preston
SCITUATE, MA
07/05/2012
I really like my floor mat. I use it for Zumba on my Wii game on the days I can't go to the YMCA. It really works well over carpeting. I am glad my son suggested this website and I ordered it. It didn't take long for delivery and customer service was very helping with suggesting the type of flooring to purchase once I told her what my use for the flooring would be.
Kimberley
Bear, DE
05/28/2012
Love the Max Tile. Was very easy to install. My wife installed most of the floor. I also found it very easy to cut.
Michael J
Ballston Spa, NY
05/24/2012
My Slate Max Tile for my basement looks fantastic! Please keep this color. It looks like stone/slate tile. My contractors loved it. The inspector loved it. They all asked where they can purchase it and why it's not more widely known. They would like to see a local floor store be able to display and order for their other clients. The Slate was a mixture of browns/tans/greenish gray and black. Looks great with a tan wall with white doors and trim. The tile was put directly on cement basement floor. The floor was uneven. There is limited noise when walking but not more than shoes on ceramic. The contractors said it was very easy to work with and install. They used their saw to cut out the pieces to fit around stairs and doors.
Mary Lou
Brookfield, WI
05/10/2012
I got the walnut finish which looks great, arrived very quickly! Kind of labor intesive to put together for a novice. Nice slip to it, works well with ballet shoes, bare foot or intense cardio with sneakers. Very seamless, feels great!
Aubrey
Dumont, NJ
04/19/2012
I purchased this flooring to practice my tap dancing. Since the tiles were placed over carpet, there was a bit too much "give," so I placed two layers of particle board underneath and it is perfect. Snapping the tiles together requires a firm surface. Snapping them together on a carpet was nearly impossible by hand, so we had to stomp on them with our feet. Snapping the border on requires a very firm surface, so I put the boards underneath before we were able to snap them together.

It is best to snap the tiles together by rows first and then snap in the rows side by side. Thus, you can avoid trying to squeezein a tile surrounded by a top and side tile, which is more difficult.

The finished product meets my expectations!
Sheila
Dallas, TX
03/25/2012
We decided to use portable flooring over newly installed carpet in the portion of the sanctuary that is occupied by a baby grand piano and bell choir performance equipment. The primary reason for purchasing the flooring was to save wear and tear on the carpet area where the piano is frequently moved around. The backing on even the best carpet breaks down rather quickly when a piano is moved around on it. Another reason for using portable flooring was, according to our musicians, sound quality is better when instrumental/vocal music is performed on hard surfaces. The style of flooring we chose goes very well with the color of the carpet. I will send pictures in a separate e-mail.

Thanks for quick delivery.

Ron Walke
Board Chair
First Christian Church (DOC)
227 East Main Street
Morehead, KY 40351
Ron
Morehead, KY
03/01/2012
Great product and excellent service!!
Thank you for helping build a beatiful mini dance studio for my little dancer.
Penny
Patricia
LINCOLNSHIRE, IL
01/26/2012
I use the max tile floor to do zumba and other cardio exercise at home. I have wall-to-wall carpeting and I've put the floor down on top of the carpeting. I purchased a nice rug to throw over the floor when I'm not using it.
I've tried it for zumba and cardio several times now and I really like it.
I ordered tiles for a 6 x 3 ft floor, decided to expand to 6 x 4 since 3 feet is just a little too short for me.

Great customer service too!
Annette
Albany, CA
01/18/2012
WE bought this product for our son who is extremely interested in break dancing and hip hop. Its small size, smooth surface and nice appearance is perfect for our basement. The frustration of trying to dance and spin on carpet has been eliminated. Thanks. It was so worth the money which wasn't very much at all
Margaret
Omaha, NE
01/08/2012
Easy to install ... tough, durable, and beautiful. My wife loves it!
Irv
Ben Lomond, CA
01/08/2012
I couldn't believe how easy it was to put the floor together. The part were perfectly match and appear to be heavy duty. The floor Finish is perfect for "Zumba" exercise and the 4x4 size is perfect for exercising. I am very pleased with this product and would recommend it to anyone.

Thanks so much,
Dennis Taboada
Dennis
Smyrna, GA
12/29/2011
Hello,
My 2'x4' tile mat with edge to blend to the carpet was placed under a ventless fireplace that I purchased through a local sale paper. My house now has a beautiful fireplace! For very little money! I saw the floor at sears and went online to find a vendor (a little difficult). The lady that helped me was kind and considerate, I really appreciate that. I will recomend this product to all my friends and think of future uses.
Thank you and God bless you,
Keith
Keith
Knoxville, TN
12/28/2011
I love it! I only wish it were bigger. I may have to buy another section to give me more room to "shuffle off to Buffalo"!
Karen
Birmingham, MI
12/08/2011
I am using the dance floor tiles under my office chair at my computer table. I love these tiles. They are so much better than the plastic carpet mats I've had before. The tiles don't creep and they support the chair wheels very well. The seams between tiles cause no problem for the chair.
Rosanne
Brooktondale, NY
12/07/2011
Excellent product for a basement. Easy to install; just remember it's not like installing ceramic tile due to the fact that it interlocks. Just snap your lines and continue to the end, then return to your starting point and install another row. You will destroy a good blade when you make your cuts, but it is very easy to cut. Also, just keep cleaning your saw between cuts so it doesn't clog. I would use this product again and probably be even faster installing it the second time.
Anthony
Beachwood, NJ
11/08/2011
Pricing for Max Tile - Modular Floor Tile
12x12 inch x 5/8 inch
$4.39 per piece