Applications:

Aerobic X
Exercise Equipment
Trade Show Booths, Conventions and Showroom Flooring
Basements and Garages
Indoor Sports & Multipurpose Rooms
NOT for Kids Rooms, too hard

Product Info:

Easy to clean. Can be vacuumed and washed with soap and water - test your vacuum.
Place Directly on concrete or tile - no adhesive needed for a snug, tight fit.
Waterproof and Odorproof
Closed cell EVA foam will not absorb moisture or other substances.
Heavy exercise equipment may leave some level of indentation in the mats, but will not hurt the mats.
Not recommended for dropping weights.
Not recommened for dragging equipment over.
Top Quality Material
Two Boarder Strips included per Mat
Made in Taiwan Hardness of 65 Shore C.

Precautions:

High Heels can puncture the mats - for high heels use our interlocking carpet tiles.

Do not lay mats directly on carpet for aerobics use. Mats can shift.

Dense foam mats are not suitable for power lifting or dropping weights. Dense rubber weight lifting mats will be needed for most free weight applications.

When the mats interlock together they will lose approx. 3/8" per tile.

Allow the mats to acclimate to your room before installation. Allow expansion gap when cutting the mats to fit wall to wall. The mats can expand with changes in heat and humidity.

If this particular foam mat is not perfect for your application or budget please consider one of our other foam mats, we offer a complete and comprehensive line of interlocking foam mats to our customers, some starting at $0.99 cents per square foot and while other foam mat products offer free shipping. Please browse our complete line of puzzle foam mats. If you have questions please Chat with us online, send an email or call our friendly customer service center to speak with one of our flooring experts about our foam mats.

This Product Ships UPS Ground, FedEx Ground and/or Freight.
Please review our
shipping disclaimer.
Characteristics:

Lead Free and Latex Free.
Non-beveled edge. 90 degree edge will not present a tripping hazard.
Easy to install, easy to take up, Lightweight and portable.
Non-Toxic
Anti-Fatigue Relief

Size and Dimensions:

Tile: 24" x 24" x 3/8" - thickness tolerance of 1 mm + or -
Customer Rating:
Our experience with Greatmats and the product, Interlocking Foam Designer, has completed our new V-TOUCH Fitness Studio. Their quality customer services were prompt between answering questions via e-mails and phone calls along with the delivery of the product. The Interlocking Foam Designer provides quick and easy installation, appealing to the eye, and the finishing surface delivers a wonderful glide for dance aerobic movements. The floor also absorbs a great amount of impact providing protection to our joints. Our overall experience has been outstanding. This location in Ft. Lauderdale is out first fitness studio and as we expand we will be sure to use Greatmats services and products in the future in our multiple V-TOUCH Fitness locations.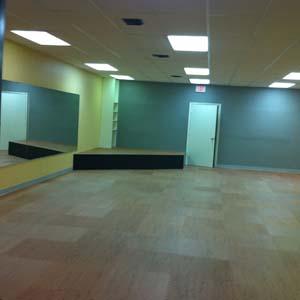 Vincent
Ft. Lauderdale, FL
07/23/2013
Great product! Easy to assemble and look great.
Robert
Hoschton, GA
03/08/2013
I will admit I was a little skeptical about the flooring at first. However, once I got it installed and my wife and I started working out to Zumba it is the perfect floor. We have been working out almost every night and it makes a huge difference in our ability to perform the moves with workout shoes on and not get caught up on the carpet like we used to. Thanks for producing a great product that fit our needs!
Michael
Beaver Creek, OH
02/15/2013
Showed up at our door quickly. Placement was easy and fast. Fits our needs perfectly.
Douglas
WATERTOWN, SD
02/14/2013
product was fine. I wish it came in a dark grey color to match my previous mats.
Jennifer
Boston, MA
08/26/2012
The OSU Department of Dance recently installed this product and are extremely pleased with it.
The installation was very quick and easy and the students are oh so happy to be dancing on it!
I would recommend this flooring to anyone who needs to soften their studio floors.
Dave
Columbus, OH
02/15/2012
easy to install and looks great. black is more difficult to keep clean, but I would use it again.
John
Ft Wayne, IN
01/22/2012
Our daughter's dance room is perfect! the subfloor mat and the adagio were easy to install and the product that was recommended to clean the floor works great! BEST PRICES ANYWHERE!
Holly
CENTREVILLE, VA
10/27/2011
We have a yoga studio floor, 40 x 42, with Wood Grain Sports Plus Designer Foam Mats throughout. It's beautiful and comfortable. The only surprise is that older yoga mats, the ones that aren't as sticky any more, bunch a bit on the floor. But who doesn't like an excuse to purchase a new yoga mat? It's a fabulous floor, Great Mats got it to me in the blink of an eye, and I'm grateful every time I walk onto it. Thank you!!!
Robin
Clive, IA
10/20/2011
Bought the wood pattern foam mat for a Jazzercise Center,installation very quick and easy.The floor is easy to maintain and every one seems to like the feel.The only draw back is the floor loses the luster after a short time.Love the floor just added another section.The folks at Greatmats are wonderful to deal with and the mats were delivered quickly.
Daniel A
Wauchula, FL
08/31/2011
The floor looks great and the students seem to love doing aerobics on it.
Dianne
West Babylon, NY
08/29/2011
Upon installing hardwood flooring throughout our home, we needed to find support protection for our three-position weight machine. The Sport Plus Designer Foam Mat we found at GreatMats appeared to be what was needed. The interlocking features allowed it to fit nicely in a "U" pattern to cushion this very heavy item. End results are better than we expected.
Richard
Panama City, FL
06/01/2011
Excellent product. Easy and fun to install.
Stephen
McLean, VA
04/23/2011
We ordered the Sports Plus Designer Foam Mat in Woodgrain and absolutely love it!
It is so easy to put together and it cuts easily too. We had some tricky areas and were glad that we could cut it to fit perfectly! The foam is of excellent quality and I believe it will last for many years. It also looks very nice.

We worked with Ryan and Jo and they were both so friendly and helpful. The expedience in shipping and delivery was great! We didn't have to wait very long for it to come.

We have already recommended Great Mats to two of our friends and if we get the chance we will recommend it to many more.

Thank you very much!
Kim
Pulaski, WI
04/10/2011
installation simple works just as described
Daniel
Sarona, WI
03/25/2011
I love my mat! I do have a problem with it sliding around when I exercise. I tried to put a non-slip carpet woven, plastic product that didn't work. I have my mat over and area rug, do you sell any product or know of a product that would keep it in place while I jump around?
Frances
Firestone, CO
03/18/2011
This is a fantastic product! So easy to install and great for use under exercise eqipment. Greatmats has the best price anywhere!
Jerry
Phoenix, AZ
01/17/2011
Greatmats delivered what they promised. I redid my basement floor with an interlocking gym floor. The customer service rep was very helpful on the phone. Her advice was spot on. The flooring came in a timely manner and it was simple to install. It makes a great floor for an excersise area in my basement. I would definitely recommend to anyone in a similar situation.
Ben
VOORHEESVILLE, NY
01/14/2011
I placed the mats in an exercise room under a weight set and excercise bike. They have generally worked well and are affordable. It's no surprise that heavy equipment causes permanent indentations but Ihave to be careful when I set dumbells on the floor as they can do the same thing. I also must be careful when I walk on the mats with bike shoes - these have caused permanent indentations as well. Recently at a party a guest walked on the mats with high heels and now I have to replace some mats due to deep permanent indentations as well.
Jonathan
Templeton, CA
01/13/2011
Wonderful mat! It looks absolutely beautiful in our new work out room. The mats are comfortable enough for doing aerobic exercise, while stilling being sturdy enough to support our gym equipment without denting. The color is beautiful too (we did the wood tone). Shipped quickly, arrived in perfect condition, super easy to install. Couldn't be happier!!!
Georgia
San Clement, CA
01/04/2011
This is a fantastic product for under sports equipment. Easy to assemble and clean.

If I had it to do over, I would have laid my entire gym floor with these mats
Bonnie
Hillsborough, NC
12/15/2010
Great product and price. I searched a lot before buying and made the right choice. Fast and reasonable shipping- very helpful and polite. I used in basement directly over sealed concrete wall to wall on a 12 x14 home gym. We love it!!
Richard
Pomona, NY
12/07/2010
I am very pleased with these mats. I own and operate Play Plus for Kids, an indoor play facility. These mats are now the flooring for the infant/toddler play area. They come clean with every mopping, as I just proved with a "white wipe" test. My customers have been impressed with the look and the feel of the "wood" flooring in that area. Thank you!
Erin
Indian Harbour Beach, FL
10/31/2010
Mats were easy to work with. It only took 20 minutes to install and cover an 11' x 12' floor.
Terry
ATLANTA, GA
10/28/2010
I purchased 870 Sq f of the tiles designed especially for aerobics; so far it has been the best investment I made in my Studio. It Makes me feel very confident to know that the workouts are safe; the floor protect our joints; I had in the past a knee operation and with this floor, I have never felt pain, and neither have my clients.
thank you.
Marlene
Albuquerque, NM
10/26/2010
Excellent stuff! Goes down quickly & easily and cuts well when necessary for the unusual shapes, corners, etc. The only downside is that it loses some of its foamy-traction with any dust, but this is only an issue for when I work out. Otherwise I love it & have received nothing but compliments from friends & family.
Michael
Wauwatosa, WI
10/25/2010
Pricing for Sport Plus High Density Foam
2x2 ft x 10 mm
$8.96 per piece