These floor mats can withstand all types of exercise equipment. 21 mm Thickness, + or - 1 mm. Each tile comes with two border strips attached. Designed to last for years beneath exercise equipment.
This product changed from 20mm to 21 mm Thickness, + or - 1 mm in July of 2012.

Applications:

Home Gyms for Weights
Commercial Fitness Centers for under Equipment
Anywhere for Portable Durable Flooring is Needed

Product Info:

Double Sided for Longer Life Span
Durable Surface Top (Pebble Texture)
Excellent for Home and Commercial Gym Equipment
Each tile comes with two border strips attached
Waterproof
No Adhesive Required
One Year Warranty

Please Note:

Do Not Expose this product to Direct Sunlight.
These mats will expand and deform if exposed to direct sunlight for extended periods of time.
EVA foam mats are subject to expansion with increase in heat related to exposure to direct sunlight and/or significant increases in humidity.

If this particular foam mat is not perfect for your application or budget please consider one of our other foam mats, we offer a complete and comprehensive line of interlocking foam mats to our customers, some starting at $0.99 cents per square foot and while other foam mat products offer free shipping. Please browse our complete line of puzzle foam mats. If you have questions please Chat with us online, send an email or call our friendly customer service center to speak with one of our flooring experts about our foam mats.

This Product Ships UPS Ground, FedEx Ground and/or Freight.
Please review our
shipping disclaimer.
Characteristics:

Lead Free and Latex Free
Anti-Fatigue
No Odor
Non Slip Pebble Texture

Size and Dimensions:

Tile:24" x 24" x 21 mm Thickness, + or - 1 mm
At Interlock: lose 1/2" Borders: add 1/2"
Interlocking Type: Universal
3.2 lbs
Customer Rating:
Product was easily and quickly installed, works as advertised and is visually appealing.
Mario
Huntsville, UT
11/27/2013
Customer Rating:
Mats are lightweight and durable. The trim pieces can be like a puzzle trying to get them to fit different mat configurations. The challenge was fun, though. Shipping was reasonable and quick. I like that.
Debbie
Larkspur, CO
11/09/2013
Customer Rating:
would definitely recommend this product to anyone!!
Jonathon
Sulphur, LA
10/23/2013
Customer Rating:
The mat is as "great" as advertised and works perfectly for what I bought it for - gym mat for the workout area in my garage. Furthermore, it was quick and easy to install.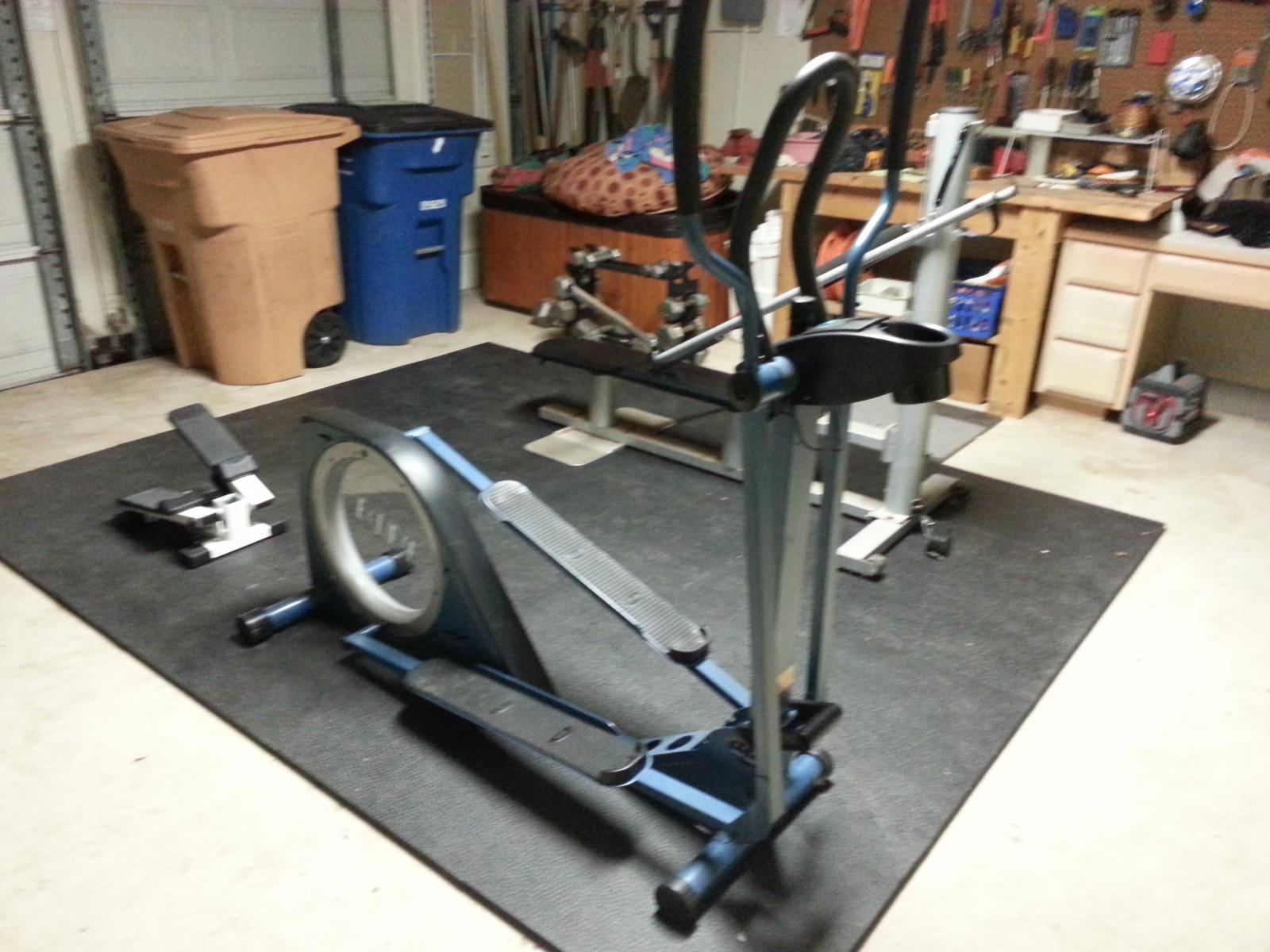 Alan
Austin, TX
10/18/2013
Customer Rating:
I conducted an extensive web search before deciding on this product. The pricing was the best, and the reviews were consistently superlative. The actual results with this product were consistent with the reviews. My contacts with Greatmats were friendly and complete, shipping was prompt, and installation (which I did myself) was a snap. It was a winner in all regards.
Theodore J
Mars Hill, NC
08/22/2013
Customer Rating:
The only way they could be better is if someone else put them down and picked them back up for us! We use the at horse shows that have concrete floors in the stalls. They are light weight and put together easily. I'm going to order another dozen!
Jeanette
Grove City, OH
08/14/2013
Customer Rating:
This was the perfect product for my home gym. The mats are nice and firm to support my weights. The estimator was right on in figuring how many tiles I needed for my room that is a bit odd shaped. Great product and everything was delivered as expected with no problems.
Kraig
Far Hills, NJ
08/06/2013
Customer Rating:
I am SO impressed with these mats!! My horse has had some navicular problems, so I bought these to take to overnight horse shows where they have concrete or packed dirt stalls. I tried using big rolled up mats, but I about killed myself trying to move them. I did lots of searching and research before finding these mats. They seemed too good to be true, but they were guaranteed, so I took a chance. First, let me say that the customer support was fantastic. I called because I wanted to be sure they would get here in time for a show I was going to. The customer service representative said she would personally watch for the order and ship it out immediately. It was at my house much earlier than expected. The mats themselves are high quality, lightweight, and easy to handle. (And the don't small bad either like some mats do!) I still wasn't convinced my horse wouldn't tear them up, though. When we got to the show, I quickly and easily laid them out. (You have to have them turned the right way for them to hook up, but I figured that out pretty quickly.) We put down some shavings and brought in the horse. By this point we had a small crowd gathered to check out the mats. Other people had brought in all kinds of things (insulation foam, carpet tiles, you name it) to try and soften the floor for their horses, and they were all interested in my mats. My horse was very comfortable for the three days we were there, but the best part was when we left. I easily pulled the mats up and hosed them off. And when I examined them, there were no indentations at all from my 1000-pound horse's hooves--not even on the ones at the front of the stall where she stood the most. The mats looked brand new! A few more people gathered to ask about the mats as I was hauling them back to my trailer. I couldn't say enough about them. The small investment was well worth it as I am certain these mats will last for years and save wear and tear on my horse. Thank you for the great service and the great product!!
Dawn
Blairsville, GA
07/04/2013
Customer Rating:
Great product. Makes for a clean install although helps to have a pro when there are cuts needed. One tile seems to be a little different in thickness. Hope to get a replacement.
James W.
Sarasota, FL
06/23/2013
Customer Rating:
good value, room size 18' by 32' left 1/4" space to walls all the way around room, was not enough after material relaxed, having cupping issues
Brandon
hailey, ID
03/13/2013
Order was shipped promptly. Easy installation-no oder to the tiles. They seem very durable. Support large elliptical machine. Needed to order three additional tiles to cover area. Ordering staff were very helpful.
JW- Colorado
Jerry
Nathrop, CO
03/09/2013
The Pebble Top Foam Floor Mat looks great. We installed it into a home gym. The installation was simple. The tiles are easy to cut around steps etc. I would recommend the product.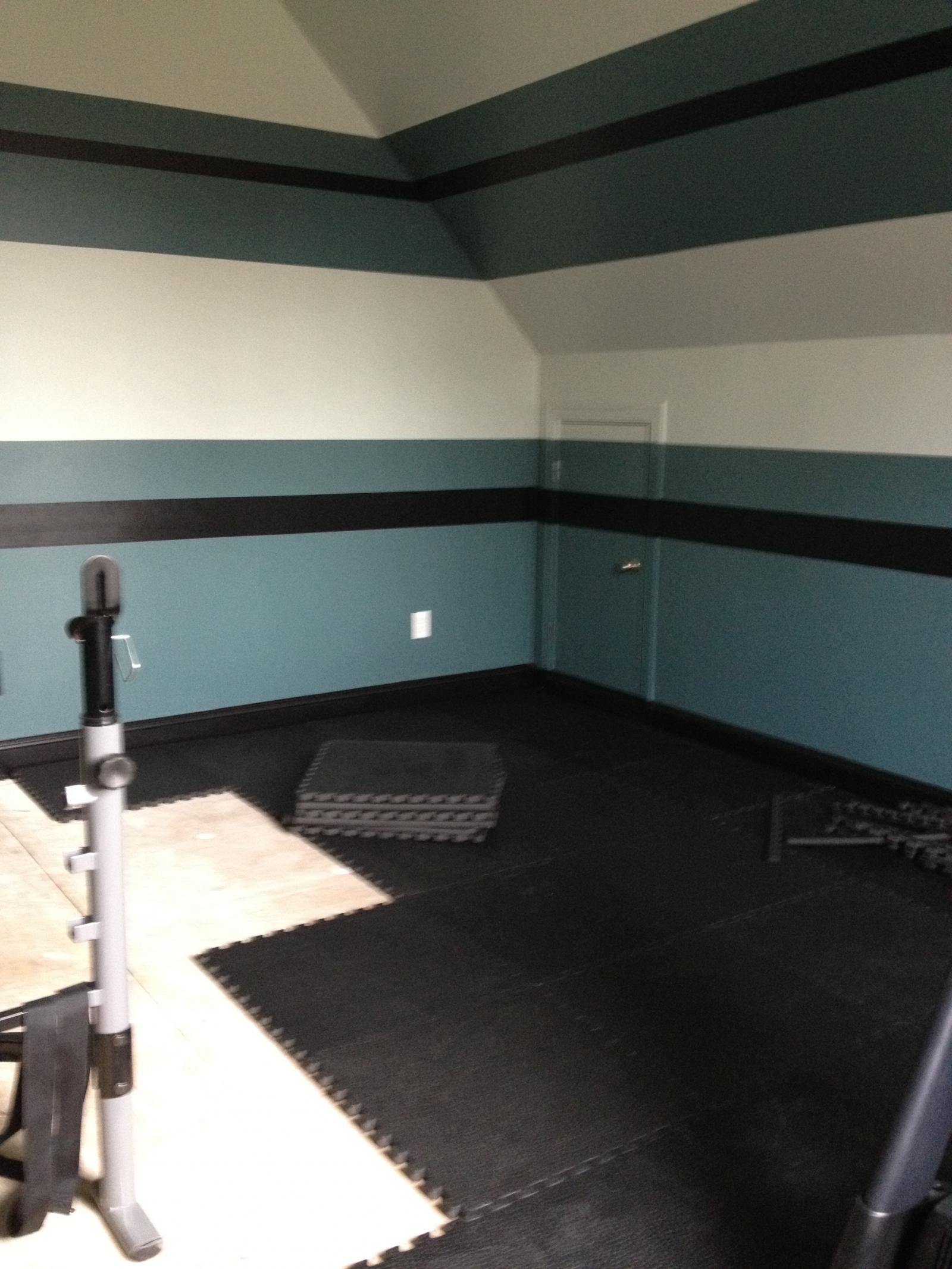 Lisa
Charlotte, NC
03/01/2013
I did not know who www.greatmats.com was, but decided to search their site. I found the mats I thought I wanted but still unsure. I messaged them using their instant chat feature and got the info I needed. Shortly after I ordered and the mats were exactly what I needed for the gym and price. Thanks.
Carlos
Albuquerque, NM
01/06/2013
Everyone at our stable is very impressed with our mats. People keep coming by to see how they are holding up. So far, so good. Installation was far easier that expected. Being light weight and odorless (unlike rubber) was key to the project. Reuben, our horse, seems very happy with his new flooring, too!

Your help on the phone and great service, especially quickly sending sample matting, was wonderful. It was truly a pleasure dealing with GREATMATS.

Wishing you a great holiday season and may 2013 be healthy, happy and peaceful.

Mickey Solomon, Bob Rutzen and Reuben
Michele
Grayslake, IL
12/21/2012
I loved how easy these mats were to install -- in a horse stall, yet -- however after several weeks, there's a big hillock of an air bubble in the middle of my mare's stall, as the mats have obviously expanded. They were not exposed to sunlight or heat (it's December in Massachusetts), and only to as much moisture as is inevitable in a horse stall that is covered with shavings and cleaned daily. I'll have to re-cut the edges to make the mats fit again, and hope the problem doesn't recur. If this is my only problem with them, they're entirely worth it. Very good padding over a concrete barn floor. I just hope they're durable. I certainly don't want to have to replace them every couple of years.
Lillie
Dartmouth, MA
12/20/2012
The product was exactly what I had hoped for.
The service and delivery were seamless.
Kevin
Tucson, AZ
12/09/2012
These mats are the best! They function just as good as the heavier mats,but are even better!
I recently had to move one of my horses to another stall,and I just carried my GREATMATS over. Other mats are so heavy, and it's a major job to move them.
The service at GREATMATS is awesome too!
Thanks so much. I will always go with GREATMATS from now on!!
Jill
ARROYO GRANDE, CA
12/08/2012
The mats look great and were a breeze to install. The room was a repository for all my late wife's unfinished projects and now is a fantastic exercise room
William
Tacoma, WA
12/01/2012
The pebble mats are great. They are durable, easy to assemble and come replete with parts to close the exposed edges. They are much better quality than what I found at the local hardware superstore and more affordable. When you get them in the mail wipe them down to get rid of the rubbery synthetic smell. This was a great investment, and I'm glad I found greatmats.com on line.
Matthew
San Antonio, TX
10/15/2012
LOVE the mats!!! VERY easy to put together and take down. Light weight and easy to carry to the stall in the box. Horse loved having them so she didn't have to lay on the concrete stall floor with her bedding. HIGHLY recommend these to anyone.
Melissa
Prescott Valley, AZ
09/23/2012
We purchased the pebble mat flooring for our home exercise room. I ordered by phone and received very helpful information about measuring and installing. The installation process was easy and without problem. The finished floor is perfect for floor exercises as well as the heavy weights placed on it. We are very happy with our purchase!
Ricki
HUNTINGTON BEACH, CA
09/19/2012
This is an very high quality tile. It was very easy to install...it obviously fits together like a puzzle but is also easily cut to make a good custom fit to any room. Greatmats.com was also very easy to work with and the shipping time was much faster than advertised. A+++ all the way and if I ever am looking for another product like this GreatMats.com is the only place I'll be shopping.
Wes
Plano, TX
09/19/2012
Love the mats so light and easy to work with.
Marilyn
Elkton, MD
08/22/2012
Awesome product. Very satisfied. Product quality as described. I used these mats on my basement floor (tile) for the weight lifting gym equipment. I have a smith machine cage (~200lbs) and olympic weight set, 300lbs, so these mats are tough enough to hold 500lbs weight and prevent the tile from cracking underneath. I also like the modular design for these mats. The edges are precision-cut and fit together tightly. I bought 12 of these to cover 8'x6' area. Every mat came with 2 edge trim pieces (see product picture), so the Material is highly durable. No rubber or other smell from these mats. Also like non-slip feature on the surface of these mats. Installation took around 10 mins. I would definitely recommend this product. The price was also a steal. Couldn't find a better deal online or in the stores.
Maksim
aurora, CO
08/13/2012
Purchased these mats to use at horse shows in my get ready stall. Used them last week and they were great and did the job I expected them to. The price for the product was the best found.
David
south lyon, MI
07/06/2012
Customer service was Great! I received everything ordered and we are very happy with our extremely cost effective solution!
Michelle L
SPRING LAKE, NC
06/04/2012
They are very nice mats and are working great for my application. I'm glad I found your website. You guys need too advertise on TV or some of those DYI shows. Thank you again.
Bill
Memphis, TN
05/10/2012
We received our mats earlier than expected and had them installed the next day. The installation went very well and we love our new floor. I cannot think of one thing to complain about. The customer service I received was exceptional. It was a good experience.
Donna
Ellinwood, KS
03/09/2012
The mats were delivered on time and in good condition.
They were installed by our builder who has been finishing our basement. He was able to complete the install easliy with only a little cutting needed.
They look great and provide a gym look for the floor under the tread mill and weights.
Kathy
Chester, NJ
02/11/2012
I believe that this product is excellent value for money. I bought it to cover the floor of my home gym. The installation was easy, the product interlocks easily and securely and can be sliced cleanly with an exacto knife without too much effort.

This product has a comparatively harder (outer) shell to the material that it sandwiches. It is not suitable for commercial gyms but absolutely adequate for a home gym.

I would recommend this product and purchase it again!
Alistair
Stittsville,
01/13/2012
Pricing for Pebble Top Foam Floor Mat
2x2 ft x 3/4 inch
$7.96 per piece