Turn any room or trade show floor into a comfortable and warm environment. These foam tiles are 1/2 inch thick, 2x2 ft in size and will easily interlock together and can be cut to fit for a wall to wall installation.

A new wood-grain foam tiles design is totally waterproof and will provide an upscale look to your home or trade show. These foam tiles are anti-fatigue and are made of closed-cell durable foam. These foam tiles are dense enough to withstand the weight of common foot traffic and are designed for light duty environments, not recommend for kids rooms. We recommend using our Premium Foam Mats in solid colors and 5/8 inch thickness for most kid's room foam tile applications.

Applications:

Trade Show Booths, Conventions and Showroom Flooring
Living Areas
Great for Concrete and Hard Surfaces

Product Info:

All Border Strips Included
35-40 Density Rating - For Durability
Border strips are included in the price to create a finished, smooth edge on the outside of mat area.
Easy to clean. Can be swept and washed with soap and water.
Place directly on concrete or tile - no adhesive needed for a snug, tight fit.
Waterproof and odorproof. Closed cell EVA foam will not absorb moisture or other substances.
Wooden design pattern is a thin layer of film bonded to the foam bottom, and can be susceptible to punctures.
Waterproof
No Adhesive Required
Made in Taiwan

Precautions:

High heels can puncture the mats - for high heels use our Royal interlocking carpet tiles. For aerobics use do not place on top of carpeting, as mats can shift. When the mats interlock together they will lose about 3/8" per tile. Allow the mats to acclimate to your room before installation. Allow expansion gap when cutting the mats to fit wall to wall. The mats can expand with changes in heat and humidity.

This Product Ships UPS Ground, FedEx Ground and/or Freight.
Please review our
shipping disclaimer.
Characteristics:

Lead Free and Latex Free
Anti-Fatigue Relief
Easy to install, Easy to take up.
Light Weight and Portable

Size and Dimensions:

Tile: 24" x 24" x 1/2" - thickness tolerance of 1 mm + or -
Customer Rating:
These foam tiles are a great product, perfectly suited to our use. We have installed it in the bathroom of our rural cottage where there was carpet before (for warmth). The tiles are thick, so they are so comfortable under foot. They are a little textured so there is no danger of slipping, even when wet. They are never cold or hot, always body temp. We had a leak so we just lifted the tiles, dried the floor and put them back down.
The only con for these tiles is that the colour wears off easily so you can only mop the floor, not vacuum or steam clean them. We are trying the reversible ones in our other bathroom.
Also, we had to replace some and the new colour is Vastly different from the old ones.
Lori
Haliburton, ON
08/29/2013
Customer Rating:
Super floor for our tradeshow booth. Easy to install, transport, reconfigure. A real foot and leg saver when standing in a booth for 10 hours per day! Looks great, feels great. Only issue is with customers in high heels - stiletto type heels tend to puncture the surface. Also, a slant on the edge pieces would be nice, the thickness of the floor caused a few very minor stumbles with customers entering the booth and not being aware of the floor. But all-in-all a fabulous product. Would absolutely order again.
Juli
Frisco, TX
08/29/2013
Customer Rating:
We have ordered various foam wood grain flooring in the past, but this new "cork" pattern is by far the best one yet! It doesn't show dirt from heavy traffic, it looks great show after show after show!
SHANE
old hickory, TN
07/16/2013
Customer Rating:
I Installed it in my living room because is just like our wood floor. I have a problem with my back and my dog has a front leg problem and the mats have been a great help. I love the product even if tears easily.
Thanks,
Leyda
Leyda
Miami, FL
06/21/2013
Customer Rating:
Fast service, great product. Only one recommendation, that they make a strip that slopes down so if using for a trade show for example, when people walk into a booth their shoes don't bump against the edge which is also a trip hazard. This would be for the side that people enter a room or booth. Thank you.
Cindy
Hanford, CA
06/05/2013
Customer Rating:
Product is great. really makes our show display look nice
Scott
Charlotte, NC
04/17/2013
Customer Rating:
looks great so far - i am hoping we do not eventually get mold underneath, but only time will tell...(we live in seattle; the land of moss & mold).
wonderful customer service and free shipping = excellent
Ellen
SEATTLE, WA
04/17/2013
Customer Rating:
It looks very nice for our trade show! However, you can easily see the impressions on the floor right away. We had just planned to use it once per trade show and discard after each event, so for our needs it did work well. It is comfortable to stand on also and the look of it was very nice.
Tara
Fargo, ND
03/25/2013
Customer Rating:
The quality is great and I absolutely love it, the only thing I would change would be to put the woodgrain on both sides rather than just one. It was a little difficult to line up all the end pieces correctly and facing the same way with only one side. The first picture is the before and the second is the after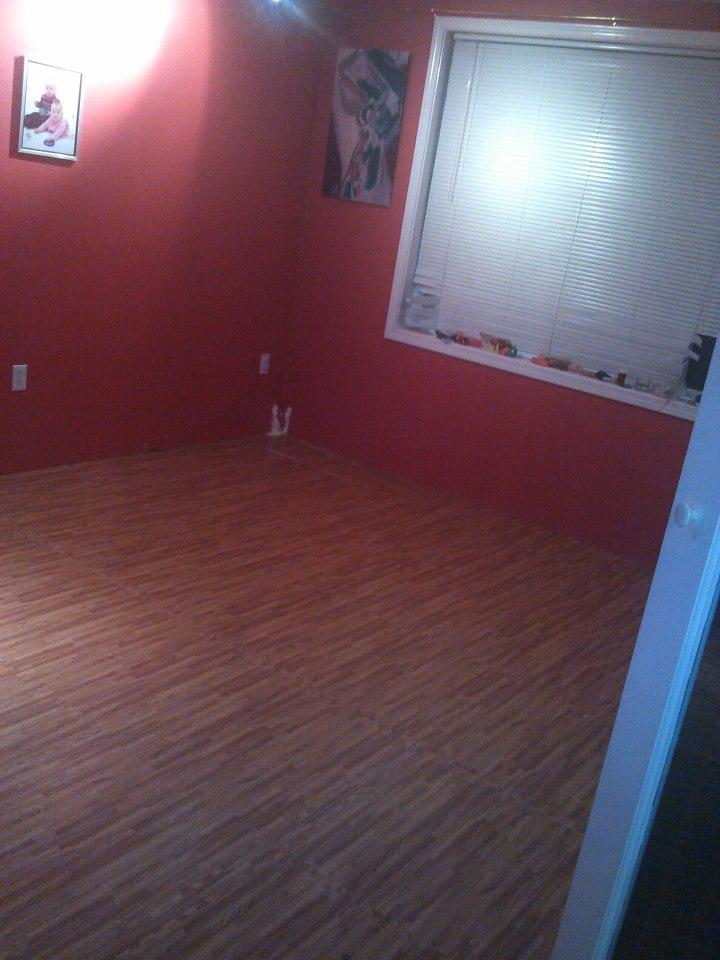 Tabitha
Portland, OR
03/23/2013
Love the foam tiles. My toddlers have so much fun playing on them and it gives my husband & me comfort in knowing if they fall down, the foam tiles are so much softer to fall on than our wood floor.
Jamie
Boca Raton, FL
03/06/2013
On a recommendation from another exhibitor, we tried the cork flooring at the ALA MidWinter Conference in Seattle, WA, and we loved it! Easy installation, lower cost than rental carpet, and more environmentally friendly, as we donated the flooring to a local library! Looking forward to a long relationship with GreatMats!

See the photos of our booth at https://www.facebook.com/EquinoxSoftwareInc

Michael Tate
Operations Specialist
Equinox Software Inc.
The Open Source Experts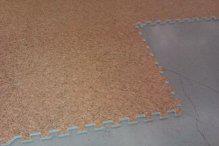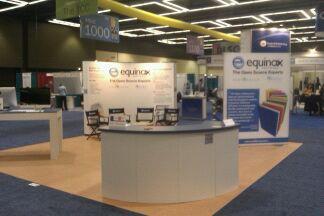 Corinne
Duluth, GA
02/08/2013
On a recommendation from another exhibitor, we tried the cork flooring at the ALA MidWinter Conference in Seattle, WA, and we loved it! Easy installation, lower cost than rental carpet, and more environmentally friendly, as we donated the flooring to a local library! Looking forward to a long relationship with GreatMats!


Michael Tate
Operations Specialist
Equinox Software Inc., The Open Source Experts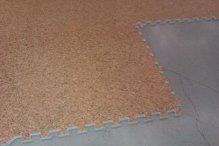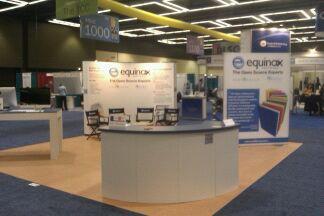 Corinne
Duluth, GA
02/08/2013
I like to softness of the mats very much. And, the fact that they are water proof, as I have 3 small dogs. They are a bit difficult to cut straight and there are not enought edges that follow the grain. However, I would still recommend them to anyone!
Rhonda
Atlanta, GA
01/18/2013
I love my new bathroom floor using these mats. It was fairly easy to install. It looks good with the adjoining laminate flooring in the rest of the bathroom.
Beverly
WASHINGTON, TX
01/10/2013
The foam tiles are very nice, but they have a weird locking system on them which made the job for us very difficult. Instead of being uniform on all sides, they have an irregularity in the pattern which causes them to be incompatible with other products. So, when we bought these tiles to replace ones that had worn out, they did not match up with the others and we ended up having to cut them on one side to line up. If we were doing a job from scratch, then it would have been fine, but we weren't, and I wasn't made aware of the weird locking system in advance.
Valerie
Palm Beach Gardens, FL
01/04/2013
I am 95% pleased with my multiple purchases of the wood grain light tiles. I am not 100% done with my full installation yet so am unable to comment fully. What I've got down so far, I like very much. These foam tiles are sensitive to women's heels, wooden heels, and heavy furniture placed on them, such as, a table and chairs. I have dropped dishes on the floor and they don't break anymore. Also when you have to get down on your hands and knees, it is very comfortable compared to a regular tile floor. I don't like that you can still see the outlines of the squares and I wonder if this is available in a rolled format. Can't beat this floor for comfort and warmth. I wish it came in other patterns besides woodgrain and was still smooth not textured.
Marguerite
Commerce Twp.,, MI
01/04/2013
Fabulous product. Great company to deal with, ie. excellent packing and fast shipping. I highly recommend this product.
Joy
St. Andrews, MB
12/20/2012
I installed this in an Excersie Room for a Client. It was very easy to do and looks and feels GREAT. I recommend this product to anyone who wants a nice soft flooring, The price is also great!
Kenneth
Scottsdale, AZ
12/13/2012
I have nerve damage in my feet so I need soft flooring. When I began searching for tiles, I never thought they would come in a hardwood floor design. They were a bit challenging to install because tt's like a puzzle, different from real wood planks, but I LOVE the cushy foam tiles. They feel so much better to me than real wood. Great product. Planning to cover floors in another room soon!
Rhonda
Atlanta, GA
12/13/2012
My comments are the same as before. The wood grain mats are lovely and easy to install even in kitchens with strange angles. The surface does not hold up under the traffic and spills of the kitchen, and gradually darkens and gets splotches of missing surface. This product is such a boon to people with leg and back problems and who cannot spend time standing or working on anything harder. It would be wonderful if the surface could be engineered to have greater resiliance and strength against wear in a kitchen or other popular shoe-worn home environment.
Robert
SALT LAKE CITY, UT
11/28/2012
I really like the realistic look of the wood grain foam tiles. We set up a decent sized tent in our backyard for our son to use as a "hideaway/clubhouse" and these tiles act as a soft but good looking floor. I gave the printed catalog to my friend who has a fitness trainer for a wife looking for foam tiles. I like the variety of products and quality of the items you offer. Thanks,

Larry
Larry
Sherman Oaks, CA
11/07/2012
They are great
Rene Rud
Victorville, CA
10/17/2012
Material was light weight and easy to assemble. It looks good and it cushions your steps helping alleviate back pain associated with walking on cement floors. We used this at a trade show and the material made our booth stand our from all the other booths using rented carpet. My one complaint is the durability. One of our female team members was wearing high heels and everywhere she stepped on the flooring it either left and indent or actually punched a hole through it. I would buy the product again but I felt it should have had some kind of shoe disclaimer or warning with it.
Nick
lenexa, KS
10/11/2012
These mats are great!!! This is my second order and the first set lasted 2 years on an outside patio, through the rain and my puppy running around. I highly recommend then instead of any outside carpet or patio covers.
Sherry
Gainesville, FL
10/06/2012
Love the cushiony feel and the color is great !
Pamela
La Grange Park, IL
09/13/2012
These mats suit our needs perfectly! We do trade shows every weekend and we use two or four depending on our space. They have reduced our fatigue and they look nicer than the cheap ones we had before and the price was perfectly.
Phil and Beth Knoll
Madwind Outdoors
www. madwindoutdoors.com
philip
Jacksons Gap, AL
09/05/2012
Love the product and looking forward to the comfort at our next trade show in October.
Penel
Nevis, MN
08/29/2012
Amazing customer service, and so easy to make a bare room into something beautiful and useable!
Charles
Medford Lakes, NJ
08/24/2012
This product is very attractive and easy for a lay person to install and replace. While it was designed for stocking feet sports applications, it has a great future for kitchen and other home floors for people with back problems that are exacerbated by hard floors. This is where we use it. Unfortunately the surface becomes pock marked as a result of kitchen wear. I have tried to replicate the pocking and cannot, but it happens. Happily the damaged tiles can be changed out with new ones. It just is a cost. If the product were designed for heavier wear and tear, it would be worth paying more at the start to not have to keep paying more along the way. Hopefully the product stays available for some time.
Robert
SALT LAKE CITY, UT
08/08/2012
We use this for every trade show and are the envy. Comfortable, looks good, and easy to put in and take up. LOVE IT! The only way to survive an 8+ hour trade show.
Matt
Dolgeville, NY
03/23/2012
Pricing for Foam Tiles Wood Grain
2x2 FT / 1 lbs
$5.96 per piece