Used in homes around the country, this foam flooring tile is also a great large exercise mat for basement use. This is because these foam floor tiles are waterproof and designed to dry lay on almost any flat, level surface even concrete.

These tiles are reversible which means you can interlock them together with either color facing up. Tough tatami surface makes this product a favorite for athletes who like to practice martial arts or do floor exercises in the comfort of their own home. Tiles come with two border strips each which allows you to finish an edge or island layout with a clean look.

Foam exercise mats help you to stay in shape on days when you can not get to the health club or dojo. They are built specifically for training and can take the beating that comes with daily use. Tatami Sport Foam Tiles are warrantied for one year. They are non-toxic and lead free and also work great in rooms where kids like to roughhouse.

Please contact a sales person for details.

Applications:

Home Exercise Rooms
Home Martial Arts Flooring
Large Exercise Mats
Basement Flooring

Features:

Safe Home Exercise Mat
Durable Home Martial Arts Mats
Portable Large Exercise Mats
Interlocking Foam Flooring Tile

We are determined not to be undersold - please contact us if you are offered a better quote for the same product with shipping cost included as part of the total.

This Product Ships UPS Ground, FedEx Ground and/or Freight.
Please review our
shipping disclaimer.
Features:

Material: EVA/PE Foam
Material Density: 35-40 Shore C
Type: Tile
Country of Manufacture: Taiwan
Tile Size: 2x2 ft
Tile Thickness: 20 mm
Connection: Interlocking
Universal Interlocks: No
Tiles per Carton: 25
Ordering Minimum: 9
UV Treated: No
Stocked: Yes
Warranty: 1 Year
Border Strips: 2 Per Tile, Not Beveled
Installation: Hard Flat Surface
Special Adhesives: No
Top Texture: Tatami Surface
Loss Per Tile: 1/2'' / Tile After Interlocking
Ships Out From Warehouse: in 1-3 Days

Characteristics:

Lead Free and Latex Free
Anti-Fatigue Relief
Odor Free
Waterproof Material
Lightweight and Portable
Each Tile Covers 4 Square Feet
Borders Add 1/2 Inch in Size
High Density Foam

Please Note:
Foam interlocking mats such as this type may have a common issue of coloring from the mat material coming off on feet and uniforms. This issue is not consistent and is not uncommon in the industry with this type of EVA foam mat.

When two different colors are up at the same time the grain or direction of the pattern will not run in the same direction.
Pricing for Tatami Sport Foam Tiles 7/8 Inch 2x2 Ft
2x2 ft x 7/8 Inch
$7.16 per piece
Customer Reviews
Customer Rating:
Got it for jiujitsu and jiujitsu oriented floor exercise. VERY happy with it. Great product. Thick and sturdy. Looks great. Price was great. Fast and free shipping. Overall super satisfied.

One word of caution. if you have a little pet like a kitten that likes to claw and bite things either keep it off the mat or prepare to have little pin hole bite marks and scratches on your brand new mat. It's really upsetting, just saying. Aesthetically, not pet proof.

Otherwise the mat and the deal was great.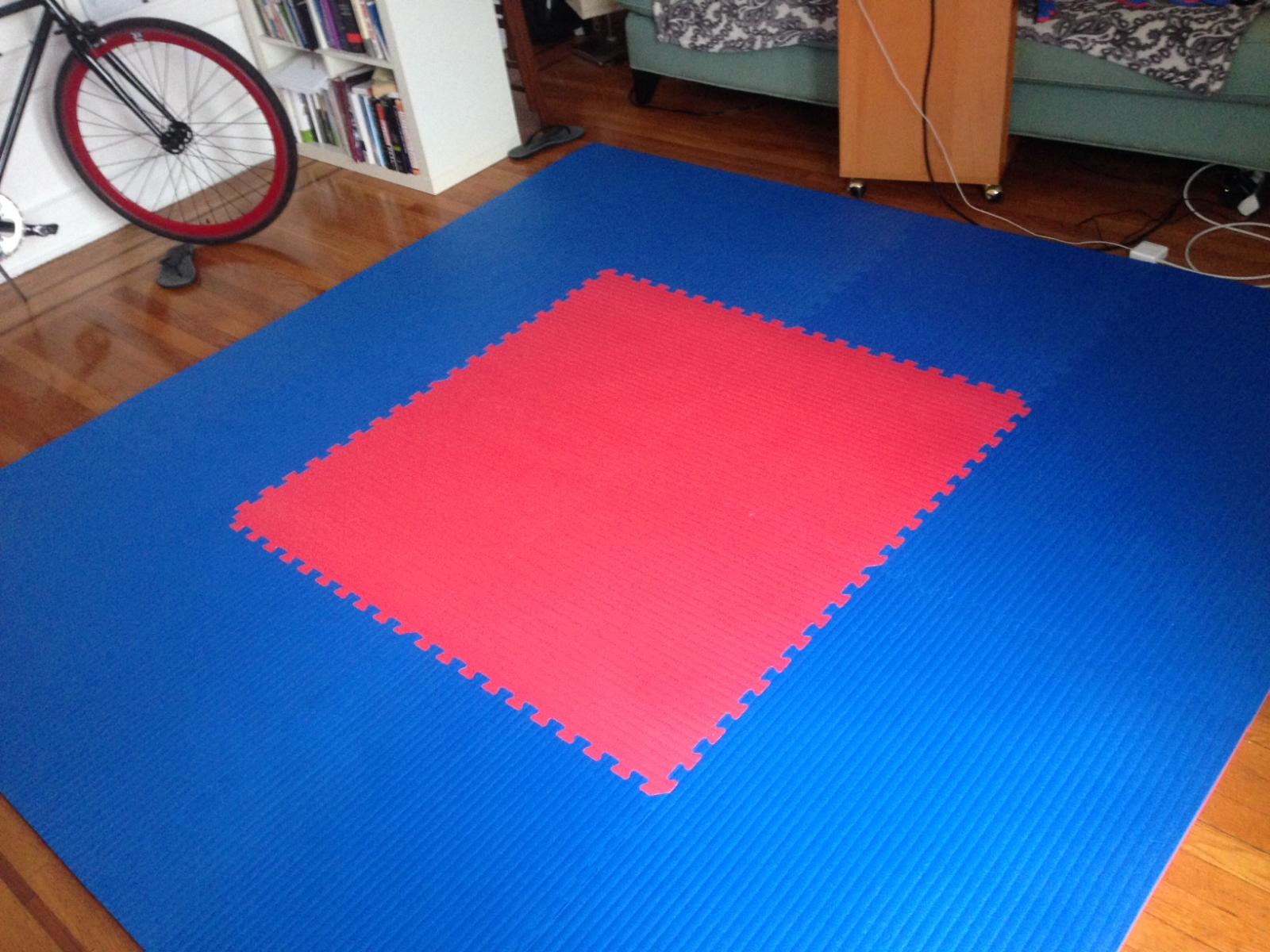 Pavel
Brooklyn, NY
07/06/2014
Customer Rating:
Best purchase I could have made. I installed in my basement on concrete floor and its great for workouts.
Andrew
Aldie, VA
01/29/2014
Customer Rating:
I use these when practising Thai Boxing and it works well: not slippery, not too firm, not too soft, and easy to clean. An excellent product.
Alex
Chappaqua, NY
09/26/2013
Customer Rating:
This product is a cousin to the Home Sport and Play mat. The unique difference is the tatami surface that is a traditional martial arts training surface. This tatami surface is durable and long lasting and is recommend for soft shoes and bare feet for martial arts. Shoes can be worn on this surface for exercise room installations. Exercise equipment can be installed on this product, please note indentations from the legs of the exercise equipment can occur, but will not hurt or tear the foam flooring tile.

David

Milltown WI

08/21/2013