Free Shipping on this Product

Our Alphabet Mat set is a really neat ABC Mat product consisting of a set of 26 ABC mats and 10 numbers.

Sure to be a fun time for any child. Build blocks with this ABC Mat set, then take the tiles apart and make a 6x6 ft foam floor Alphabet Mat area.

Learn and have fun at the same time with these 1/2 inch thick, 1x1 ft interlocking foam mats that make up the ABC Mat set - 36 pieces per set.

Great for a young child's floor, or as a learning tool, interlocking foam toy.

Applications:
-Kids Rooms
-Preschools
-Schools
-Soft Floors

-Product does not interlock with our 2x2 ft foam mats

This Product Ships UPS Ground, FedEx Ground and/or Freight.
Please review our
shipping disclaimer.
Features:
Letters & Numbers Can Pop Out
Educational Tool
Learn Your Letters & Numbers
Soft Foam Floor
No Border Strips
Thickness: 1/2 Inch
Product does not interlock with our 2x2 ft foam mats

Size and Dimensions:

1/2 Inch Thick 1x1 Ft Interlocking Foam Mats

Product Info:

Foam Floor
Contains 26 ABC mats and 10 Numbers.
Pricing for Playmat ABC-123
6x6 FT Area
$39.99 per piece
Customer Reviews
Customer Rating:
Very pleased with product would like to have option of end pieces to finish it off
Stan
Folsom, CA
01/09/2014
Customer Rating:
My grandson loves playing on this mat. Colors keep his attention & he is beginning to recognize the letters. Mat is easy to assemble, durable & adds enough cushion to my tile floors. Great product . Easy to clean!
Debra
Coral Springs, FL
12/20/2013
Customer Rating:
I love the mat! I ordered one before and just ordered another one! My daughter is 5.5 months and she absolutely loves it! Its perfect for her tummy time and once she starts crawling. Nice and thick!

Thank you for such a great product!
angela
houston, TX
10/31/2013
Customer Rating:
We bought 1 set for my son's playroom and we absolutely loved it! its soft, cushy, and really colorful. After a little time we bought a second one to add to the first one. The 2 sets fill up this large room so well and he loves playing with the letters and numbers. We will definitely buy from GreatMats again!!
Amee
Bedford, MA
10/08/2013
Customer Rating:
Product is superb. Bebe really likes every part of it; the softness, non- skid, colors, numbers!
Joan
New Smyrna beach, FL
09/04/2013
Customer Rating:
Ordered one set (36) for my grandson... Liked them so much I ordered a second set. We did a 6x7 sq foot area with sides!!! He's only 7 months, but it gives him a great play space and I don't have to chase the rolling toys around! Thickness is perfect and he likes the different textures. One side is smooth and the other textured.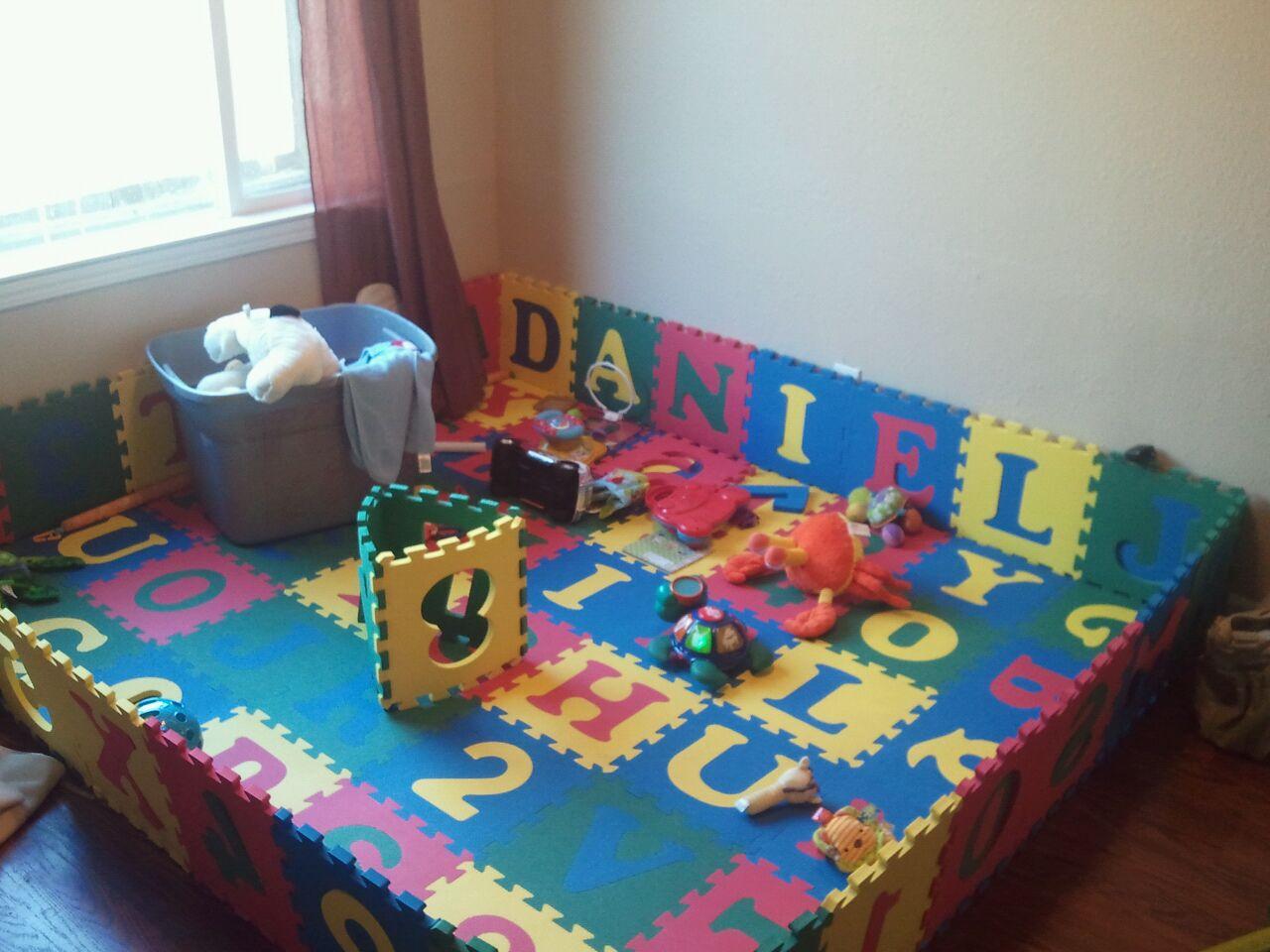 Kimberley
Sacramento, CA
08/26/2013
Customer Rating:
My son, and the grandson for whom they were ordered, both love them.
I appreciate the ease of "installation"
I thought the colors were a bit dull but once they were on the floor and we stepped away from them I saw it was quite vivid and makes all the "color statement" one could possibly wish.
Anne
Ann Arbor, MI
08/21/2013
Customer Rating:
Great mat, great price... can't go wrong.
robert
danbury, CT
08/15/2013
Customer Rating:
Excellent product for the price. It fit most of our family room, which has hardwood floors. Would definitely recommend it to friends.

Kathleen

Brookhaven, PA

07/08/2013

Mats were very nice and quality was exceptional.

Michael

Barnhart, MO

01/26/2013

perfect for a hardwood floor surface.....provides great play area for new infants and young children

Sonja

East Hanover, NJ

12/30/2012

I read the reviews before purchasing and the reviews I read were very good. I received the item and it exceeded my expectations. Thick product! Ver soft. Easy to put together and does not come apart easily. Love it!

Jaime

Festus, MO

12/26/2012

very nice .. as expected... it worked out well.

Thanks,
Raza.

Razamahdi

Warren, OH

07/06/2012

Excelant product and customer service. First order got lost on arrival and
Joanne was excellent in making sure I received the second one. What impressed me the
most was a phone call and the e-mail about the second shipment.
Thank you

Nithy

houston, TX

06/17/2012

These mats are awesome for my 13 month old. They should be a little more color coordinated; for example: A and B should not both be green. Otherwise great product for the quality and the price.

Karen

Indian Harbour Beach, FL

04/30/2012

Great product. Simple to install infact the three year old did most of the work. Looks great and he is enjoying it!

Belinda

Sparta, GA

04/29/2012

The mats are very colorful and so safe for the baby to play on. When he falls there is less worry that he will hurt himself.

Gloria

Essex, MD

03/24/2012

Excellent product, excellent service!

Reinaldo

Pearland, TX

03/08/2012

Our daughter is 8 months old and 'cruising' along the furniture in our sitting area. We appreciate the thickness of the foam mat because it cushions the blows as she learns to walk. We anticipate this playing a role in her development process with the numbers, letters, and puzzle pieces.

Angela

Blackwood, NJ

02/19/2012

My daughter-in-law absolutely loves it for my first grand-daughter ( almost 7 months and already crawling ). I will soon get her another one for her play room. Very thick and not like other rubber ones Ive seen. Thank you..............

Joanne

South Ozone Park, NY

12/29/2011

My granddaughter turned one year old a couple months back. At the request of my son, I purchased the ABC-123 Puzzle Mat as a birthday present.
We were very pleased with the color, fit and finish of the product. The interlocking pieces fit is very snug which allows many variations for "building" boxes, tunnels, paths, etc. for my granddaughter to play in and on.
Thanks, GreatMats, for providing such a quality product.

Larry

Columbus, MS

12/14/2011

Great co. to buy from, The selection is impressive, well illustrated with good descriptions. I need a safe play surface for our first grandchild new playhouse she received for her first birthday. I was to deliver & assemble it for my daughter. Sure glad I found Greatmats.com Great service, My order & tracking info was top notch. delivery was correct and as listed. I will be recommending and ordering again, as soon as the girls can decide from your many choices. Thanks

John

Saline, MI

11/13/2011

We love this matt....should have ordered long ago....my nine month old rolls around and scoots around on it like crazy...tries to grab the visually stimulating letters and numbers. Will be ordering another batch real soon to expand his crawl space. A great buy with absolutely no regrets whatsoever. Customer service online is easy and shipping is pretty speedy as well.


Thank You Great Matts....You have earned my repeat business.

-Jessica

Jessica

ALLENTOWN, PA

10/22/2011

great .. not as big as I thought...

Jose

Miami, FL

10/16/2011

I was impressed when I opened the box. These are thick enough to pad my cold tile floor and to act as a cushion for my granddaughter as she plays. They fit together perfectly and are very sturdy. She loves rearranging the tiles herself as well as the numbers and letters and they are easy for this two-year old to manipulate. I am very, very pleased with my purchase.

Mary

Bradenton, FL

09/21/2011

Kids are having a great time on these mats!!

Amy

Hoskinston, KY

09/21/2011

I love this mat, it is perfect for my crawling son's playroom. If you want the letters in a row, some of the colors do match next to one another (the D and E are the same color, the X and Y are the same color)

Julie

Lillington, NC

09/14/2011

We are very happy with our mat. As a matter of fact, we just made some space, and we want to buy another one, to give our daughter more space to crawl and play!

Patricia

Coral Gables, FL

08/08/2011

My wife and I made a great choice! The mats are used for our twin boys, and it will definitely be a great learning tool as they grow up.

Mike

Orefield, PA

07/23/2011

The ABC-123 Puzzle Mats are way more than I expected. The colors are bright and clear. They hook together so easy that my two year old grandson can put together and take apart by himself. I also like the way the numbers and letters come out of the square. He uses them as a play mat to exercise and also for learning. What a great idea. The night we opened them, the whole family was on the floor playing. Thank you for making such a great product.
Sincerely, Frances Pilato

Frances

Honeoye Falls, NY

06/26/2011