Effective for such activities as military and police tactical training and boxing gyms when using shoes or boots. This martial arts mat is commonly used in professional martial arts studios and can be used with bare feet. This standard martial arts mat is ideal for mixed-use rooms such as aerobics, kickboxing and karate or TKD. Made of high density EVA foam, this mat is 40x40 inch in size and is an interlocking foam tile. These mats are designed to last for many years, and are completely waterproof. Not suitable for tables and chairs.

Applications:

Martial Arts Studios
Boxing Gyms
Combat Training
Aerobics
YMCA Multipurpose Rooms
Indoor Kids Facilities & Playgrounds
Basement Flooring

If this particular foam mat is not perfect for your application or budget please consider one of our other foam mats, we offer a complete and comprehensive line of interlocking foam mats to our customers, some starting at $0.99 cents per square foot and while other foam mat products offer free shipping. Please browse our complete line of interlocking foam mats. If you have questions please Chat with us online, send an email or call our friendly customer service center to speak with one of our flooring experts about our foam mats.


We are determined not to be undersold - please contact us if you are offered a better quote for the same product with shipping cost included as part of the total.

This Product Ships UPS Ground, FedEx Ground and/or Freight.
Please review our
shipping disclaimer.
Features:

Waterproof
No Adhesive Required
Easy to Assemble
Truly Reversible
Border Strips Included
Tough Top Surface
Shoes & Boots are OK
Waterproof
Durable EVA High Density Foam
Expand Your Floor as Needed

Characteristics:

Lead Free and Latex Free

Size and Dimensions:

Tile: 40'' x 40'' x 20 mm, With a thickness tolerance of + or - 1 mm
Trim piece: 40'' x 1.5''

Please Note:
Foam interlocking mats such as this type may have a common issue of coloring from the mat material coming off on feet and uniforms. This issue is not consistent and is not uncommon in the industry with this type of EVA foam mat.
Pricing for Martial Arts Pro TKD 7/8
40x40x7/8 Inch
$17.95 per piece
Customer Reviews
Customer Rating:
Excellent Product! I did a lot of research and found this mat before I purchased this mat. I am glad I did.
Robert L
Christiansburg, VA
09/01/2014
Customer Rating:
The mats are great..... they are definitely cut more accurate than other puzzle mats I have had in the past. Attached is a few photos....Once the mirrors are installed I'll send more.... Tina was great to work with...thanks!


Dave
Vernon, NJ
08/19/2014
Customer Rating:
Looked around online at all my options, with a good price point and reviews I chose these. Installed in no time and looks great, just what I was looking for to put in the garage for my training bag for my son and me to practice TKD. Received top notch customer service and was able to find the best shipping option for this product. Will be a five star product once the long term durability is tested.
Anonymous
Brownsburg,IN
08/04/2014
Customer Rating:
Overall quality of these mats is good, The foam is firm yet allows for enough cushioning. The puzzle pattern is precise so that the mats are interlock without any gaps. The only and biggest downfall of these mats is the surface. Although having a surface pattern that should avoid slipping, the mats are in fact very slippery if used barefoot - which usually is the case when practicing martial arts. Especially in warmer seasons and during intense training when feet and hands get sweaty, the mats do not provide enough friction to allow for proper grip.
Nina
Batavia, OH
07/12/2014
Customer Rating:
I bought these mats for my children as they have been in TKD for many years now. We wanted to be able to train at home as well as at school and decided to convert the garage into a studio. Thanks Greatmats for a superior product at a GREAT price, you made our wish come true. The service was great, shipping was quick and I could not have asked for a better experience. I spent about an hour or less installing the mats by myself, it's so simple even a caveman could do it. Two thumbs up!!!!
Andrew
Bakersfield, CA
06/19/2014
Customer Rating:
These mats were perfect for us for a studio that was used for martial arts instruction but also for dance. They're durable, convenient, and an excellent value. Would definitely purchase these from Greatmats again (in fact, this is our second purchase!)
Accounts
GRAND RAPIDS, MI
07/24/2013
Customer Rating:
The martial arts puzzle mats went down very easily. We do tai chi and applications (sparring). Some mats had to be cut for fit. A "box cutter" works okay, but I found a saber saw smooth cut blade worked more easily. They're a lot easier to fall on than a sub-floor! Pat Kessler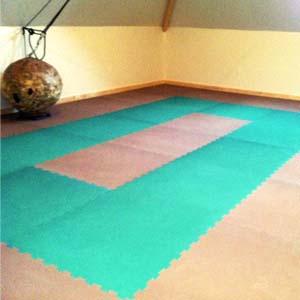 Pat
07/23/2013
Customer Rating:
This is our sweatshop floor. It is Greatmats martial arts floor 40" x 40" lock in mats and they work wonderful! Dewey Wendt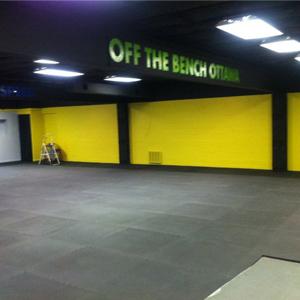 Dewey
07/23/2013
Customer Rating:
You can cut corners on some things, but in a martial arts studio, flooring ISN'T one of them. After exhaustive research on flooring/mat options, obtaining samples from several sources, and getting advice from the friendly, helpful folks in customer service at Greatmats, we feel we absolutely got the best price possible from Greatmats and we didn't sacrifice quality, either. We purchased 1,500 sq ft of this mat and are using it for both martial arts and Zumba fitness. Greatmats literally saved the day: We realized we had a problem (i.e. we goofed and assumed we could cut a 40x40" tile in half and get TWO 20x40" tiles to interlock. Didn't think to ask about that. It doesn't work.) So a mere 3 days before our Grand Opening, we were 8 mats short. Greatmats was able to expedite those 8 mats to us and we opened on time without an unsightly "empty space". *Whew! Thanks!* Very happy, thank you. - Mrs. Gary Johnson, Guardian Martial Arts Studio, Harrodsburg, Indiana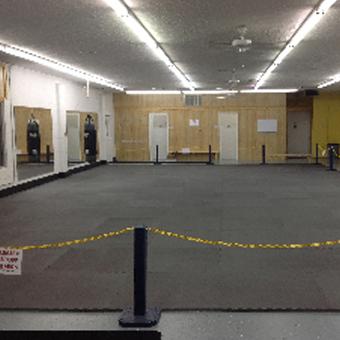 Liane
Harrodsburg, IN
07/23/2013
Customer Rating:
These are "great" mats. We are using them teaching armed and un-armed combatives including takedowns and break falls. I would not use these for aerial throws but for falling and rolling the're great. They also stand up well to shoes and boots and don't take any skin if you slide on them.
We lay them down and take them up for each class and so far they have held up really well. I'm very happy with our choice.
JohnPaul
Blaine, WA
06/20/2013
Customer Rating:
Mats are extremely easy to install
Proved to very durable so far
Very convenient to move
Easy to mop off
Firm enough for stand up, soft enough for grappling training
Good traction without being too abrasive to need rash guards while grappling
Christopher
Victor, ID
04/18/2013
Customer Rating:
The mats are working out very well for our classes, very easy to install and the kids and adults love having mats to fall on vs the floor. Very professional delivery service!



Michael
Port Huron, MI
04/08/2013
Customer Rating:
Excellent service, price and product. would definitely use Great Mats again. Easy install Delivered hassle free!

Andy

Kelowna, BC

04/04/2013

The product is fantastic! Thick enough to provide a safety net for tumbling and throws, not so thick that it removes the need for good technique. The material is pebbled to provide improved traction between foot (we practice barefoot) and mat but not so pebbled as to be a sensory hindrance. Perfect mats! They fit the space we use exactly and they look really, really sharp! There was a hiccup in the delivery of the mats due to a problem with the trucking outfit that Greatmats uses. Some back and forth over the course of about 3 hours finally resolved the issue favorably for me. I made my comments to the people involved so that my issue might not come up for someone else in the future. I have no hesitation in ordering a couple more mats to keep on reserve. They're just really good mats! Thanks.

Ted

San Pedro, CA

10/21/2012

You can cut corners on some things, but in a martial arts studio, flooring ISN'T one of them. After exhaustive research on flooring/mat options, obtaining samples from several sources, and getting advice from the friendly, helpful folks in customer service at GreatMats, we feel we absolutely got the best price possible from GreatMats and we didn't sacrifice quality, either. We purchased 1,500 sq ft of this mat and are using it for both martial arts and Zumba fitness. GreatMats literally saved the day: We realized we had a problem (i.e. we goofed and assumed we could cut a 40x40" tile in half and get TWO 20x40" tiles to interlock. Didn't think to ask about that. It doesn't work.) So a mere 3 days before our Grand Opening, we were 8 mats short. GreatMats was able to expedite those 8 mats to us and we opened on time without an unsightly "empty space". *Whew! Thanks!* Very happy, thank you. - Mrs. Gary Johnson, Guardian Martial Arts Studio, Harrodsburg, Indiana

Gary

Springville, IN

10/15/2012

Great mats...feel good, the install was a breeze. Really pleased with them. Shipping seems overly expensive though...cost 1/2 of what the mats cost...But the product itself is GREAT!

Reese

Clawson, MI

09/10/2012

My son is a double black belt and is working on his third. He absolutely loves the mats,inviting friends over when he is home from colege. The only problem I have is that now I can't park in the garage.

Robin

East Hardwick, VT

08/30/2012

Thanks to Pam for helping me. She was really helpfull all the way. The mats is really good it's perfect for what I need.The order was easy and the delivery was on time. Thank you Greatmats.

Virgil

Bakerfield, CA

07/15/2012

Great Mat! We covered our workout floor and they not only improved the look of our studio, but provides a firm, yet giving floor for rolling and light falling. Shipping was fast as well. Thank you Great Mats!
Drew Serrano
East Coast Training Systems

Drew

Waterbury, CT

06/28/2012

The mats are great and work perfectly for my Dojo. Everything was delivered on time and in great condition. I highly recommend great mats for all your Dojo floors. Thank-you Sensei Ron LLoyd

ronald

dunnellon, FL

06/25/2012

I purchased the Martial Arts Pro 7/8-in floor mats, 36 quantity. Customer service was friendly and professional. My order was completed correctly and delivered on time. I am doing P90X and these mats are life-savers, as I have foot problems (plantarfaciitis) and am 6'5" and currently 270 lbs. They provide sufficient cushion to comfortably absorb the impact of my heavy frame on one or two feet (during plyometrics). Also, it is also easier on the hands/wrists when doing the various styles of push-ups. My daughter took two of my mats and use them in the kitchen - one near the sink, and the other near the stove - she loves them as she can stand there cooking for a long time without any foot/leg/back discomfort. I am very satisfied with both the product and the customer service. For any future mats/cushioned flooring purchases, they would be my first choice.

Andrew

Ellenwood, GA

06/22/2012

I have used these mats before and work fantastic for my entire gym. I have covered over 7000 square feet with these mats and they are wonderful. They are super easy to clean on a regular basis and fit perfectly together without any seam. Thanks great mats for a wonderful product.

Coleman

Tucson, AZ

06/18/2012

Great size, lightweight, and very manageable as a temporary floor solution. Just enough padding the eliminate worry about falling.

Robert

Mesa, AZ

05/11/2012

We only use greatmats products at Bishops. We have alot of. Classes and need a reliable floor and cage. Good stuff!

Edward

West Bridgewater, MA

08/15/2011

We have kettlebell, kickboxing and other fitness classes several times a day and everyone wears shoes. They have held up well for the first year. The only problem we've had is that when we added additional floor space and ordered more mats, the original mats had stretched to the point that they no longer match the new ones. Hopefully, the new ones will expand to match. We would have planned our purchases better had we known that.

Timothy e

Johnston, IA

06/14/2011

mats ordered were mats that arrived. Mats came in a timely fashion and the driver delivering was courteous and helpful. Thank you. Prof Joe Cayer

Joe

Ft. Walton Beach, FL

04/14/2011

My experience with great mats was wonderful. Everything was done as you said it would and on time. Thank you!

Barb

Knoxville, TN

04/13/2011

The mats were delivered on time, and were very easy to piece together. The surface is very good for our training, and everyone loves it!

The price was also terrific, better than I could get through my wholesale agreement with a martial arts supply company!

I would (and have) recommended your company to others who are looking for this type of flooring.

David

Old Orchard Beach, ME

04/08/2011

I really like the product, I would refer this product to anyone openning an exercise studio, it gives great support to your legs and your feet. I am very happy with my product.

Cassandra

Aurora, OH

03/27/2011

This is the best flooring that I've ever worked out on for aerobic exercise. My clients love it! It is very good for the feet and knees. I would definitely recommend this flooring for anyone that has an aerobic studio. Thank you so much!

Cassandra

Aurora, OH

02/25/2011