Use these gym mats for sale for gymnastics, cheer and tumbling, or for exercise and martial arts. While these gym mats are affordable, they are still made of high quality materials with industry standard foam, vinyl, and double stitching. These tumbling mats are in stock and ready to ship.

4x8 Ft x 2 inch. Our gym mats for sale are ideal for cheerleading training, gymnastics training, floor exercises, wall pads, martial arts training, pilates, and a variety of other exercises in home or commercial settings.

These gym mats are for sale for home tumbling and cheer practice. They are also great for gymnastics training or for training in martial arts studios. Cheerleading teams find these mats convenient because they are so easily transported and provide great impact absorption. All of these tumbling mats feature hook and loop fasteners on all 4 sides. They come with a rugged 18-oz vinyl cover.

This 4x8 mat in 2 inch thickness comes in royal blue or black.

All of our gym mats and tumbling folding mats are hand-crafted of extremely durable 18-oz coated vinyl with double-stitched seams. These tumbling mats feature 2-foot wide panels that fold accordion-style for easy storage and transportation. All folding gym mats feature 2 inch hook and loop fasteners on all four sides for end-to-end and side-to-side attachment as desired.

Softness and shock absorption make these sale-priced mats an excellent multi-purpose mat. They can be used to cushion athletes from high impact activities but are also comfortable enough to be used for floor exercises.

These mats can be used as wall padding also, simply screw the external flange on the long side of the mats to a firing strip attached to the wall.

The vinyl used with this product is 6P compliant for Phthalates and lead-free. This product meets California state law Proposition 65 requirements.

Mat Safety Tips: Mats and protective equipment are never 100% effective at eliminating or reducing all injuries. Mats are not fail-safe. Nothing can substitute for proper instructions, spotting and good common sense in the teaching of gymnastics or other activities. Landing on the head or in an out-of-control position can result in injuries regardless of your surface padding or the number of mats you use.

Hook and Loop Fastener Information: V4 has Hook and Loop Fasteners on all four sides. Choose 4V for attaching the gym mats to each other on the long side of the gym mats - for side-to-side placement.

Applications:

Cheerleading Training
Gymnastics Training
Floor Exercises
Wall Pads
Martial Arts Training
Pilates
Home Exercise

Made in Asia

This Product Ships UPS Ground, FedEx Ground and/or Freight.
Please review our
shipping disclaimer.
Colors:
Royal Blue
Black

Thickness: 2''
Size: 4 x 8 FT. 24 lbs
Hook and Loop Fasteners on 4 Sides
18oz Vinyl Cover
Pricing for Gym Mats 4x8 Ft x 2 inch
4x8 ft x 2 inches
$209.00 per piece
Customer Reviews
Customer Rating:
I was very pleased with the customer service and pricing. I am an interior designer and I purchased this item for a client. We both were very pleased with the item.
Naomi
Bergenfield, NJ
07/27/2014
Customer Rating:
Only used it for one class so far, but seems to be very well made and durable. Time will tell if it's the quality I'm hoping for.
John
Bothell, WA
07/21/2014
Customer Rating:
I needed this against a wall in my OT sensory gym but could also be used on the floor under a swing.
Wonderful product, great thickness! 1/2 the price a coworker paid
for a similar mat she had bought for cheer lessons.

Thanks!
Marcia
Pontotoc, MS
07/10/2014
Customer Rating:
They work great for my aerial silks and aerial hoop classes.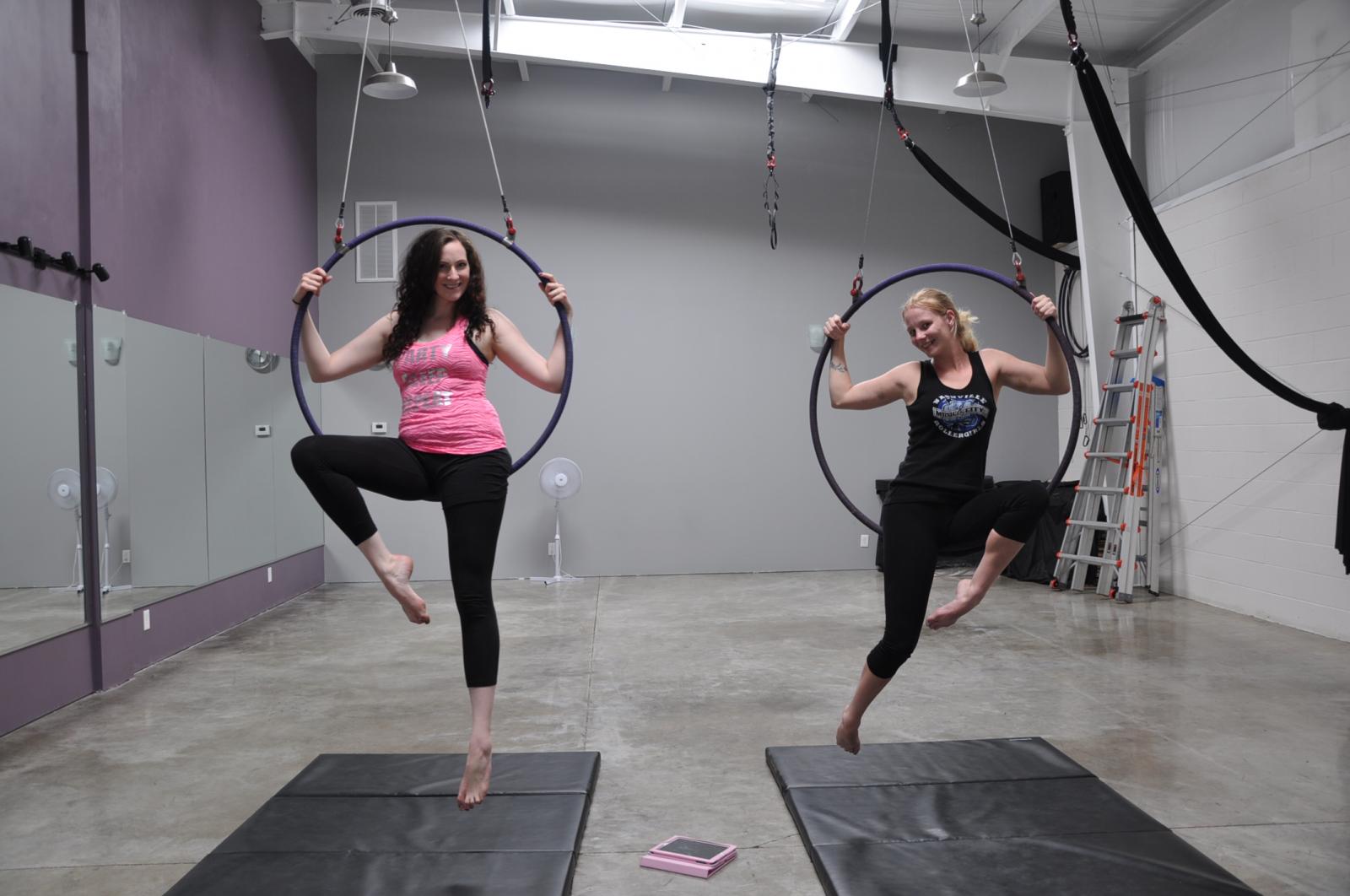 Tonya
Nashville, TN
05/28/2014
Customer Rating:
Love my new mats. I uses these while teaching a Martial Arts class. They work great for calisthenics and falling. High quality construction and the inner material is supportive but not too soft which is great for conditioning and training. Love the fact that they can velcro together and make a large training area. The mats came very well sealed and packaged. They also had a strong smell as they were brand new. I had to air them out for several days but they seem to be much better after being out in fresh air for a while. I recommend these for anyone who needs a high quality solution that is easy to transport. Definitely let them off gas before putting them in your training area.
Peggy
Los Altos, CA
05/10/2014
Customer Rating:
Journey
Cody, WY
04/07/2014
Customer Rating:
The mat was purchased so my daughter could practice
Her gymnastics at home. Nice thick durable quality.
We don't have it permanently installed anywhere
So she can practice in different parts of the house.
But the Velcro is good on the carpet helps keep it in place.
William
Bronx, NY
01/27/2014
Customer Rating:
My grand daughter loves it. It's really thick and looks like it's made really well. Like that we can add more mats to it later. Can be added on at the side or end.
Janet
Ashdown, AR
01/10/2014
Customer Rating:
I ordered mat for my husband who stretched daily. Did not install, just has in spare room. He had another mat for 25 years and wore it out. Yours was the only mat that was thick and looked like it would hold. Also really good price. You will see in picture our boxer, Ruby enjoys it too!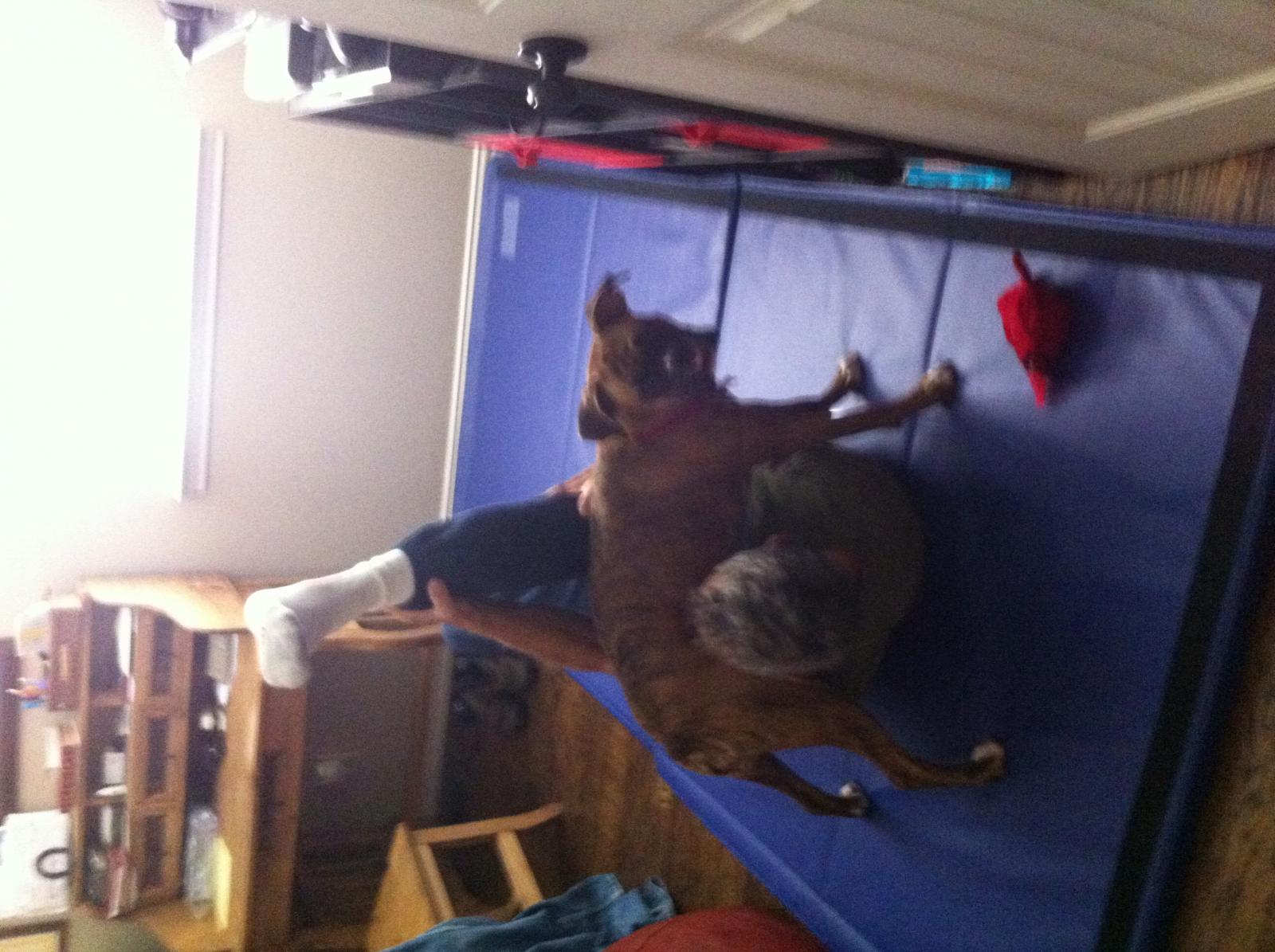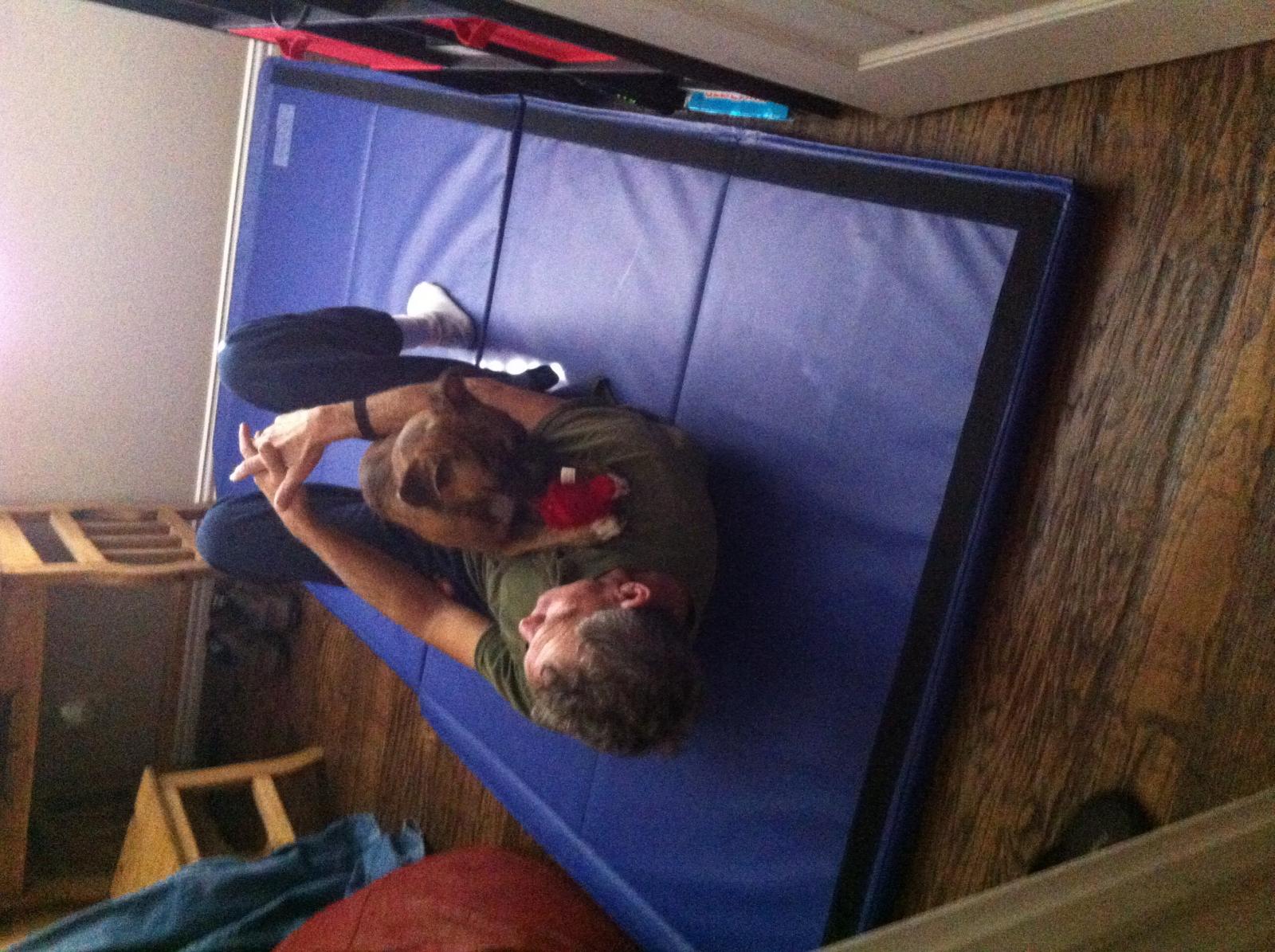 Lavonna
Celina, TX
01/03/2014
Customer Rating:
just as advertised. high quality. very nice.
Dallas
Spring Branch, TX
09/22/2013
Customer Rating:
This is a great mat and a great value. I ordered if for my daughter who is a tetraplegic with the purpose of giving her a large enough space to practice rolling and other motions to assist in her therapy. I have been involved in grappling for years and have purchased mats for different gyms. The price for this mat seemed to good to be true. I ordered the mat and it was shipped immediately. We had it in less than a week.

This is a good mat at a good price. I would recommend it to the casual user or a gym owner. It is tough, and well constructed.
Larry
North Little Rock, AR
09/12/2013
Customer Rating:
I did some searching to find a mat thick enough to allow exercises on a hard floor even with a carpet. I found this mat, read the reviews, looked at the price and decided to purchase one. That has turned out to be one of my best purchases in a long time. The mat is perfect for our basement workout room - large, firm yet contours to our body when we exercise on our sides, sturdy construction, easy to clean, easy to store if needed. No more hip pointers from side exercises. I can go on and on, but all I can say is that you will not go wrong getting this mat. Happy exercising.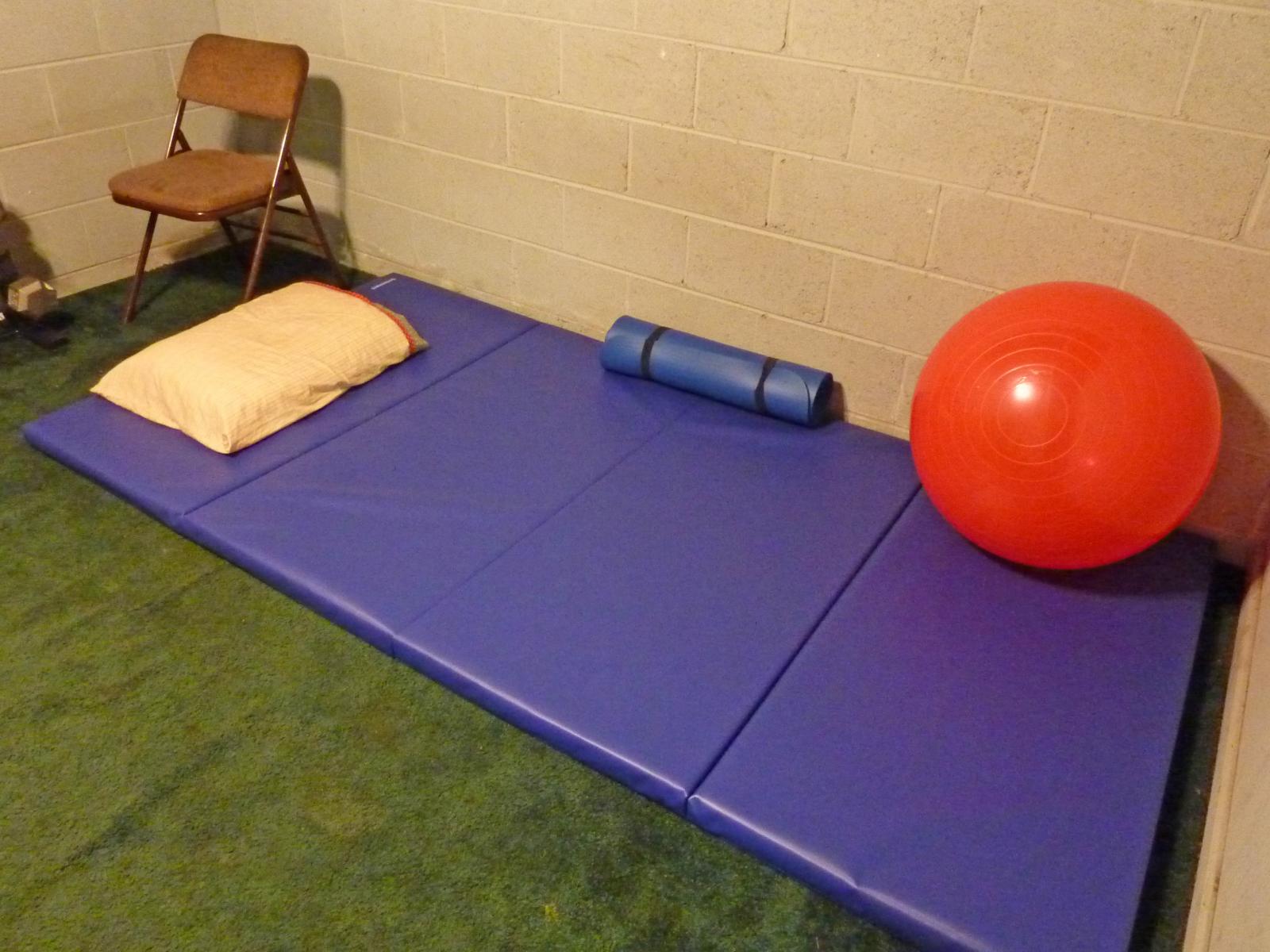 Roger
Marietta, GA
08/28/2013
Customer Rating:
purchased product based on price and free shipping offer
Angela
Everett, WA
07/22/2013
Customer Rating:
Great product! I cleaned it with baking soda and water first though because the vinyl smell was over-powering and then after a few days of being aired out it's just a normal faint vinyl smell.
Quentin
Boulder, CO
07/15/2013
Customer Rating:
The mats are exactly as advertised - good quality, price is right.
Bill
Chicago, IL
06/17/2013
Customer Rating:
I wanted portable mats and these were what we needed. They are great. We have a small class of Hapkido and our class location changes. The whole ordering process was awesome and fast delivery too.
joleen
des moines, IA
03/21/2013
Customer Rating:
The mat is perfect, we are using it in our home workout area. It was just what I needed to do situps, because I need extra cushioning for my tailbone. Very happy with the product.

Edward

Grove City, OH

03/20/2013

Mats are just as specified.
One surprise is how light they are which makes handling them
Very easy.
Would highly recommend!

Amy

Hampton, NH

01/15/2013

Product is of good quality, shipping was great and arrived in perfect shape. Easy to fold up and move around. Ordered as a gift for grandaughter, age 5 who is loving gymnastics, but all the kids love to tumble on it. They lay it out on living room floor and everyone (even 8 mos old baby) is loving it. thanks

Teresa

Austin, TX

01/10/2013

Everything was great from placing an order to delivery. It was a surprise for my 10 year old grandaughter. She is taking gymnastics and was so excited.

Everything was better tan expected.

Thanks!
Frances

Frances

Wilsonville, AL

01/09/2013

My daughter loves the mat. The mat is pretty hard right now but I'm sure it will soften up after more use.
The mat seems to be made well.
Happy with purchase

Marianna

Osceola, WI

01/06/2013

My daughter loves it. Easy to move and store !

margaret

park city, UT

01/05/2013

Mat arrived fast and in perfect condition! My daughter uses this for Judo practice. It is high quality!! Plan on adding to it in the near future. Thank you GreatMats!

Scott

Hamilton, OH

01/05/2013

Perfict for our basement jym. The kids are loving playing on rings and tumbling.

Sandra

Winona, MN

01/02/2013