Applications:

Kids Flooring
Schools
Preschools
Dog Agility
Children's Play Areas - Home and School Use
Exercise Rooms
Basements and Garages
Indoor Sports & Multipurpose Rooms
Parachute Staging Areas
Great for Concrete and Hard Surfaces

Product Info:

Easy to clean. Can be vacuumed and washed with soap and water - Test your vacuum.
Place directly on concrete or tile - No adhesive Needed for a snug, tight fit.
Waterproof and odorproof/ Closed cell EVA foam will not absorb moisture or other substances.
Can be used outside in mild climates, not UV stable, not suitible for extreme sunlight locations.
Exercise equipment will leave some level of indentation in the mats, but will not hurt the mats. The indentations will be virtually permanent.
Made in Taiwan
No border strips, all center tiles.

Please Note:

Color and shade may vary somewhat from tile to tile within the same order, this is common with this type of EVA foam material. Make a checkerboard pattern in your room to alleviate this potential issue.

Precautions:

Test your vacuum on the mats to make sure your vacuum will not leave scratches in the tiles.

Have your vacuum cleaner set at highest setting or just use hose and nozzle. DO NOT use power head. When used outside the mats may expand and curl if exposed to direct sunlight in warm climates for extended periods of time.

If this particular foam mat is not perfect for your application or budget please consider one of our other foam mats, we offer a complete and comprehensive line of interlocking foam mats to our customers, some starting at $0.99 cents per square foot and while other foam mat products offer free shipping. Please browse our complete line of puzzle foam mats. If you have questions please Chat with us online, send an email or call our friendly customer service center to speak with one of our flooring experts about our foam mats.

This Product Ships UPS Ground, FedEx Ground and/or Freight.
Please review our
shipping disclaimer.
Characteristics:

Lead Free and Latex Free
Anti-Fatigue
No Odor
Non Slip
Waterproof
No Adhesive Required
Easy to install and Easy to take up
Light weight and portable

Size and Dimensions:

Tile: 24" x 24" x 1/2" or 12.5 mm - thickness tolerance of 1 mm + or -
Pricing for Economy Foam Puzzle Mat 1/2 Inch
2x2 Ft x 12 mm
$3.96 per piece
Customer Reviews
Customer Rating:
Works perfectly
Enrique
Washington, DC
03/14/2014
Customer Rating:
My second order for Greatmats. Very happy with customer service and products!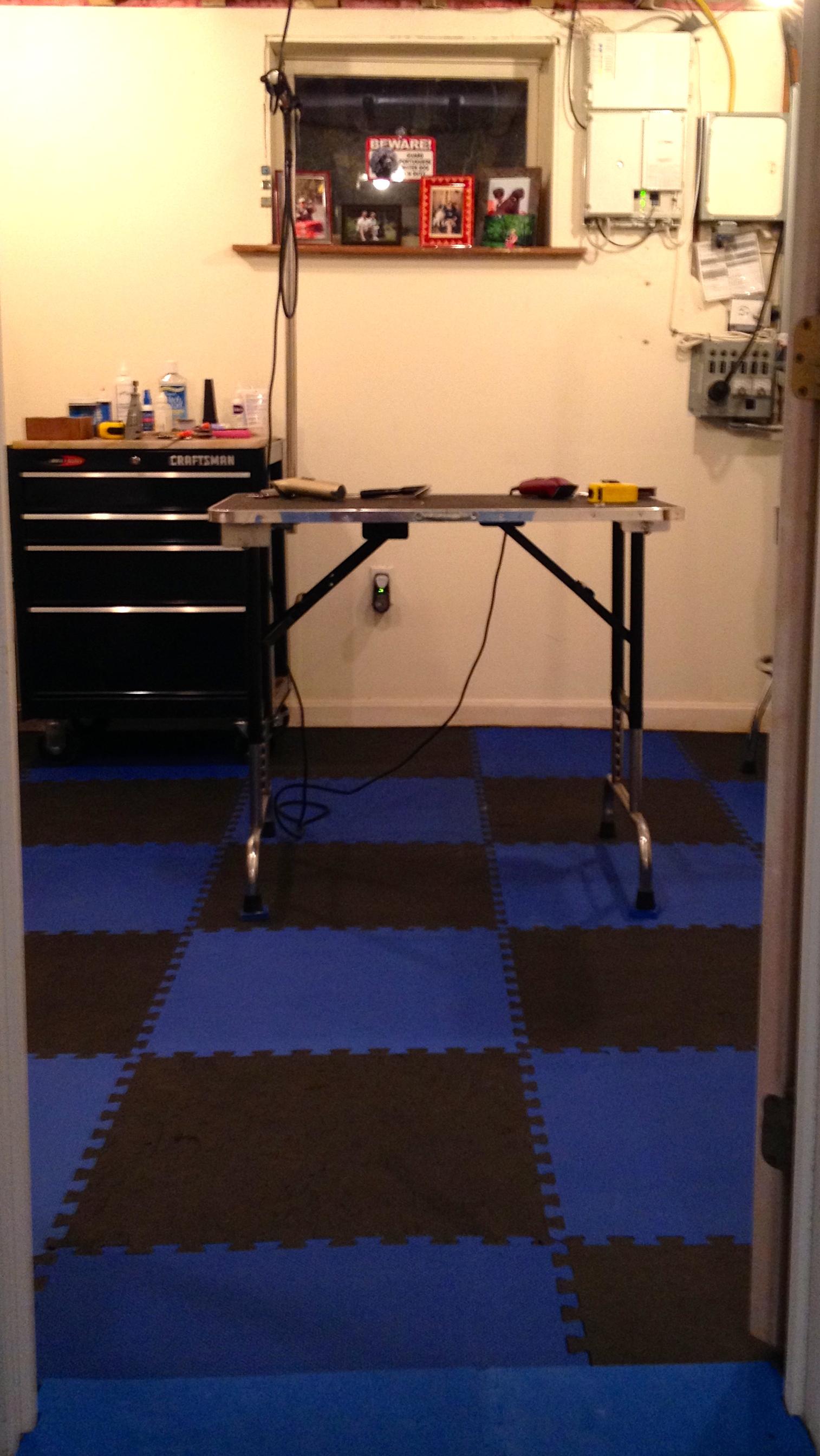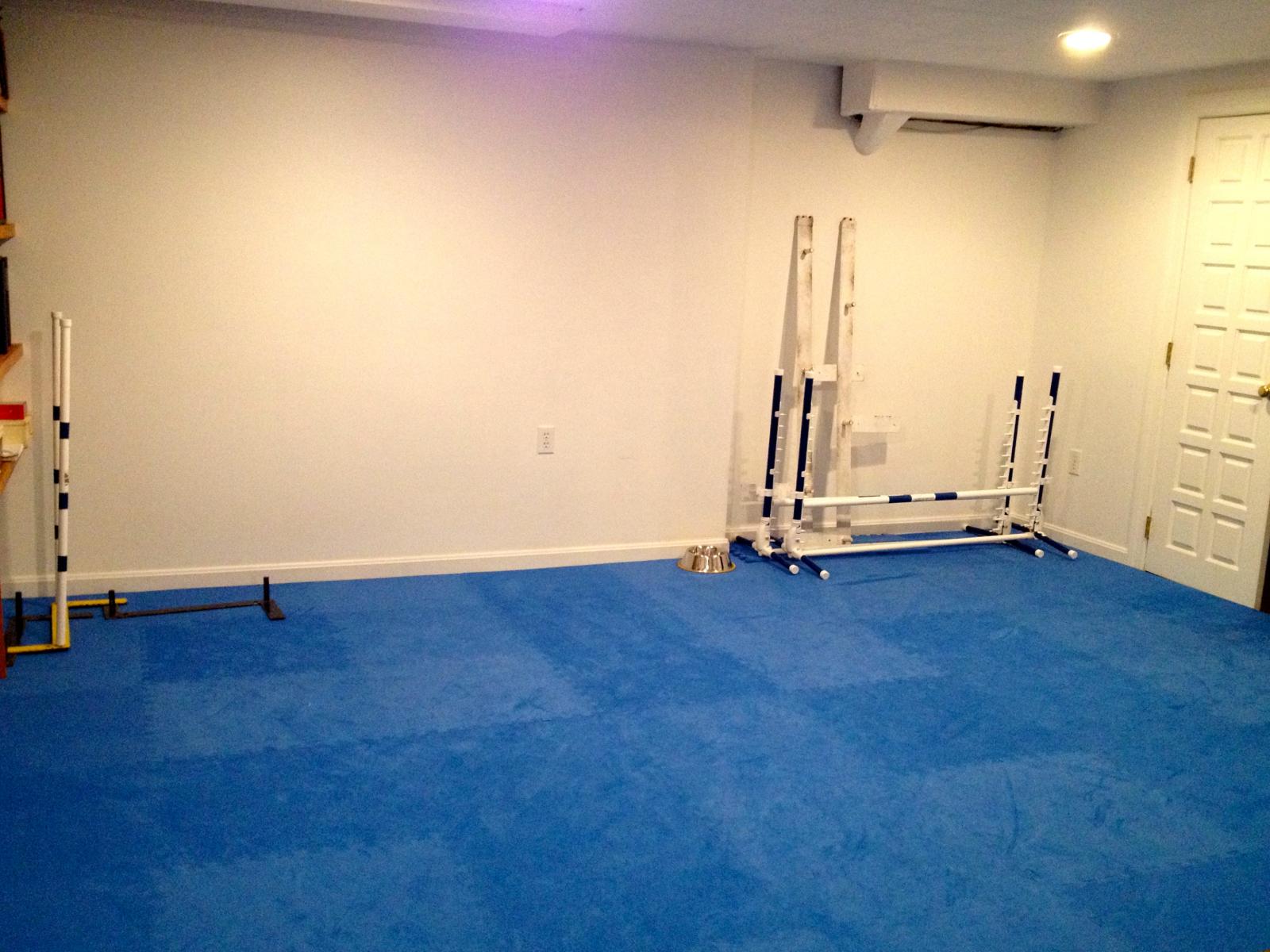 Heather
Bedford, MA
02/19/2014
Customer Rating:
The dancers and I love the new dance floor! Thank you Great Mats for making it so easy to order.
Bruce
Naugatuck, CT
01/19/2014
Customer Rating:
Good quality product, I'll probably by more once I get these guys laid out on the barn floor.
James
Old Chatham, NY
11/02/2013
Customer Rating:
Greatmats were installed and should work beautifully for my application in that the environment is "dirty", toner cartridge refilling. Flooring provides very comfortable walk/standing surface and can easily be removed for cleaning.
Gregg
El Dorado, AR
08/09/2013
Customer Rating:
I really like the mats but I wish they came with borders included. Otherwise I'm very happy with the purchase and the black and grey chess board design looks great in my garage.
marcia
Lakewood, CA
07/22/2013
Customer Rating:
Product worked out just fine, personnel were helpful , a misunderstnding I had was my fault.
Leslie
Dawsonville, GA
07/18/2013
Customer Rating:
This product was exactly what we needed in a basement bedroom. It was easy to handle and install. It is very comfortable to walk on and has nicely insulated from the cold concrete floor. It also vacuums well.

We ordered before we walled off the room and made the final size of the room. Consequently, we ran out of mats, but were able to patch together remnants in an unused corner. I would recommend ordering a few extra, just in case :)
Candy
Williamsburg, VA
07/12/2013
Customer Rating:
This is the second flood I installed with this product. Easy to install. Comfortable to walk on. Great for areas that might be moist or get wet. I also used the left over pieces in my work room as it is nice to stand on.
Ron
Castleton-on-Hudson, NY
07/03/2013
Customer Rating:
I ordered these mat pieces to (1) use to pad my Great Dane's blankets, and (2) use as "blocking" surfaces for my knitting and crochet projects. I will probably be ordering more because I can see where they will be perfect for several other uses in my home. Thank you...
Sandra
Pell City, AL
06/27/2013
Customer Rating:
Since the price was reasonable and shipping was free, I was surprised that the quality was as good as it is. I purchased 1/2 inch thick puzzle piece mats to go over low utility carpeting in what is now the workout/guest room. I've been doing high-impact cardio workouts with lots of lateral movement on the flooring, and the mats don't lift, slide, or pop loose (even though I didn't install it wall-to-wall - total mat area is 8x10 feet). After several weeks, all the mats had just barely slid toward one wall (the bottom grip is very good on the flat carpet). There are marks all over the mats from my shoes and the dog - and they aren't kidding when they say indentations don't come out (there is a permanent dent from where a chair sat) - but that doesn't matter because we remove them to use the room for other things. Overall I am very pleased with my purchase.
Angela
Fort Bragg, CA
05/22/2013
Customer Rating:
Great product. installed very easy and looks great. shipment even came earlier than extimated. Thank you.
Dave
Maumee, OH
05/15/2013
Customer Rating:
I Put the mats in my basement for dog agility. I have jumps, a tunnel and some weave poles. I decided the cushion was so great I would jump rope on it myself.
Even grooming my dog, I stand on it. Big improvement.
With wild runs, his nails do tear in.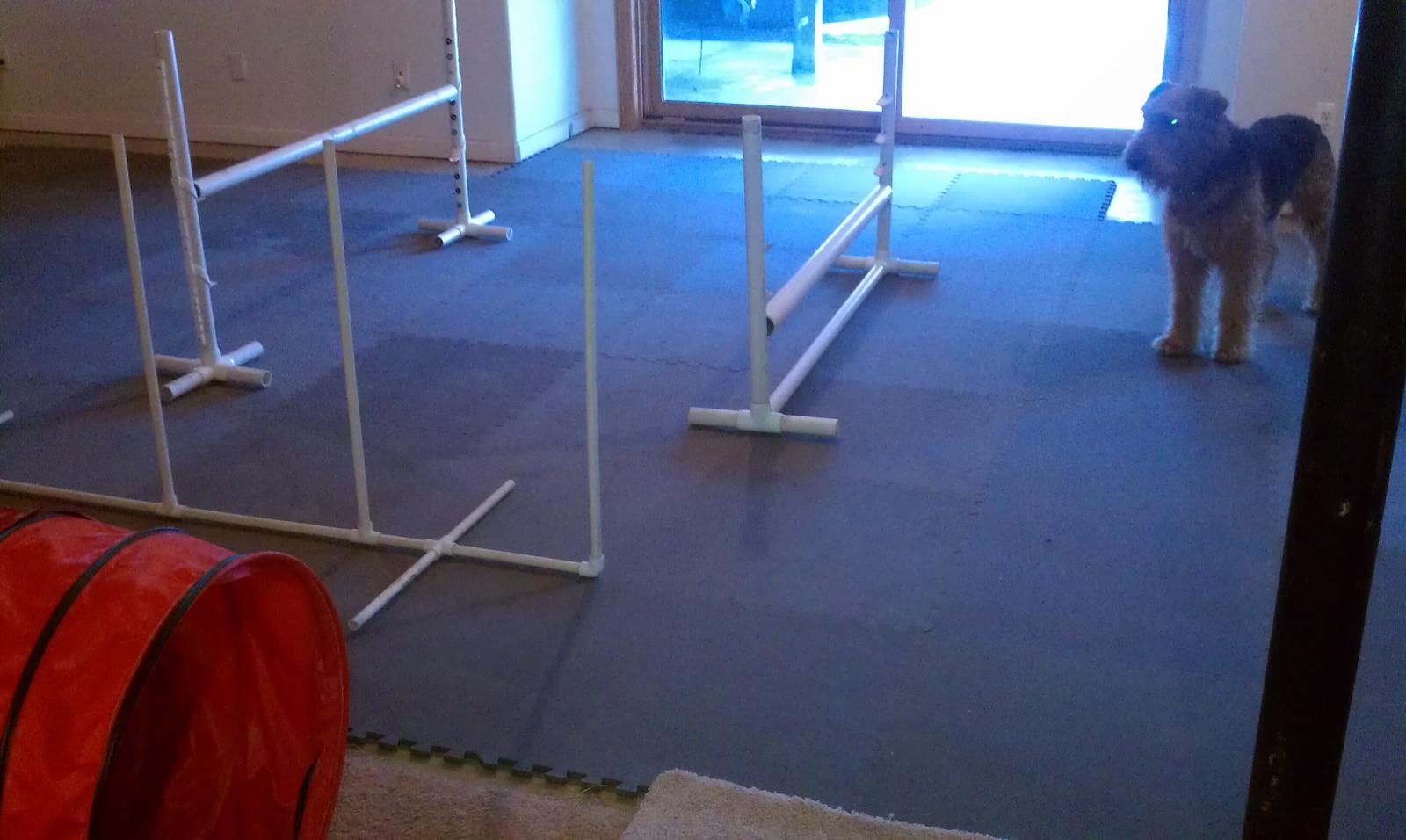 Jacqui

Milford, MI

03/30/2013

Really great for blocking my finished knitting projects!!! Would be even better if you made and sold these in 12" squares as well.

Josh

Alexandria, VA

03/01/2013

These are great mats, fit together smooth an snug. The word economy is not accurate, they are the highest quality 1/2" mats I have seen.

ROYD

ORLAND PARK, IL

02/28/2013

I like - thanks

Sylvia

Lake Geneva, WI

02/14/2013

We used these mats to create a soft, warm area for our children to play in our basement. They work great on the concrete floor! We plan to buy more soon to expand the basement play area.

Christopher

Columbus, OH

02/10/2013

great product, great price, and fast delivery. Its nice to be happy with a company and it's product again, i will buy more and recommend to others, thanks

jeff

pottstown pa, PA

01/17/2013

Easy to put down, easy to trim, looks great, works great! THank you

Jane

Chester, CT

01/12/2013

Exactly what I expected.. Great price for what you get. A couple of the interlocking pieces at the edge weren't exactly flat but one you lay them down after a hit of time they are good. I would recommend!

rebecca

colchester, VT

01/10/2013

I think these mats. They are great in a cold basement. Ease on the feet and keep the cold off of you. Water doesn't hurt them either. I've had a set out by the grill on the patio for a couple years and the hold up well. If you set somthing heavy on them like a couch you will get a depression where the feet were that won't come back, just some thing to be aware of.

Garret

Waite Park, MN

01/04/2013

We have been very pleased with foam puzzle 1/2 inch thick mats. I placed them over an unfinished basement floor in order to turn the basement into a winter and inclement weather play space for my kids. The mats cushion the floor without too much "give", and they look very nice. I bought an inexpensive electric utility cutter (a Skil, in my case, but there are several similar ones), and used that to very easily cut the mats so that they fit corners and other irregular edges. My basement has been transformed, and I have received nothing but compliments from visitors.

Eric

Clark, NJ

01/04/2013

This product was an awesome one. We have a truck and I thought about how to preserve the paint job in the bed of our truck, and so these mats worked out great. I could easily cut them, and the clean up was a sinch. Thanks

Penny

Egegik, AK

12/30/2012

Wonderful! It provides the cushion I was looking for. I'm using it in my den in the work-out area. The price was excellent.

Sheryl

Klamath Falls, OR

12/14/2012

The order arrived in good time and condition. We bought these to provide soft resting places for our old dog, Bennett, who has painful hips. With 10 pieces, we were able to put pads in several of the places on the deck and porch where he is most likely to lie down. We didn't know if he would accept the texture of the surface, but he seems to like it fine. I had earlier bought a package of the product designed for children's play mats. But they were thinner and less precision cut. They came apart too easily, but Greatmats have held together since I put them down for him.

I had been using the product in the gym I belong to, and that's what gave me the idea for buying some for Bennett.

Cecilia

Sautee Nacoochee, GA

11/15/2012

Great product for our bonus room (that has hardwood floors) that we needed to be kid friendly. These mats are better than using a rug.

Regina

Hartselle, AL

11/03/2012

This is a wonderful solution for a kids' area that isn't too expensive. It looks nice and has a vibrant color, and the price can't be beat. A lot of other economy foam I looked at had poor reviews due to a strong odor, but this didn't smell at all.

Rudi

Aurora, IL

11/02/2012

Great product. Quick shipping from Greatmats. I am using this in my unfinished basement that I have turned into a home gym.

John

Taylorsville, GA

10/17/2012

Your products are exactly what you promise. Your people are AMAZING!! GREAT customer service!!! I go out of my way to tell everyone I come across about your website. Your prices are highly competitive, but your service is the REAL reason I bought form you guys, I bought again and again, and will return again if ever I need anything resembling mats!
Thomas Falzarano

Thomas and Divina

san jose, CA

10/15/2012

Service, pricing, delivery, product quality, were all excellent. I would recommend to everybody.

Thanks

Dc

Doug

Langley, BC

09/27/2012