Component tile types available for this product include:

4x6 ft Center tile
4x6 ft - 6 ft Border tile
4x6 ft - 4 ft Border tile
4x6 ft Corner left tile
4x6 ft Corner right tile

2x2 ft Corner Tile - only order with customer service when needed.

To determine what is a corner left or right, orient the tile as if you were standing on the short side of the border portion of the corner tile, and if the left side of the tile is also bordered, then its a corner left.

Straight edge tiles of the same product are also available at a cost savings. Interlocking pre-designed kits in standard sizes are available.

The net size of a standard interlocking mat is 46.5 inches wide by 69.5 inches in length. 22.44 SF coverage per tile

Kit Sizes Available:
10x10 Ft - Actual Size After Interlocking - 9' 7" x 9' 7"
10x12 Ft - Actual Size After Interlocking - 9' 7" x 11' 6.6"
10x14 Ft - Actual Size After Interlocking - 9'7 " x 13' 6"
12x12 Ft - Actual Size After Interlocking - 11' 6.5" x 11' 6.5"
12x14 Ft - Actual Size After Interlocking - 11' 6.5" x 13' 6"
12x16 Ft - Actual Size After Interlocking - 11' 6.5" x 15' 4.5"


This rubber floor tile product is stocked in the following locations nationwide. Please contact us for the best possible shipping rate.

North Haven, CT.
Atlanta, GA.
LaGrange, KY.
Orlando, FL.
Denver, CO.
Colton, CA.

This product ships freight only, please review the Greatmats shipping disclaimer. Unless the receiving part has a loading dock at the delivery location, a lift gate at the time of delivery is required for this product.

In Stock, Ships out in 2-3 working days.
Volume and Dealer Pricing Applies

This Product Ships Freight and/or FedEx Ground.
Please review our
shipping disclaimer.
NOTE: This item is a custom order and is not returnable.
Features:

Material: Rubber
Material Density: 65 Shore A
Type: Tile
Country of Manufacture: Canada
Tile Size: 4 x 6 feet
Thickness: 3/4 inch
Connection: Interlocking
Universal Interlocks: Yes with Center Tiles
Weight per: 100 pounds per tile
Edge Type: Interlocking
Tiles per Pallet: 25
Ordering Minimum: 5 Tiles
UV Treated: No
Stocked: Yes
Non Absorbent: Partial
Ships Out From Warehouse: 1-3 working days
Warranty: 5 Years
Border Strips: Within border type tiles
Installation: Dry lay, interlocking
Special Adhesives: No
Top Texture: Punter Top
Loss Per Tile: 1.5 Inches
Reversible: No
Pricing for 4x6 Ft x 3/4 Inch Interlocking Black Punter Top
4x6 FT x 3/4 inch
$58.80 per piece
Customer Reviews
Customer Rating:
Great mats. Not too difficult to put them all together to form a good surface on the barn floor. We had 3 damaged mats and they were replaced within a week! Gave them 4 stars as we will have to see how they wear.
Cindy
Longmont, CO
07/20/2014
Customer Rating:
After having interlocking mats in my stalls for 3 years I would never go back to the non interlocking ones. They don't curl up on the corners and don't get packed with dirt between the mats. Fit together well and easy to install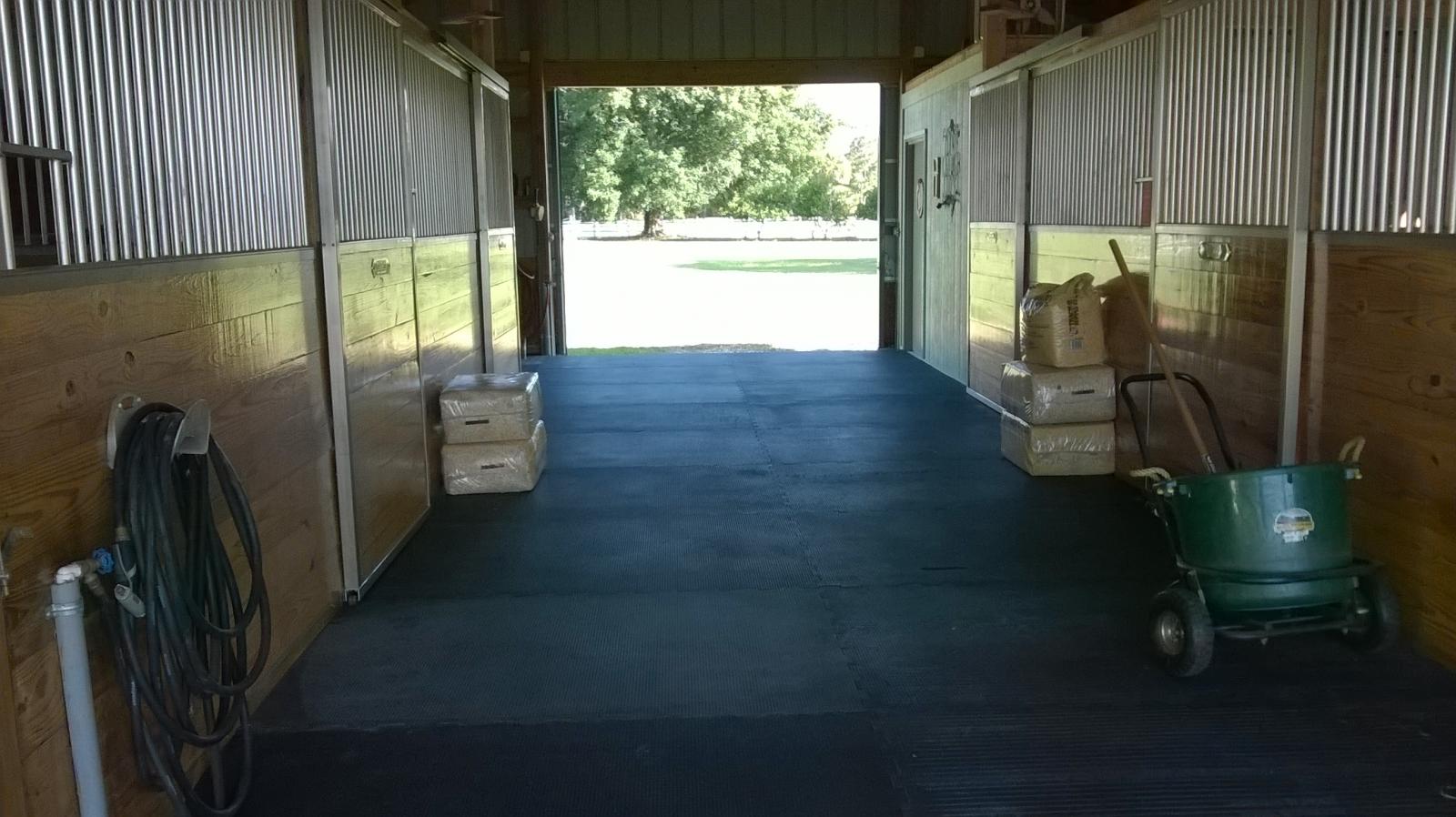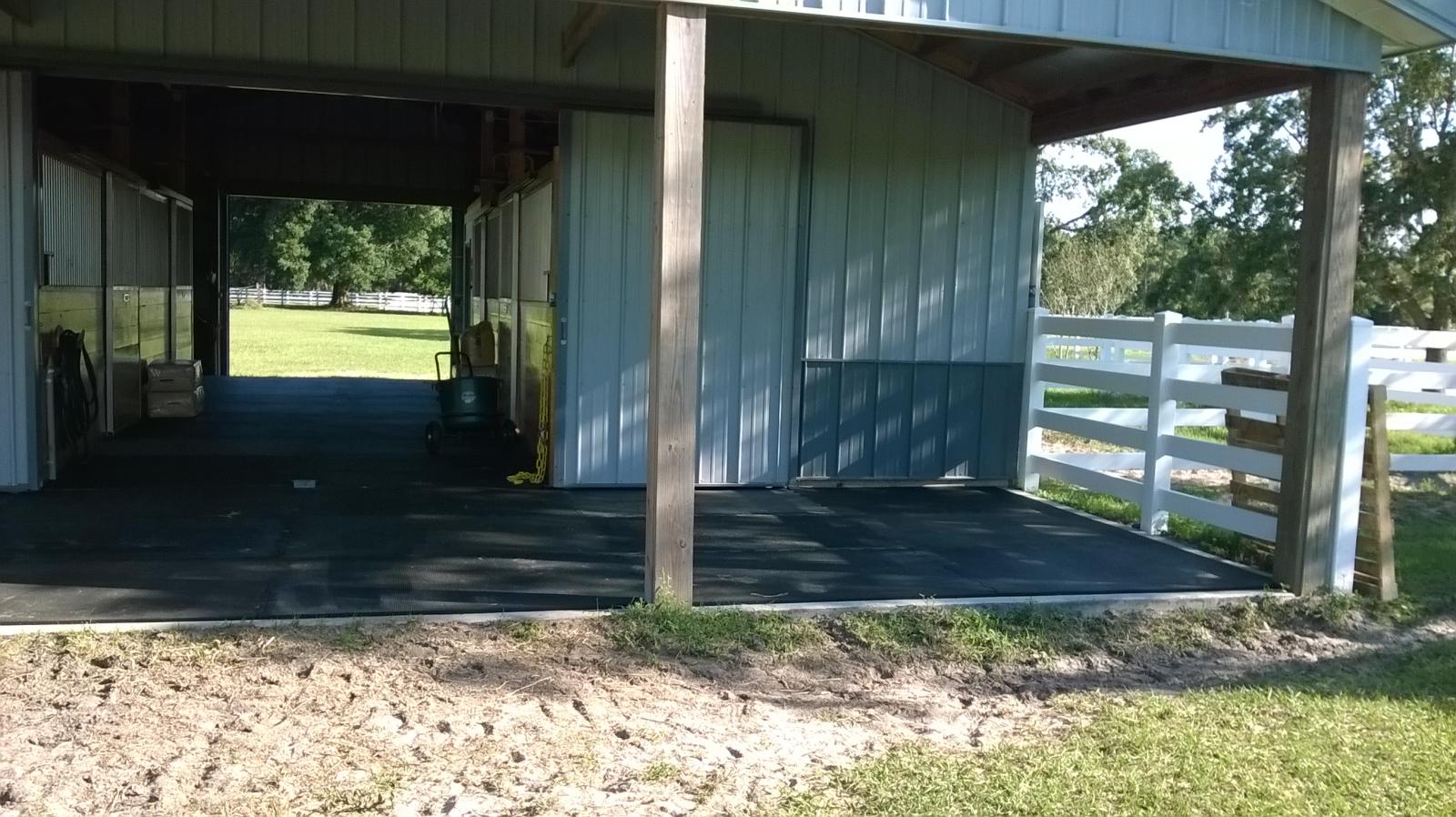 Robert L

CHRISTMAS, FL

06/14/2014