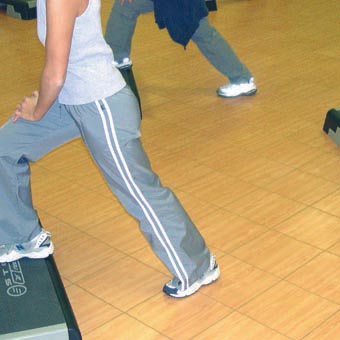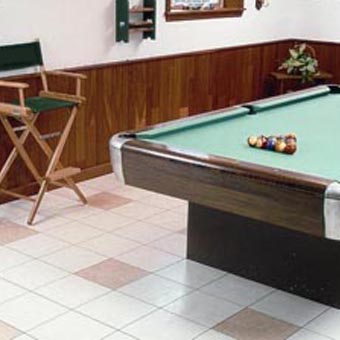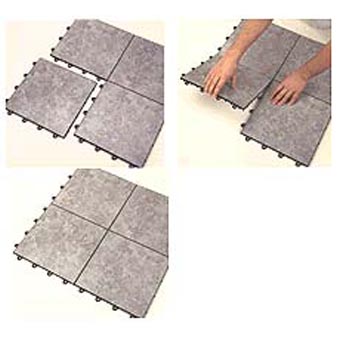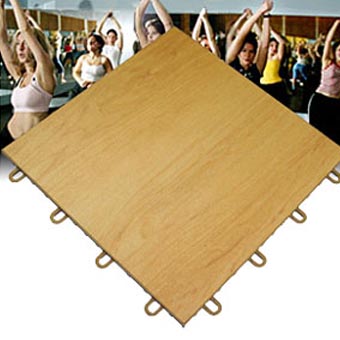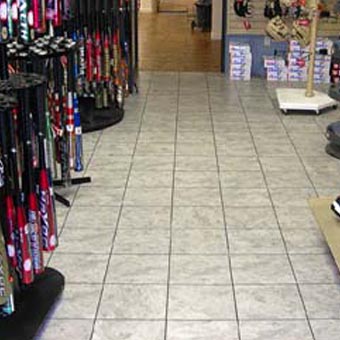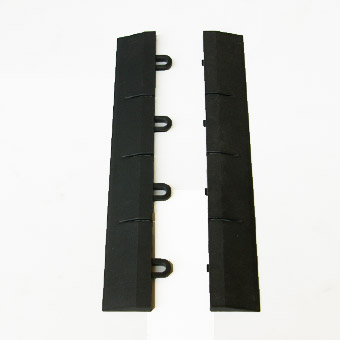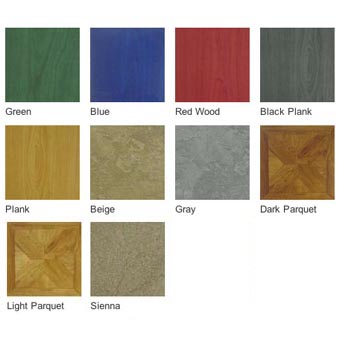 The cushioned support system provides drainage in wet areas and keeps you off the cold base. There are no special tools or adhesives required. The floor may be used in a portable or permanent setting.





We recommend a 2 or 3.2 mm Rubber Underlayment for installations on hard surfaces where extra cushion or sound reduction is desired and for ALL athletic installaions.
This product is ideal for large scale commercial installations in multipurpose athletic, and gym floors. Great for DIY installations at clubs, churches and YMCA facilities. Use this modular flooring with laminate vinyl top surface for all types of athletics including; basketball, volleyball, aerobics and similar. Not designed to drop any amount of weights on this tile.

This flooring tile is very popular in home installations, use in the basement where a damp floor may be present. This floor tile product is 100% waterproof and allows air to flow under the tile structure. Use for basements, family rooms, and all types of recreation areas, TileFlex has a unique construction that allows for airflow and keeps the surface away from potential dampness.

Each tile is a single, snap-together unit for easy installation. Best of all, you can choose from a wide range of floor finishes from VCT to luxury vinyl. TileFlex takes modular flooring to the next level in beauty and functionality. The first solid-top tile that marries quality floor finishes with the versatility and durability of a raised modular floor. Inset Vinyl modular floor tile for gymnasium, dance, aerobic, basement, utility room, trade Show, and portable flooring applications. 
Applications:
Aerobic & Exercise Flooring
Gymnasiums
Dance Floors
Basements
Utility Rooms
Trade Shows
Exhibition Floors
Anti-static Floors

This product is shipped UPS or FedEx Ground and or via freight delivery.
Please review our
shipping disclaimer.
Features:
Vinyl tile never needs refinishing
Variety of Finish Surfaces - Luxury Vinyl, Wood grain look, Diamond Plate
Cushioned surface helps prevent injury and fight fatigue
Edges Are Protected from Damage
No Special Tools Required
Easy Assembly
Quick Installation Time
Underside Provides Drainage of Liquids
Minimal maintenance, easy to clean
Modular design provides portability - no glue for install.
Look of wood at a fraction of the cost
Never needs refinishing No special tools or adhesives required: can be self installed
Expand Your Floor as Needed
Physical Specifications:
Material: High-Impact Polypropylene Base with a Solid Vinyl Surface
Tile Insert
Support:Surface Supported by 196 Truncated Conical Legs & Gusseted Posts
Heavy duty, clear-wear layer with a polyurethane finish
Locks: 16 Latch Locks: 2 Sides with 4 Female Parts Each and 2 Sides with 4 Male Parts Each
10-Year Limited Warranty
Base construction uses pegs that raise the tile above flooring, allowing instant drainage. This detail also highlights the simple but sturdy snap-in loops that make assembly so easy. This detail also shows the hidden wire capability of up to 3/16".
Characteristics:
Anti-Fatigue
Non Slip
Waterproof
Made in USA
No Adhesive Required
Size and Dimensions:
Tile: 12" x 12" x 1/2"
Border Ramps: 12" x 1.5" x 3/8" Thickness
Weight: 2 lbs per tile
Pricing for TileFlex
Per Tile

On Sale Now




$5.47

per piece - $5.47 per SF
Was:

$7.30

per piece

You Save 25%

Border Ramps
$2.00 per
400 SF +
Request a Quote



Green






Blue






Red Wood






Black Plank






Light Parquet






Plank






Beige






Gray






Dark Parque






Sienna



Ramp Colors:
Black - Marble Colors
Brown - for Parquet
Beige - for Maple Plank
Customers who viewed this item also viewed: