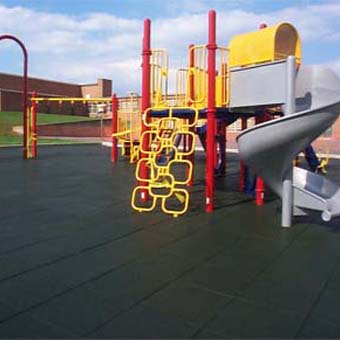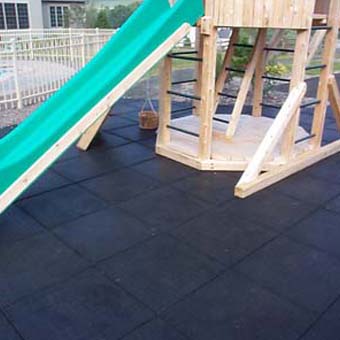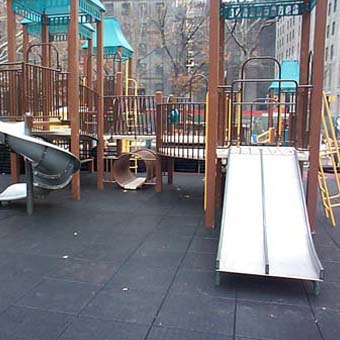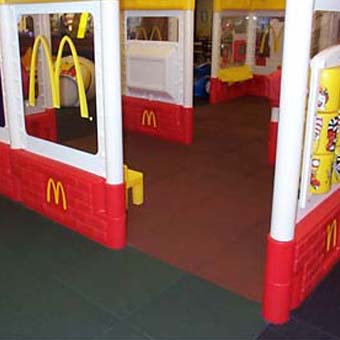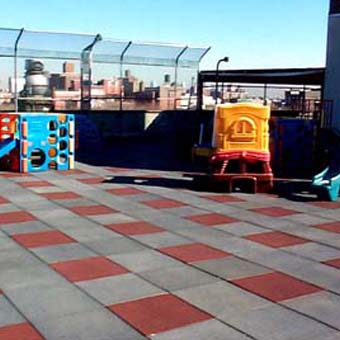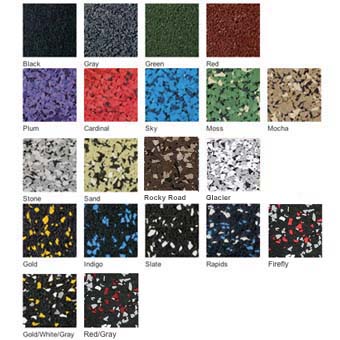 Our pigmented line of Playground Safety Surface MAX is an excellent playground safety surface choice for aging and new playgrounds. It offers various color choices, ease of installation and maintenance, and proven durability.


Ideal for playgrounds, rooftops, and patios, PlayGuard's exclusive Quad Blok system offers reliable easy-down / easy-up installation. Available only for PlayGuard 2-1/2" (6.35cm) thick tiles, Quad Blok connectors are manufactured from high quality SBR (styrene butadiene rubber- post-consumer tire rubber) granules. Unlike labor intensive poured-in-place systems, Quad Blok modular connectors feature precisely located openings that interface with the corner leg understructure of 2-1/2" (6.35cm) PlayGuard tiles. The connectors are quick and easy to use without adhering to or causing damage to playground substrates and they allow the removal or replacement of individual tiles with minimal disruption and labor.

Pigmented Tiles
The pigmented line of MAX Playground Surfacing is available in two thicknesses: 2 1/2" with a 6 Ft Fall Height Rating and 3 3/4" with an 8 Ft Fall Height Rating. The 24" x 24", modular tiles are designed and thoroughly tested to withstand years of vigorous play.

Installation is Made Easy for smaller jobs or indoor installations with the Quad-Blok® Connector system, which can eliminate the need for a full glue down installation.

RESIDENTIAL CUSTOMERS

A few things to be aware of. This material CAN NOT be installed on top of dirt. It does require a flat hard surface such as concrete, asphalt, decking or if you have dirt then a base of crushed stone that is compacted and leveled is required. Our only outdoor product for playgrounds that can be installed directly on grass and dirt is, Kids Ergo Matta
Quad-Blok™ Connector System

MAX Playground Surfacing can be installed using a variety of installation methods. The most common and secure method is full adhesion of tiles and accessories to the substrates using our one part polyurethane adhesive. Coverage is approximately 70 sq/ft on concrete, 60 sq/ft on asphalt and 55 sq/ft on protective fabric (1/8" square notched trowel).

For rooftop and specialty applications, we recommend our exclusive fastening system called Quad Blok. It offers added stability and ease of installation and maintenance. Tiles are adhered to the Quad Blok connector eliminating any potential damage to the roof membrane. Replacing individual tiles and securing a strong, tight-fitting system is a snap with Quad Blok.

Installation using our Quad Blok system is recommended only for 2.5 Inch tiles. Additionally, it uses SikaFlex® 227 in 10.3 oz. caulk tubes, at a rate of one tube per ten Quad Blok connectors with a 3/8" bead.

This product is shipped via freight delivery.
Please review our
shipping disclaimer.
Features:
Allows water drainage around and under tiles
Highly durable
High coefficient of friction, wet or dry
Quad-Blok connector system offers installation ease and versatility
Enables rooftop installation
Eliminates damage to roofing membranes
IPEMA certified
CPSC compliant
Meets 6' and 8' critical fall height requirements per ASTM 1292-04 and ADA standards
15 year warranty
Recycled rubber composition

Pricing for Playground Safety Surface MAX 2.5"
Layout
Square Footage
Black and Standard Colors
Daylight Colors
Daybright Colors
10x20ft
200SF
$1538
$1638
$1875
20x20ft
400SF
$3076
$3275
$3750
20x30ft
600SF
$4614
$4913
$5625
Pricing for Playground Safety Surface MAX Black and Standard Colors
Material Type
Black and Standard Colors
2.5 Inch - 6 Ft Fall
$30.75 per piece
3.75 Inch - 8 Ft Fall
$47.10 per piece
Reducer Edge 2.5 Inch
$26.85 per piece
Reducer Edge 3.75 Inch
$38.55 per piece
ADA Access Ramp 2.5 Inch
$47.00 per piece
90 Degree Corner - Outside or Inside
$35.15 per piece
Quad-Blok Connector 2.5 Inch
$2.60 per piece
Quad-Blok Connector 4.25 Inch
$2.95 per piece
Pricing for Playground Safety Surface MAX Day Bright
Daybright - 2.5 Inch - 6 Ft Fall
$37.50 per piece
Daybright - 4.25 Inch - 8 Ft Fall
$57.75 per piece
Pricing for Playground Safety Surface MAX Day Light
Daylight - 2.5 Inch - 6 Ft Fall
$32.75 per piece
Daylight - 4.25 Inch - 8 Ft Fall
$51.80 per piece
200 SF Minimum Order on this Product - for smaller projects please consider the - Kids Matta Tiles


Standard Colors
Day Bright Colors



Plum






Cardinal






Sky






Moss






Mocha






Stone






Sand






Glacier






Rocky Road



Day Light Colors



Gold






Indigo






Slate






Rapids






Gold/White/Gray






Firefly






Red/Gray



Customers who viewed this item also viewed: