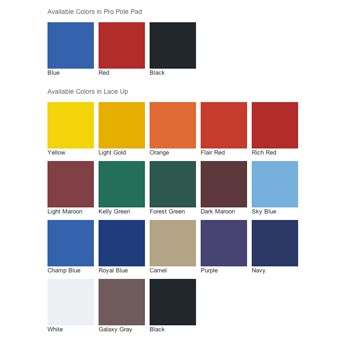 Will cover most support poles and are very easy to install.

Please Note: Pole Pads are not designed or intended for extended usage outdoors unless specifically stated as outdoor pole pads.


This product is shipped UPS or FedEx Ground and or via freight delivery
Please review our
shipping disclaimer.
This product is non-returnable.
Physical Specifications:
Lace Up 10" diameter x 72" long and will accomodate 4.5 - 6 inch round pole 414-100
Lace Up 8" diameter x 72" long and will accomodate 2.5 - 4 inch round pole 414-000
Safety Characteristics:
No Odor
Made in USA
No Adhesive Required
Pricing for Pole Pads
Lace Up Pole Pad Large 10 inch outside diameter
$195.00 per pad
Lace Up Pole Pad Small 8 inch outside diameter
$179.00 per pad
Available Colors in Lace Up



Yellow






Light Gold






Orange






Flair Red






Rich Red






Light Maroon






Kelly Green






Forest Green






Dark Maroon






Sky Blue






Champ Blue






Royal Blue






Camel






Purple






Navy






White






Galaxy Gray






Black



Customers who viewed this item also viewed: